Every teenager will receive guaranteed one-to-one career advice to revitalise a system on "life support", Labour has announced this morning.
The party would also reintroduce compulsory work experience for 14 to 16-year-olds under its new vision for education.
Ed Miliband, shadow education secretary Tristam Hunt and shadow business secretary Chuka Umunna all unveiled the party's education manifesto at Microsoft's offices in Victoria this morning.
Mr Miliband said: "The biggest challenge Britain faces is preparing our young people today for the economy of tomorrow. Labour believes a world-class education is not a luxury, but a necessity.
"Young people must be equipped with the right skills, the right knowledge and the right advice they need to succeed. Failure to do this will not only cheat our young people of a decent future, it will cheat our country too.
He argued that the Conservatives were obsessed with school structures whereas Labour would focus on "a pathway into work".
The proposals aim to support a careers service "on life support" and will cost around £50m – funded through a partnership between universities, schools, colleges and employers.
Speaking on BBC Radio 4 this morning, Mr Hunt outlined further details of the one-to-one careers advice policy.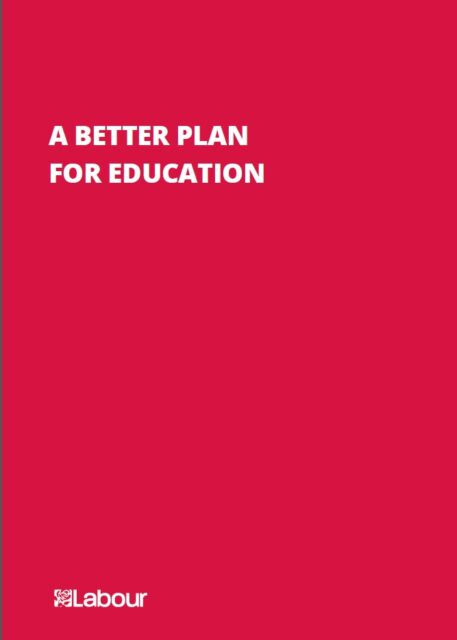 "The advisor gets to know you, crucially, rather than having a sort of slightly unfocussed conversation with whichever teacher has been allocated careers advice that year," he said. "Actually you have a dedicated professional who knows what they are doing… It's vital in order to get the best out of our young people."
He added: "One of the great crimes this government visited upon the English education system is the total destruction of careers advice, which means you are not getting the advice you need in order to apply to the right university or get the information on the right apprenticeship. And we think this is holding our country back."
He said the cash would come from the £700m given to universities for their outreach programmes.
"We are moving that money upstream," he added. "It still has the same purpose getting young people to make right choices, but rather than universities using it just for sixth formers actually we get it down earlier in the school and use what we know works, which is independent, face to face careers advice."
Labour has also confirmed its plans to restore the role of Sure Start as family hubs, introduce new directors of school standards and build a "gold-standard vocational route" through education and into work via a technical baccalaureate.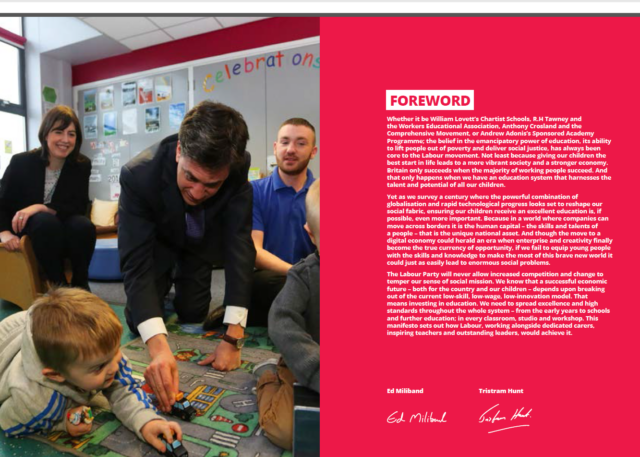 Reaction:
Martin Doel, chief executive of the Association of Colleges (AoC), said: "Careers guidance and advice is currently failing young people in this country and we're pleased that the Labour Party is looking to rectify this.
"We need a system that supports young people to make informed choices and guaranteed careers advice from trained advisors would help provide this."
Brian Lightman, general secretary of the Association of School and College Leaders, said Labour's approach had "serious misgivings".
He said: "School and college leaders will be pleased that Labour recognises the vital importance of ensuring that all young people, wherever they live, have access to expert careers advice in order to help them to navigate through the range of routes and opportunities which exist for them.
"Nevertheless, the needs of young people in different parts of England vary enormously and cannot be met from Westminster. ASCL understands that it is envisaged that careers advisers will be employed centrally rather than directly through schools. We have serious misgivings about this approach.
"Funding for careers professionals should go directly to schools and colleges. There have been too many examples in the past of centrally managed, one size fits all solutions which have not made the best use of scarce resources."
Russell Hobby, general secretary of school leaders' union NAHT, added: "We believe that all children should have access to high quality careers advice. This can actually start as early as primary school, if it is offered in an age-appropriate way. That is why – along with the Education and Employers charity – we created the Primary Futures project which puts professional people into primary schools to showcase the world of work.
"All the political parties talk about improving standards in education but NAHT believes that the solutions to the problems in our schools will come from within the profession itself and not more political intervention.
"NAHT's Manifesto for Education contains a blueprint for the future which we believe all political parties should sign up to. It is encouraging to see widespread support for our proposals for a college of teaching, to help teaching establish itself as an autonomous, high status profession and promote professional development."
Sam Freedman, director of research and impact at TeachFirst and a former advisor to Michael Gove, said:
Nothing in Labour's education manifesto that hadn't been previously announced is there? Or am I missing something? http://t.co/OJ1B2XkjY5

— Sam Freedman (@Samfr) April 9, 2015
Paul Waugh, editor of PoliticsHome.com, tweeted:
Lots in Labour manifesto event today about skills and careers but not much about school standards so far. Pendulum swung too far other way?

— Paul Waugh (@paulwaugh) April 9, 2015
---
Those Labour pledges in full:
– All secondary school and college pupils will get guaranteed face-to-face advice from trained careers advisers, beginning at the age of 11.
– Integrated advice will ensure teenagers learn about high quality apprenticeships and technical degrees as well as traditional academic routes into universities. Schools will be held to account for the programmes they offer.
– Reverse the Government's decision to scrap compulsory work experience for 14 to 16-year-olds.
– Restore the role of Sure Start as family hubs in communities.
– Deliver smaller class sizes for five, six and seven-year-olds, paid for by ending the wasteful free schools programme.
– Tackle underachievement with new directors of school standards to support local schools.
– Ensure all teachers become qualified and introduce new master teachers who are subject experts and specialist in classroom discipline.
– Build a gold-standard vocational route through education and into the workplace with a technical baccalaureate, compulsory English and maths to 18.
– Guarantee an apprenticeship for every school leaver who gets the grades.
---