The government will consult on a proposal to scrap key stage 1 SATs which could be replaced with a new baseline test at reception in order to create a more "stable and proportionate" primary assessment system.
Justine Greening, the education secretary, first announced she would seek views on changes to primary testing last year.
In a new consultation, announced this morning, Greening is seeking views on the scrapping of tests at the end of key stage 1 in favour of a newly designed baseline test in the reception years.
The possibility of ending key stage 1 SATs is good news
Schools Week understands the consultation will ask for views on moving to a 'best fit' model for teacher assessments of writing at key stage 2, as opposed to a 'secure fit' model, following criticism from teachers.
The expected proposals follow a chaotic year for primary assessment in 2016, when the introduction of new, harder tests prompted reports of increased stress among pupils, protests and boycotts by parents and pleas from school leaders for an end to the system.
The chaos – which included the high-profile scrapping of the controversial spelling, punctuation and grammar test after it was leaked online – prompted a special investigation by MPs, and Greening subsequently announced a series of changes to primary assessment in October, including a consultation.
The changes follow months of talks between education unions and Greening, who is said to have taken on board concerns raised in NAHT's independent review of the tests.
Russell Hobby, the NAHT's general secretary, who was involved in the talks, welcomed the proposals, but says there is "more to be accomplished".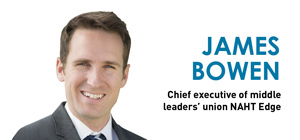 "The possibility of ending key stage 1 SATs is good news," he said. "This creates the time and space in a pupil's primary years for teachers to focus on teaching rather than on high stakes assessment.
"It will properly reward early intervention and it will reduce workload. Overall, minimising the number of high stakes tests is the right way to go."
The consultation proposes replacing the key stage 1 SATs with a new test, taken by pupils in reception, and establishing a baseline for progress measures.
This comes after the government abandoned existing baseline tests as a school performance measure.
It is not yet known how the new baseline tests would be designed, however a source close to the government said an online test would be preferred and could be designed in collaboration with preferred providers of the previous baseline tests.
Hobby also welcomed the idea of moving from teachers being required to look for a 'secure fit' when marking writing.
Under the current system, pupils can only reach a certain standard if meeting every descriptor linked to the standard, but organisations including the National Association of Head Teachers have argued that teachers need more flexibility when assessing the work of their pupils.
"Best fit is a better way to assess pupil's writing," said Hobby. Under this system, teachers can decide if a pupil has met a standard even if they do not meet 100 per cent of requirements.
Greening said: "The Government has reformed the primary school system to make sure children can master the basics of literacy and numeracy so they get the knowledge and skills they need to succeed in later life.
"Now we want to build on that by developing a stable assessment system that helps children learn, while freeing up teachers to do what they do best – supporting children to fulfil their potential."
Save
Save