Local authorities have pledged to step in to save school services run by the Kids Company after the charity ran out of money and closed yesterday.
Kids Company supported tens of thousands of disadvantaged and vulnerable children, including providing therapeutic and social work services in more than 40 schools in London and Bristol.
But it closed yesterday after running out of money, despite receiving a £3m grant from ministers just a week ago.
Today local authorities have said they are working with schools to ensure new providers are found for the affected services.
The charity ran after-school clubs for youngsters in Lambeth. A spokesperson for the council said: "Those services are directly negotiated between the school and the charity. We have already written to schools and are helping to ensure that affected after hours clubs will resume once the summer holidays are over, with a new provider if necessary."
Kids Company provided alternative education provisions for 40 youngsters who have been or were at risk of exclusion in Bristol.
John Readman, strategic director for people at Bristol City Council, said they are well placed to replace services with other provisions.
"We are in close touch with the local authorities and other charities to help our children and young people access their services.
George Ferguson, Mayor of Bristol, added: "I am making sure that organisations and services across the city are working closely together to provide all appropriate support, prioritising any young people who Kids Company tell us they have concerns about."
Kids Company had 600 paid staff and around 8,000 volunteers and concerns have been raised the closure could result in more children facing exclusion come September.
The School Exclusion Project provides free legal help for parents to appeal against their child's exclusion.
Its chief director Alice Bacon and campaign director Mark Greaves, in a blog written yesterday, said local authorities "simply do not have the resources or structures in place to fill the void".
"Even more significantly, they do not have the same relationships with young people in place which have been nurtured and developed over a lengthy period.
"The summer months are a time of huge change for many children and young people helped by Kids Company; the school year is over and they must prepare for new schools, apprenticeships or post-18 work in September.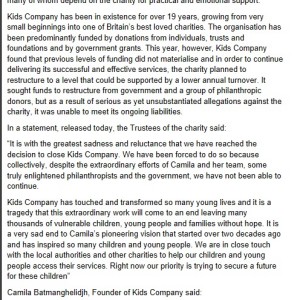 "When they most need a stable influence at an incredibly complex and challenging time of their life, a crucial part of the support network on which they rely upon looks like it will be taken away overnight."
A government spokesperson said it is working closely with local authorities to make sure they have access to the services they need.
A statement from the charity, which has been running for 19 years, read: "Kids Company has touched and transformed so many young lives and it is a tragedy that this extraordinary work will come to an end leaving many thousands of vulnerable children, young people and families without hope.
"It is a very sad end to Camila's [Batmanghelidjh, chief executive of the charity] pioneering vision that started over two decades ago and has inspired so many children and young people.
"We are in close touch with the local authorities and other charities to help our children and young people access their services. Right now our priority is trying to secure a future for these children."
The charity closed after an investigation by BBC Newsnight and BuzzFeed News which revealed the £3m grant from the Cabinet Office would only be paid if Ms Batmanghelidjh stood down.
But now the department is reportedly making plans to claw back some of the money because it believes the conditions were not met.
Last week the police also opened an investigation into safeguarding allegations.