Only three private schools have been taken off the independent schools' register in the past three years, even though Ofsted found more than 200 have failed to meet the standards.
Figures obtained by Schools Week show that two independent schools were removed from the schools' register in 2014-15, with another one following last year.
Six more were threatened with closure, but these either improved, successfully appealed or are appealing. One of these six schools, the Kings Langley Steiner school in Hertfordshire, is in the process of appealing to have the deregistration notice overturned.
Even though just a handful of independent schools have been closed over the past three years, Ofsted gave Schools Week figures which show 212 schools failed the independent schools' standards.
From 2014-15, 71 schools failed independent school standards. The following year, 72 failed them, and from 2016-2017, 69 failed them again.
In a separate report on Ofsted judgments of non-associated independent schools, the number of non-associated independent schools now judged "inadequate" is at 13 per cent – nine percentage points higher than in 2014.
Non-associated independent schools include non-denominational faith schools and Steiner schools, which Ofsted is responsible for inspecting. Other independent schools have their own inspectorates.
"Higher expectations" of the independent school standards introduced in 2014 are behind the rise, according to the Ofsted report, published in March.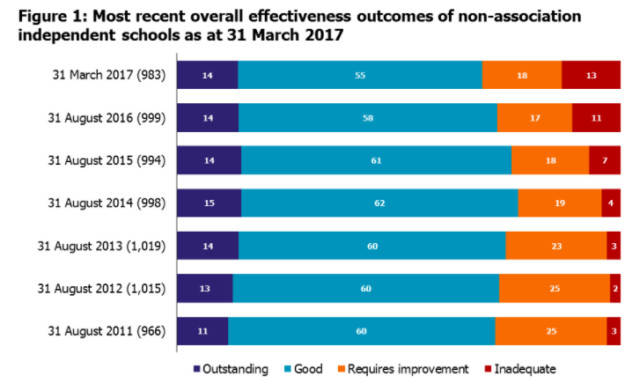 Mary Bousted, the general secretary of the Association of Teachers and Lecturers, said Ofsted should be given more resources and power to close schools which teach very narrow curriculums.
"Inadequate processes in the Department for Education, and inadequate powers for Ofsted, should not hinder or frustrate absolutely guaranteeing that children receive their right to a broad and balanced education," she said.
"If Ofsted are saying that they don't have sufficient powers, then this needs to be looked at as a matter of urgency."
A spokesperson for Ofsted said it was up to the Department for Education to close schools which the inspectorate found to be failing the independent schools' standards.
Kings Langley was found to be failing the standards in November last year, and again during a follow-up visit in December last year, in particular with regard to its safeguarding procedures.
This needs to be looked at as a matter of urgency
In May this year, a further inspection found the standards were still not being met, and the report noted a "culture" at the school in which the welfare of pupils was not "properly prioritised".
The report did acknowledge progress in making proper background checks on staff, and in putting a better assessment system in place.
However the school, which has since appointed a new headteacher and trustees, was told it could not admit any more pupils and was issued a deregistration notice in July.
The school is appealing the decision in court, according to a statement on its website.
The statement said that "while the school feels it provides a positive experience for children", there were "several children and families let down by the school".
"The new leadership is determined that the school continues to learn and apply all the important lessons arising from past complaints," they added.
According to the DfE, any school which does not comply with the independent school standards will be subject to regulatory action.
In its guidance on independent schools, if a school subject to regulatory action fails to improve, "the DfE can take the school off the register", leading to a closure.
*This article was updated to give the number of independent schools which fell below the independent schools' standards, rather than just those which received an 'inadequate', following Ofsted being able to share these figures with us.