John Howson's 40-year career seems to cover everything: teacher, teacher trainer, academia, data expert. So to sum up his life in a way that does not exclude any of his achievements is tricky.
But one thing is certain. It doesn't seem there will be any let-up as he approaches his 68th year.
Born in Haringey, north London, Howson always lagged behind his twin Peter who excelled at school. While Peter was often the top of the class, John was comfortable in the middle ground until he blossomed academically towards the end of his school days.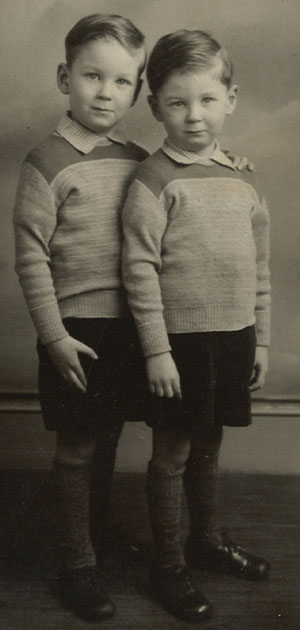 He followed in his father and brother's footsteps – Peter finished school a year ahead of John – and went to the London School of Economics (LSE). This was during the "troubled years" of 1966-69 when the university went into lockdown for six weeks.
He then began his career in education as a supply teacher and at 24 was head of geography at Tottenham School, by then changing from a grammar to become a comprehensive with many pupils from Broadwater Farm (later to become infamous for riots in 1985).
But perhaps the most significant moment in his career was in 1977 when a former pupil attacked and stabbed him in his classroom. It is hard to talk about the incident without reference to the stabbing of Leeds Spanish teacher Ann Maguire in April. Last week her teenage killer, William Cornick, was jailed for life.
"My guardian angel was working overtime, because unlike the poor teacher in Leeds, the knife missed my backbone and all my vital organs.
"Had it been a fraction one way I would have been paralysed; a fraction the other and it would have been in my heart and I would be dead. I am extremely lucky."
I might have ended up as a head, earning a lot more money
The former pupil had been removed from Tottenham when he was 15 and sent to a school for pupils with emotional and behavioural difficulties. But it was clear that the boy was truanting and in November 1976 he was found with two alsatian dogs, which he was looking after for someone while they were in prison, on Tottenham School's premises.
Howson and the deputy head approached him and said that if the dogs were seen on school property again, they would report it to the police and the dogs would be taken to Battersea dogs' home.
That Christmas – and without the school knowing anything about it – the dogs were taken by the police. The teenager blamed the school and, on the first day of term in January, spent the morning in a nearby pub drinking with two older friends until closing time at 2.30pm.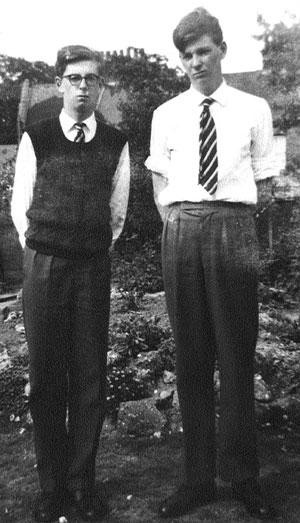 "He comes out of the pub and strolls across to the school and walks in looking for somebody to attack," Howson says. "He is seen by a cleaner who thinks he shouldn't be there and who follows him up the stairs, but who doesn't confront him.
"The classroom doors had little glass slots and the first person he recognises through one of these is me."
John, halfway through a double period at the end of the school day, is sitting on a desk talking to pupils about their mock O-level results.
"He comes in straight past everybody else, hits me round the head and then starts stabbing me.
"Fortunately the cleaner comes in with her broom and starts hitting him round the head and his two mates come in and drag him off.
"I know that I have a broken nose. But I don't know anything else, so I head off to the office to sort this out, take my jacket off and there is blood pouring out of my back."
The boy was jailed for six months – the maximum for a minor at that time – and Howson was off work for seven weeks.
"That sort of violence is off the scale. There is disruption in schools but these types of incidents are rare."
He was already looking for a change, he says, and at the end of that year was offered a job in professional development, managing a new programme for secondary teachers.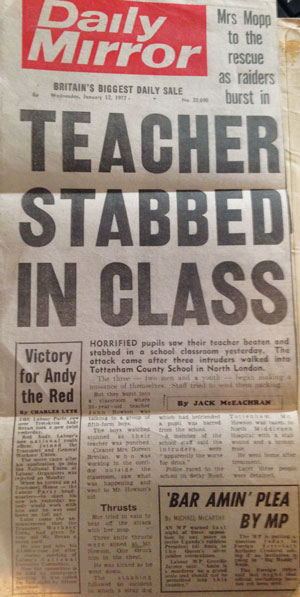 He then went to do a research degree at the University of Oxford – the city in which he still lives, now in a house which backs on to Castle Mill Stream and Worcester College sports ground. He continued working in teacher training until 1984.
Since then his main focus has been on education data and teacher supply, with a nine-year stint as the first deputy head of Oxford Brookes University's School of Education, and a longer term serving as a magistrate in Oxfordshire. And since last year he has been a Liberal Democrat councillor on the Conservative-run Oxfordshire County Council.
"As a councillor in Oxfordshire in the third party, there is a limit to what you can do. You can do a lot more through the press than you can in the council chamber. I could take the easy option and sit back and do nothing, but because I have an interest in education I feel that I have a lot of expertise to offer."
He says that he also enjoys the "discipline of writing 500 words" and two years ago set up a blog, "Some stories behind the education numbers", which now has more than 200 posts. "I only write about what I want to write about. I enjoy it and it's part of understanding communication.
"Those things, plus family life, keep me going. I don't do as much politically outside the county as I used to. There are younger people who should be doing that sort of thing now."
John says his life could have taken a very different turn if he had had children, but his two marriages ended, in part, he says, because of his infertility.
"You learn to live with it and, like everything else in life, you cope with it. But it does distort what would be a normal desire to have a life with children.
"So I have done other things. I have done the research and I have the done the magistracy, as a public service, and I have had a great life.
"It has not been the life I might necessarily have chosen if I had a family with kids. I might have ended up as a head, earning a lot more money rather than having, in a sense, to take control of my own career!"
What is your earliest memory?
Certainly the newspapers on the death of King George VI being boarded in black and, about the same time an, early Christmas and playing with some Dinky toys as presents. Exactly which of those is the earliest memories is difficult to say, but I was about 3 or 4 I think.
What was your favourite subject at school?
It has to be geography. I enjoyed English literature and then later the drama side of it, but it wasn't a favourite subject in the same way. I take that on to adult life in a way because the great thing about being interested in geography and the world is you go to really exciting places. One of my more recent, fantastic memories, is standing at the watchtower at Machu Picchu on a December morning and watching the mist unfurl, the whole time devoid of people. The place is just unveiled in front of you. Absolutely magical.
Where would you like to go that you haven't yet been?
Oh, Australia. And I have been round bits of Russia but I would liked to have gone south into Kyrgyzstan and the Gobi desert and that area, although I am getting a bit old and doddery for some of those sorts of things. And I have never been across the Atlantic by boat; I suppose I am the tail end of the Atlantic liner generation so it has always had an interest to me. I think Australia is probably top of my list.
If you could have dinner with anyone, living or dead, who would it be?
What an interesting question. I guess, probably, one of the philosophers. Perhaps Comenius or Erasmus, but Comenius had an impact on thinking about education and there is that famous quote from him about educating the whole person. I think it would be fascinating to talk to them about education.