Figures released last week reveal that registration for means-tested free school meals – which is linked to pupil premium funding – is at its lowest since records began. Freddie Whittaker delves into local authority data to see how rates vary across the country and how councils are encouraging parents to sign up.
Schools across England are in a postcode lottery when it comes to free school meals (FSM) with analysis of local authority data showing large variations in take-up.
Take-up has fallen to the lowest level since records began, with experts unable to explain either the overall drop or the local discrepancies.
The data is also inconclusive about the impact of the introduction of universal infant free school meals (UIFSM) in 2014.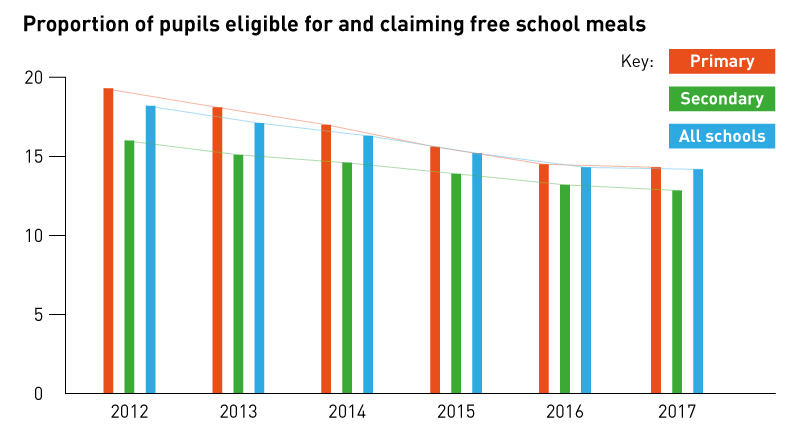 The introduction of UIFSM for all pupils in reception and years 1 and 2 prompted concerns that parents of eligible pupils might forget or refuse to sign up for means-tested free meals, thus depriving their schools of pupil premium funding.
Schools lose money when the number of claimants goes down because their pupil premium payments are based on their FSM take-up.
This has led to some councils encouraging parents to sign up, through offers of free milk and other incentives.
In some areas, take-up at primary level has decreased more than at secondary, especially in London boroughs such as Islington and Southwark, where universal free school meals are available to all primary pupils, not just infants. In contrast, take-up at secondary fell more sharply than primary in Newham, another London borough that also has universal primary free meals.
Other areas with a much more significant drop in primary include Salford in Greater Manchester, Redbridge in London and coastal cities such as Hull and Plymouth.

Council incentive schemes
In several areas known to have implemented policies aimed at softening the blow of UIFSM to pupil premium, take-up has decreased at a similar rate at both primary and secondary level.
In South Tyneside, the council offers free milk as an incentive for eligible parents to sign up to claim free school meals.
In 2012, before universal infant free school meals were introduced, the council had FSM take-up rates of 24.7 per cent at primary and 23.6 per cent at secondary. This January, its take-up rates were 19.2 per cent and 18.7 per cent at primary and secondary respectively.
The council's offer of free milk was made to every child entitled to a free school meal from reception to year 6, Joan Atkinson, the council's lead member for children, young people and families told Schools Week.
"To qualify parents must apply for a free school meal in the usual way. This means that as well as encouraging parents to apply for their free meal, they also make a saving of more than £27 a year on school milk."
Atkinson says the council's catering team visits every reception open day to meet new parents and "remind them about applying for the free school meal".
In Brighton and Hove, take-up at primary level has dropped from 16.7 per cent in 2012 to 13 per cent this year and at secondary from 15.7 to 12.2 per cent over the same period.
The council told Schools Week that its school meals service writes to all parents of reception children every year, telling them about the meals and asking for details on their eligibility for universal infant free school meals.
"We have processes in place to recheck data collected to identify changes in eligibility where the council may not have been contacted by the parent when they become eligible," a spokesperson said.
"Our proactive stance on this has helped to maintain free school meal eligibility within the city as levels of unemployment nationally have declined."
Similar trends are seen in Bolton and Liverpool, both areas where the councils have changed tack to cope with UIFSM.
National FSM and unemployment data
Nationwide, 14 per cent of all pupils claimed free school meals in January, down from 14.3 per cent last year and the lowest level since the government started collecting data in 2001.
In secondary schools, 12.9 per cent of pupils claimed free meals, while 14.1 per cent claimed them at primary level.
The data shows that take-up among all pupils peaked in January 2013 before decreasing at both primary and secondary level.
Eligibility for free school meals is based on a family's receipt of certain income-related benefits; the government has said it would expect to see meal claims go down as the number of people on benefits decreases.
However, although unemployment has fallen in recent years, from 7.8 per cent in September 2012 to 4.6 per cent in April 2017, researchers say a lack of data on the overall number of pupils eligible for free school meals makes it difficult to pinpoint the reason for the drop in take-up.
This is because the government publishes annual data on the proportion of pupils claiming free school meals, but not on how many are eligible overall. (FSM data will not necessarily correlate with unemployment data, as those on low incomes are also eligible.)
Dave Thomson, from Education Datalab, said his organisation would "find it hard" to say why take-up has fallen without it seeing data on how many pupils were eligible and "why they had been deemed eligible".
Thomson also said his organisation would like to see the approach of some councils to use benefits data to identify eligible pupils replicated across the country.
Monitoring FSM take-up
Child food poverty adviser Lindsay Graham says schools' efforts to maintain free school meal take-up are not properly monitored in England.
Graham, who is based in Scotland where school inspectors monitor how schools encourage free school meal take-up and tackle the stigma around them, suggested that a similar approach would work well in England.
"My understanding is that Ofsted monitors how pupil premium is spent and pupil premium is linked to free school meals," she said.
"With this connection I would have thought that the free school meals part would have been an essential part of monitoring. I have not seen any examples of how increasing FSM uptake has been recognised by Ofsted.
"The missing part for me is how important the free school meals are to Ofsted and what they actually consider about them during inspections."
Ofsted confirmed it does not "routinely" check on the extent to which schools are promoting FSM and said it has "no plans to add this as a requirement in school inspections".