Guidance for schools during the Covid-19 pandemic has been "inadequate", contributing to a "crisis in school leadership", researchers have warned, after a survey found most heads felt advice had been neither timely nor straightforward.
Toby Greany, Pat Thomson and Nick Martindale, from the Universities of Nottingham and Oxford, surveyed around 1,500 members of the NAHT and ASCL school leadership unions this summer about the impact of the pandemic. They found their experiences with government guidance were "overwhelmingly negative".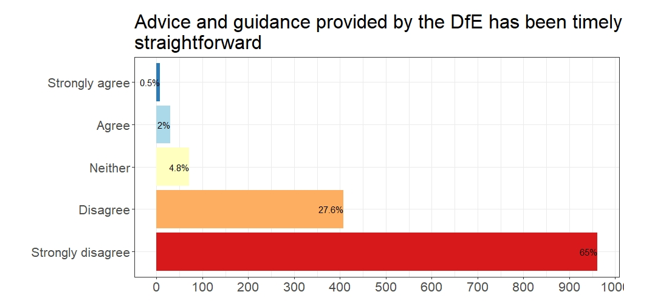 In a blog post due to be published today, the researchers will reveal that 93 percent of respondents disagreed that advice and guidance provided by the DfE had been "timely" and "straightforward", with 65 per cent strongly disagreeing.
Asked whether they had trusted guidance from the DfE, 65 per cent disagreed, with 32 per cent strongly disagreeing.
The government has been repeatedly criticised for the way changes to schools' operational guidance have been communicated since last March.
Analysis by Schools Week last year found a quarter of school guidance updates were published during antisocial hours.
In May, the DfE and Ofsted published a list of 12 commitments under a a new education staff wellbeing charter.
One of the DfE's nine pledges was to publish Gov.uk updates aimed at education professionals "only during working hours".
DfE guidance 'main source of stress'
The research findings are from the second of four blog posts which will be published based on the survey.
The first blog post reported that a lack of timely resources from the DfE had been the "main source of stress for leaders during the pandemic".
Today, the researchers warned their findings "indicate that the department's advice and guidance throughout the pandemic has been inadequate – contributing to a 'crisis in school leadership'".
"Rebuilding trust will take time, investment, and improved methods for engaging and communicating with the profession. Above all, our findings suggest that the government must learn to trust the profession first."
MAT leaders felt more supported during pandemic
The survey also found just 45 per cent of leaders agreed that they had been well supported in their roles during the pandemic, with 33 per cent disagreeing.
Leaders in independent or multi academy trust schools were most likely to say they had been well-supported, with 55 per cent of both agreeing.
In contrast, just 38 per cent of leaders in local authority maintained schools agreed.
Leaders of voluntary-aided or voluntary-controlled faith schools were least likely to agree, at 32 per cent.
Nick Brook, the NAHT's deputy general secretary, said it was "very clear that the government has been the main source of stress for school leaders during the pandemic…this is a shameful review of the government's support for schools during the worst crisis they have experienced".
He called on the government to pause inspections and fully resource schools "so that all their focus can be where it should be, on the most important task of helping children's education and wellbeing to recover".
The DfE was approached for comment.