While the headlines can sometimes be alarmist, Henry Stewart explains how schools can be one of the happiest places to work.
Could schools be great places to work in, where teachers feel trusted and valued? That was the question posed at a recent conference on 'happy productive schoolsl.
A survey carried out in advance of the conference, among the Guardian Teacher Network, found that from over 4,000 respondents, 98% agreed "if staff are happy, students learn better".
However, just 37% said they were happy at work.
"I remember a visitor to Morpeth School coming to me and asking 'why is everybody so happy here'", commented Sir Alasdair Macdonald, headteacher there until one year ago. "I hadn't really thought about it but I was shocked to realise this was unusual."
The survey found that even among headteachers only 39% felt trusted to do the job as they would want to.
Schools Week readers will be familiar with the reasons why teachers are told they cannot be trusted. "Government interference on operational level" and "excessive demands of Ofsted" are typical explanations.
But the school leaders who presented at the Happy Schools conference gave a different picture, of creating school cultures that truly enabled learning.
"For me", explained Sir Alasdair "relationships are at the core of good schools, the idea that everyone in the school, adult, teacher, sports staff, pupil has potential and is capable of doing whatever they are currently doing better. Why would you be in a school if you didn't believe that? Unfortunately much of what happens in schools at the moment has become rooted in the opposite. Performance management, Ofsted, all these things are about rooting out the failure, rather than supporting and celebrating success and professional development"
Tom Sherrington, the newly appointed head of Highbury Grove (known to online followers as @headguruteacher), explained how he was seeking to change the culture. "We don't mention Ofsted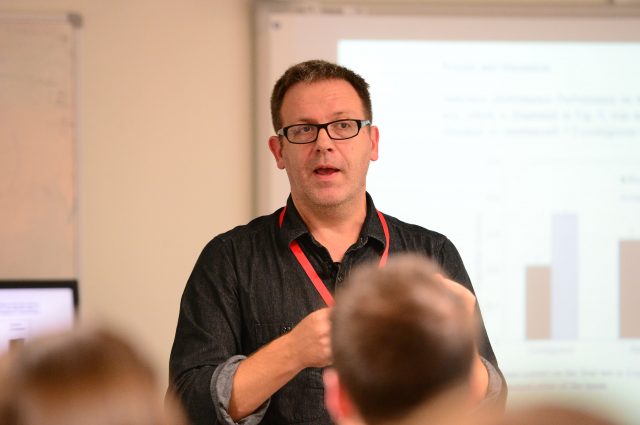 and we never talk about what an Ofsted lesson should look like".
Teachers are now no longer graded on lesson observations by Ofsted, or at Tom's school. "The spirit of not grading changes the discussion about every lesson into professional dialogue, rather than an accountability process and you just get so much more buy in to that."
Instead of SLT descending to investigate, departments now review themselves.
"This is a totally different process as people feel they have a say in that," Tom added.
Shenley Brook End, in Milton Keynes, is another school where Ofsted is never mentioned. They have lesson monitoring but the teachers get to decide which of the 9 staff-created feedback forms are used (depending on what aspect of their teaching they want evaluated) and there is dialogic feedback, rather than a grade.
"If you bore the teachers, they will bore the children", explained Chris Holmwood, senior deputy headteacher. Instead "we need a culture of joy and enthusiasm in the learning of others. A school can be happy and effective, it can be creative and rigorous."
Professor Tim Brighouse, who was chief advisor at London Challenge, also sees Ofsted as a key part of the problem. He believes they have created a culture of fear in schools.
"Most people have lost confidence in Ofsted", he argued. "We need to replace it with a peer review system on a framework laid down by HMI (but with peers chosen externally)."
"We know what is right for our children and communities, but we are not always allowed to do the right thing because of external pressures to 'do what we are told'. This is still the case, despite government promises to make schools autonomous.
He felt there was a need to bring back democratic accountability in education, to overcome the sense of powerlessness. "In 1998 the Education Secretary of State had just three powers, one of which was the removal of 2nd world war bomb shelters. Now they have over 2,000 powers. It is madness."
All those present agreed it was time to change the culture. "If 80% of schools are Good or better," asked Chris Holmwood, "why does it always feel like we are under attack?"
Henry Stewart is co-founder of Local Schools Network and, as Chief Executive of Happy Ltd, one of the organisers of the conference