The number of children withdrawn from school for elective home education soared by 34 per cent last year, with Covid the reason most frequently cited by parents.
Analysis by the Association of Directors of Children's Services estimated that 115,542 pupils were electively home educated at some point during the 2020-21 academic year, up from 86,335 in 2019-20.
And 81,196 children were estimated to be in elective home education on census day this October, a 7 per cent increase on the same point last year, when there were 75,668.
Elective home education is when a child is permanently removed from a school's roll to be educated at home.
The analysis is based on data on pupils known to be home educated from councils that responded to a survey, with those responses extrapolated to come up with an estimate for the whole country.
The report warned that local authorities had highlighted a "high level of churn" within the home-educated population over the past academic year. They reported that September 2020 and March 2021 were "peak months" for elective home education notifications.
Over the summer, MPs slammed an "astonishing" lack of data on the number of children educated at home, and called for more powers for councils to check on their progress and welfare.
School leaders backed calls for the government to introduce a national register of children educated at home, and to investigate a recent rise amid concerns parents had "lost faith" in school safety measures during the pandemic.
But the government is yet to respond to its own consultation on plans for a register, despite it closing more than two years ago.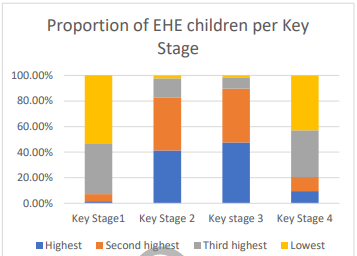 Health concerns relating to Covid-19 remained the most common reason cited by councils for parents withdrawing their children from school, but this year's survey also saw a large increase in reports of parents citing other health or emotional health reasons.
Local authorities were asked to select the top three reasons provided by parents for choosing EHE. Health and emotional health was cited as a reason by 73 councils this year, up from 54 last year.
Philosophical or lifestyle choices were cited as a main reason by 74 councils.
The largest reported cohort of pupils in elective home education in a single local authority was 3,121, and the average across all 126 councils that responded was 534. This is similar to the 2020 average.
Councils were also most likely to say that home education was highest among key stage 3 pupils.
Some respondents also said they had seen a "noticeable increase" in home-educated children who had an education, health and care plan (EHCP) or required SEN support.
Ninety-eight local authorities said that current national guidance on elective home education was "not clear". And one reported that the duty on local authorities to confirm children are receiving suitable education "is challenging with no ongoing access to parental provision or children's work".
The average overall spend on co-ordiation of home education was £86,211, while the average budget was nearly half of this, £46,000.
A Department for Education spokesperson said it was "absolutely vital" that any decision to home educate are "made with the child's best interests at the forefront of parents' minds".
They added that they remained "committed" to a registration system for children not in schools, with further details set out in the upcoming consultation response.
The department has also written to local authorities to encourage a return to full attendance, secure evidence about the extent of EHE enquiries and make sure decisions around home education are being made in the best interests of children.