The number of children with education, health and care plans being educated at home has risen by almost a quarter in just one year.
Data published by the Department for Education today shows that 3,660 pupils with EHC plans were in elective home education as of January this year, up from 2,983 in January 2020.
The government only started collecting data on elective home education among EHC plan holders in 2020, so this is the first year they have published a comparison.
It comes after the Association of Directors of Children's Services reported a 38 per cent  increase in the number of all children in elective home education as of October last year.
More EHC plan pupils in mainstream schools
Overall, 39.9 per cent of children and young peoples with EHC plans or statements of SEN were being educated in mainstream schools in January, up from 39 per cent a year earlier.
The percentage in special schools was 35.8 per cent, down from 37.2 per cent in 2020 and at least the fourth year the proportion has declined.
However the share of pupils listed as "educated elsewhere" or not in education, employment or training (NEET) both continued to rise, reaching 3.4 per cent and 2.5 per cent respectively.
More young adults awaiting provision
A total of 14,452 children and young people fell into the "educated elsewhere" category.
It includes not only home education, making up 0.8 per cent of all children with EHC plans or statements, but also "other arrangements" by local authorities and those awaiting provision specified in their plans.
1,460 children of compulsory school age were awaiting provision and not currently in education, while another 248 below school age and 2,438 above school age were also awaiting provision. The number above school age marks a 36.2 per cent leap on the previous year.
EHC plan numbers still rising for now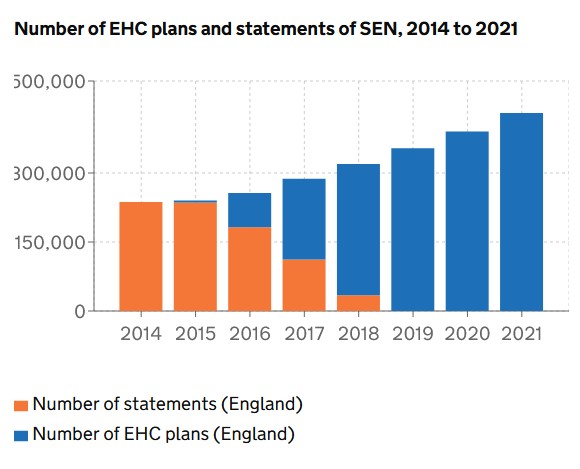 Overall, the number of pupils with EHC plans rose by 10 per cent between January 2020 and January this year, a similar rise to what was seen between 2019 and 2020.
The data also points to EHC plan delays, with the proportion issued within 20 weeks falling last year – 58 per cent, down from 60.4 per cent in 2019.
The number of initial requests for EHC plans also fell for the first time since they were created, from 82,300 in 2019 to 76,000 in 2020.
A DfE spokesperson said it was "reassuring" that provision of EHC plans had continued throughout the pandemic. They highlighted £1.7 billion funding to "tackle the impact of time out of the classroom" and rising high needs funding, but acknowledged there was "more to do."
The ongoing SEND review will make the system "more consistent, high-quality and joined-up".