Damian Hinds will meet MPs to discuss the "savage cuts" proposed by a prominent university-backed academy chain.
The University of Chester Academies Trust today confirmed that it is considering cutting 24 support staff and 19 teaching roles across its seven schools in Cheshire and Staffordshire.
The trust is also in discussions with the Department for Education about the potential rebrokering of some of its schools to new sponsors.
Earlier this month, UCAT, which was set up by the University of Chester, was stripped of most of its funding powers and issued with a financial notice to improve by the government.
In the notice, published by the Education and Skills Funding Agency on Friday, officials told the trust it had broken academy finance rules by racking up a deficit of £3 million. Under the terms of the notice, most spending decisions by the chain must now be run past the ESFA.
Now the education secretary has pledged to meet MPs who have UCAT schools in their constituencies to discuss an "urgent solution".
Ruth Smeeth, the MP for Stoke-on-Trent North, demanded action over the future of University Academy Kidsgrove and University Primary Academy Kidsgrove, two UCAT-run schools in her consistency.
The two schools have been highlighted by UCAT as those where "all options", including new sponsors, are being considered.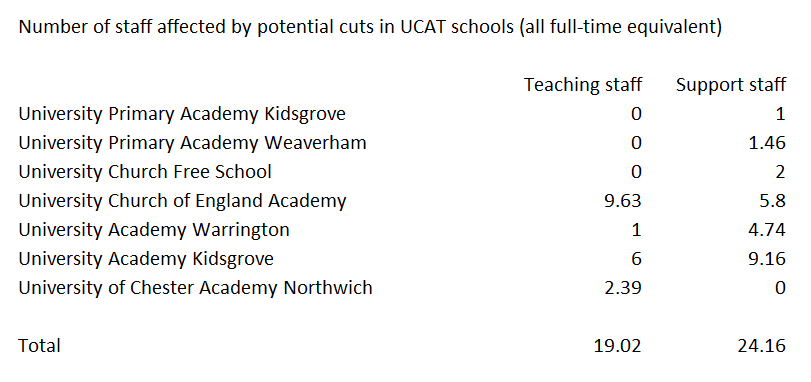 According to Smeeth, the trust wrote to staff in its schools on Friday to announce "savage cuts". She used the education questions session in the House of Commons to demand a meeting between Hinds and all MPs with UCAT-run schools in their constituencies to "talk about an urgent solution".
Hinds said that he and the schools minister, Nick Gibb, would be "delighted" to meet Smeeth and other MPs.
It is not the first time UCAT has found itself in the spotlight following criticism of its activities.
Last year, the trust was criticised by Ofsted for failing in its school improvement strategies and "below average" standards in some of its schools.
"UCAT is committed to providing the best educational experience it can for its pupils," a spokesperson said. "It will support all its staff during this challenging time and is working very closely with trade unions and the Department for Education throughout this process."