Insufficient funding, excessive accountability, poor teacher retention and limited school autonomy were the core issues which 200 heads tackled last Friday at the second Headteachers Roundtable.
The 2018 summit kicked off with opening remarks by the chair, Stephen Tierney, followed by Schools Week's very own Laura McInerney, who grilled Robert Halfon on his recent work as the chair of the Commons education select committee.
David Benson, the principal of Kensington Aldridge Academy, told the moving story of how he put his school back together in the wake of the Grenfell Tower tragedy in June last year.
The rest of the day was filled with an impressive variety of workshops delivered by the big names in education.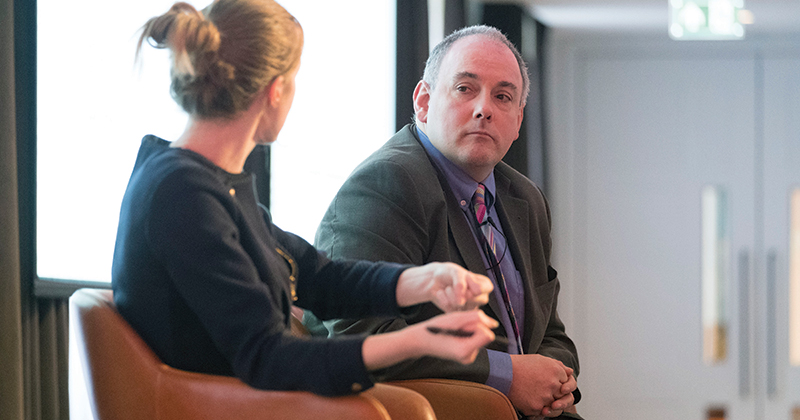 The national schools commissioner Sir David Carter discussed ethical leadership, Dame Alison Peacock tacked professional learning, and Professor Becky Allen addressed the elephant in the room: why are so many teachers thinking about leaving?
The day ended with a passionate speech on "bold leadership" by Geoff Barton, the general secretary of the ASCL.
Here Schools Week picks out some the best bits of the day for those who missed out on the fun.
Opening the summit, Tierney challenged delegates to consider how they could "actually start to lead the agenda".
"We don't need permission to do some things," he said, reminding the room that "collectively we have massive experience and daily intelligence of what is going on that we can use to guide policy thinking".
A quote from Archbishop Desmond Tutu set the tone: "There comes a point when we need to stop just pulling people out of the river, we need to go upstream and find out why they are falling in."
For educators, the problems lurking upstream include the "the pernicious accountability system" and "systemic and systematic change".
In terms of accountability, he said, in a recent Twitter poll of 954 teachers over half said that more accountability was most responsible for increased workload.
He added that ministers must stop saying that there are more teachers and more money in education than ever before, without acknowledging that there are also more pupils.
"If we've got another 3,900 primary teachers, with 166,000 more pupils, that's one to 41," he noted.
But by working together leaders can start to address some of the problems their schools face.
"Let's consider the outrageous today for education and make that the norm," he said.
The art of academy ethics

Academy trusts that "don't get it right" have problems with "values, beliefs and ethics" in common, the national schools commissioner has said.
Sir David Carter framed his presentation at the summit around the idea that "the standards you walk past are standards you accept".
Originally a statement made by Lieutenant-general David Morrison to the Australian army in 2013, Carter applied it to the responsibility he sees for headteachers to enact ethical leadership.
"If there is one thing that [academy] trusts that don't get it right have in common, it is around values and beliefs and ethics," he said.
Multi academy trusts are really collaborative within themselves but not enough with each other
He told the audience to consider which standards they are not willing to "walk past" and how they could "embody" these values, making them a good role model for other school staff. This in turn can "raise the expectations in the communities we serve".
Enacting a school's core values isn't just about having a mission statement or praising examples of good behaviour; "our actions also make explicit our values".
Values should be taken into account when appointing and promoting staff, carrying out performance management, responding to challenging visitors to the school, and setting targets for the future.
It is important that school leaders do not see their staff as "robotic practitioners", and instead understand "the need to develop people professionally and personally".
Sharing good practice is an important way to achieve this, and multi-academy trusts in particular should be looking more towards learning from each other.
"One of my really big challenges in my day job is that multi academy trusts are really collaborative within themselves but not enough with each other," he said.
He advised MAT leaders to think about how they present the values of their trust to different audiences.
While some CEOs "are really superb at managing that small interaction with eight or nine people talking about the vision", they struggle to get the same message across in a presentation to 200 people. Others "find it quite hard to get down to the granularity in the small meetings".
Carter's final advice to heads on ethical leadership involved four tests to stay on track.
Firstly, the sleeping test: if I do this can I sleep at night? The newspaper test: would I still do this if it were published in a newspaper? The mirror test: if I do this can I feel comfortable looking at myself in the mirror? And finally, "the killer one", the teenager test: would I mind my children knowing about this?
"I think if we have that at the back of our minds, with some of the other things from today, then that spirit and that embodiment of ethical leadership will live in our school system," he said.
Creative ways to reduce the mark-load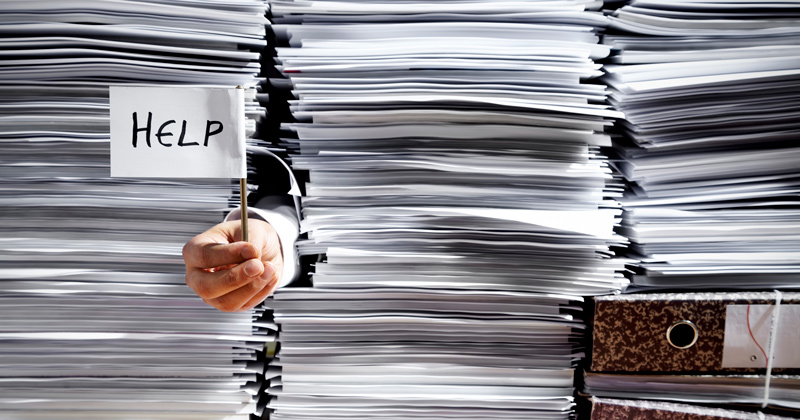 Headteachers and other school leaders focus too much on gathering information needed for accountability and not enough on what teachers need to improve the way they teach, according to one head-turned-education-consultant.
Tom Sherrington presented his practical solutions for lightening teacher workload, through more efficient approaches to marking and assessment.
He argued that leaders focus too much on gathering the information they require for accountability purposes and not enough on what teachers need to do to improve the way they teach their pupils.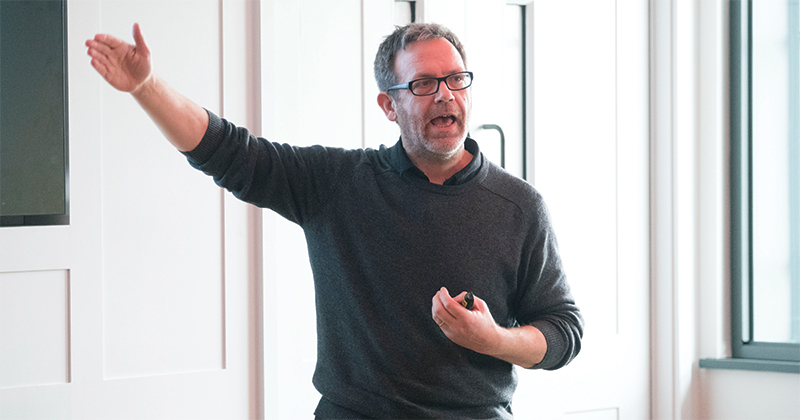 "A lot of what goes on in schools related to assessment is autopilot; it hasn't been built from the ground up, it's just been done because of people thinking that's what you're supposed to do," he said.
"The role of assessment is about building knowledge, it's not about macro descriptors of how well we are doing. It's primarily about using information to tell you how well things are going, in order to teach more effectively."
Teachers under pressure to mark lots of work and regularly submit data to a central system end up guessing at the results because they are so short of time, he continued.
"'It keeps everyone off your back. That's kind of how teachers think when they have to do something that doesn't help them. We need to be conscious of creating extra layers of assessment data which are for leaders and managers, and not for teachers."
One solution is the benefit of whole-class feedback, in which the teacher collects the class' books and does a broad assessment of them all on the same day, looking for common errors and concepts that need reinforcing.
The teacher can then return the books the next lesson and address feedback to the whole group drawing out repeated errors, rather than writing out corrections for each child.
"Whole-class feedback works really well, but you need to validate it as a headteacher," Sherrington explained. "You then have to tolerate that you won't see marking in every book."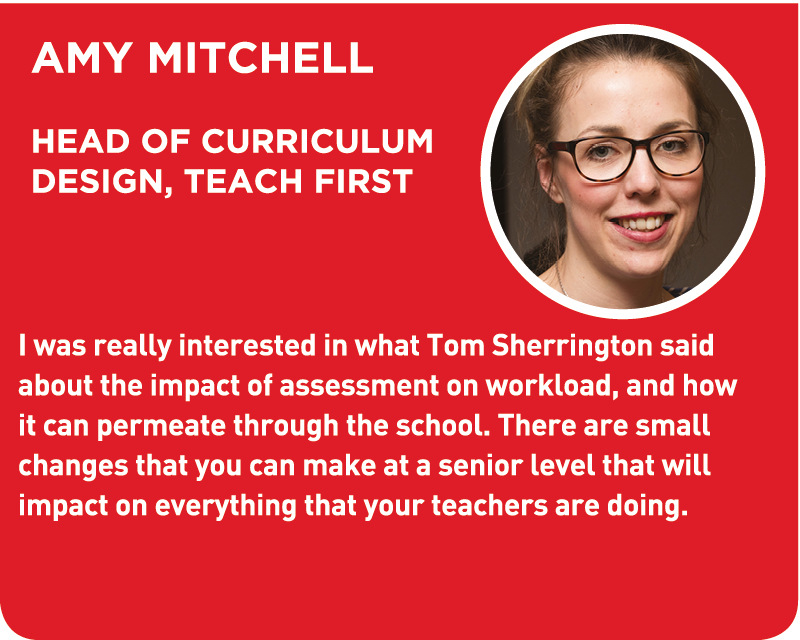 Overall Sherrington recommends a "diet of feedback". Teachers should aim, across several weeks, to provide a combination of in-class feedback through questioning, whole-class feedback, self-assessed quizzes, peer assessment and redrafting, in-depth marking of one of two selected pieces of work or tests, and checks of pupils' skills in presenting and organising their work.
Headteachers need to actively encourage efficient techniques such as whole-class feedback and self- or peer-assessment, to ensure their staff feel empowered to use these assessment approaches, Sherrington advised.
"Regardless of the system, every teacher needs to know the answer to the question, when someone is struggling in my subject, what do I do about it?" he said.
"That should be the meat of departmental discussion. Who cares if you've got the data if you can't answer this question: 'so what'?"
Surviving in the face of tragedy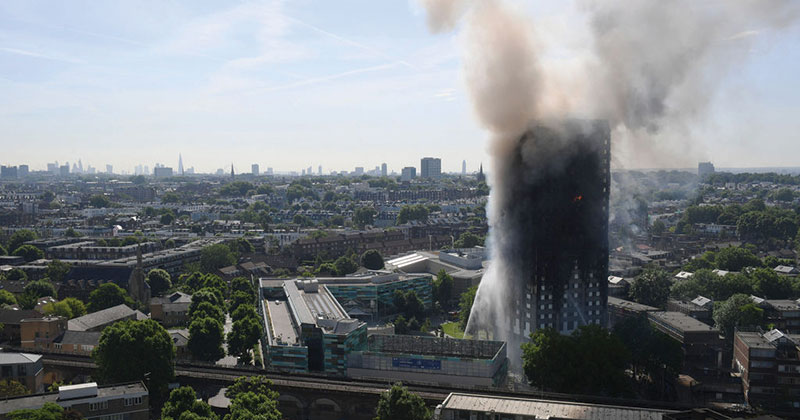 The principal of a school in the shadow of Grenfell Tower has discussed how his team fell back on its "underlying mission" to serve a traumatised community.
David Benson (pictured), the principal of Kensington Aldridge Academy in London, spoke to delegates about how his school had recovered after the tragedy of the fire, in which 71 people including four of his pupils died, in June.
Pupils attending the school live within half a mile of the tower and the impact of what happened was huge; Benson and his team were on the ground from the early hours of the morning when the fire started. As well as the four deaths, the school's original site was unusable in the aftermath of the disaster.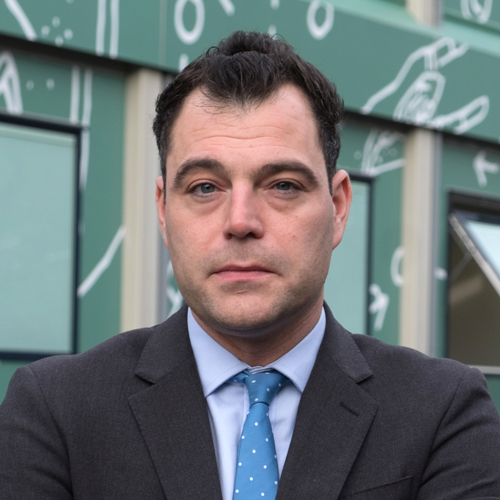 But it only closed for two days and managed to get going again in buildings belonging to a nearby school – amid the pressures of public exams.
"I think it helps that it's not selective and that it's an all-ability intake and a community school, because we really fell back on that underlying mission, to serve this community," he told the summit.
Benson cited three factors in keeping things afloat: the school's teaching and learning model, a thorough staff training programme, and non-hierarchical lesson observations.
The school has a handbook for teachers which is designed to be a "useable manual" to help staff when they are planning lessons or schemes of work.
This clear model for teaching and learning meant that teachers could "walk in to a classroom that they'd never seen before and continue to deliver great lessons without really missing a beat".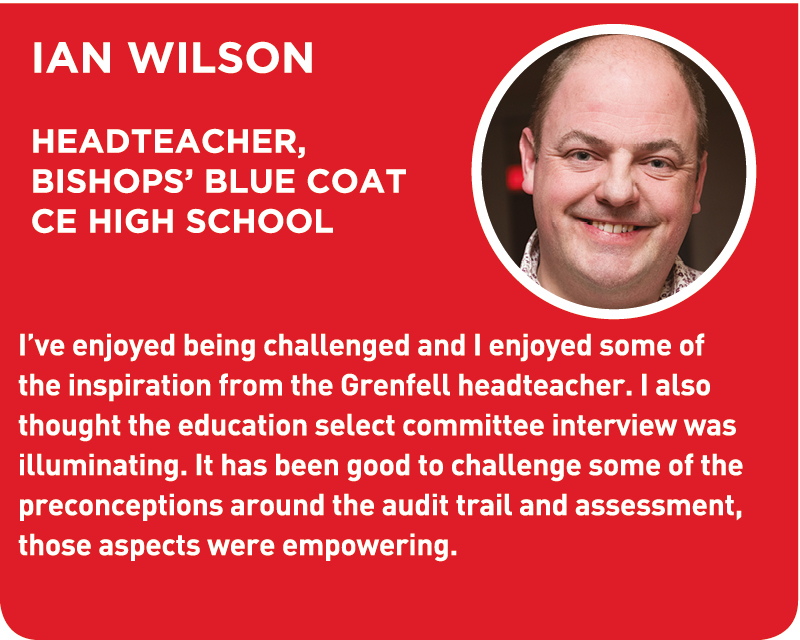 Kensington Aldridge also provides 10 training days a year instead of five, alongside weekly twilight sessions, and there is "an understanding that training is for everyone". Much of this is video-based, from an archive of examples of KAA lessons.
"I think that's the minimum we need to get to the standards that we want, other education systems do a lot more than that," Benson said.
Thirdly, lesson observation "is not a top-down performance-management accountability tool", but driven by teacher requests to observe each other. Observations are graded, to ensure a "widespread understanding in the school of what outstanding practice is".
These three pillars ensured that alongside their personal commitment, staff "also had the expertise to continue to teach lessons in a very challenging set of circumstances".
What we learned at the HTRT Summit 2018
• In seven years, Britain has created more multi-academy trusts than America created in 30 years of the policy, according to Schools Week's contributing editor Laura McInerney.
• Robert Halfon, the chair of the education select committee, thinks there is too much bureaucracy around the work of the regional schools commissioners: "It needs to be much clearer and cut through the red tape."
• Teachers are happy with their lives more often than not, according to Professor Becky Allen, director of the Centre for Education Improvement Science, but the quality of leadership and management and a heavy workload of 55 to 59 hours a week are their main reasons for wanting to leave.
• McInerney outlined important findings from Teacher Tapp research on workload: 75 per cent of teachers surveyed spend three or more hours a week marking, 60 per cent do three or more additional duties, and 50 per cent run after-school clubs.
• Allen also pointed out that Ofsted's shorter notice period is driving workload because "inspection-compliant paperwork must be ready at all times".
• Schools face many challenges with recruitment, according to Helena Marsh, the executive principal of Chilford Hundred Education Trust. These include having to pay more for teachers in shortage subjects, being forced to collapse classes when teachers can't be recruited, and resorting to hiring non-specialists or non-qualified teachers to fill vacancies.
• A new building was erected in just nine weeks for David Benson's school Kensington Aldridge Academy after the Grenfell Tower fire, making "a mockery" of the usual pace of government school building projects.
• As a former grammar school boy, the new education secretary Damian Hinds is likely to push for greater selection in the school system, McInerney said. Keep an eye out for new grammar school satellite sites and post-16 selective schools.