This isn't supposed to be a story about Grenfell Tower.
It's supposed to be the story of David Benson, a poster boy for the Teach First mission, who eschewed his high-flying Cambridge-educated family's vision of him as a lawyer, academic or media guru, and instead worked for over a decade as a teacher in tough inner-London schools until he saw, and jumped at, an advert to open a school in the deprived neighbourhood next to where he grew up. A place, by the way, that's so deprived almost 70 per cent of his pupils have taken free meals at some point.
So, yes. That was my intention as I went to meet Benson at the temporary site the Kensington Aldridge Academy now occupies, after its former home – metres from the Grenfell tower – had to be abandoned after the fire that stunned the country this summer.
We walked around the school for an hour (the pupils are smart, and interested, and so well-behaved it baffles the photographer) and chat for almost 30 minutes about his life. But when the talk turns to the evening of June 14, and the disaster that led to the loss of four of his pupils (and one former pupil), it becomes clear the tragedy is so incomprehensibly awful there is no way to back into it later in this piece. It can't be a footnote or a squashed paragraph. The profile has to start there. And it has to be in his words.
**
Benson knows the moment is coming where I will asked about the fire. He's ready for it. I ask one question: how did he find out?
"My deputy head lives nearby. She called me at 3.30 in the morning. She just said 'you need to get down here'. And that's what I did. I got up. Had a shower really quickly, and went there from about 4am," he recalls.
"The immediate thing that morning, when we got there, we looked up and said … [he shakes his head, speechless]… The people on the ground were myself, Anna my deputy, and a number of office staff who happened to live close by.
"We knew we had to try and establish the children who lived in the tower and figure out what was going on with them. We quickly set off hotspots on our phones. We had our laptops with us, and we could access the school information system. We were able to quickly run a report to see who lived in the tower.
My deputy head lives nearby. She called me at 3.30 in the morning. She just said 'you need to get down here'
"And then we started ticking them off: 'I've seen so-and-so, he's fine', we'd tick him off; 'I've phoned this person, they are okay'. We started to figure out who was missing, because we couldn't get any other information any other way. No one knew what was going on.
"The next thing we had to do was get a plan to move the AS-level exam which was, completely madly, that same morning, with 60 kids in it.
"We rang Burlington Danes [a nearby school], to see if they would take them, and then we emailed the students the advice about that.
"We liaised with Edexcel, as all the papers were locked in the school building and we couldn't get access. I can't quite remember what happened, because I have such a good leadership team I just said to them 'you are on this' and they did it. Either they couriered one of the exam papers over and we photocopied it, or they allowed us to photocopy a Burlington Danes one. It was all completely not what was supposed to be done. But what can you do? It's a national disaster going on. So we had to start the exam 20 minutes late.
"That day I sent three emails to staff. I see them sometimes in my emails, it pops up when I search for things. There was one at 5am when I said school is closed, we are working as best we can on what has happened to the kids, and we are sorting out the exam. There is another one at lunchtime with an update. And then there was a long one at 6pm that said: 'this is what's gone on and this is what we are going to do'.
"At that point the most important thing was getting opened as soon as possible. In the end, we were closed for two days and that was because we had to re-timetable and understand what had to be in place from a therapeutic point of view for the kids. But we were told one of the most important things was keeping a sense of normality.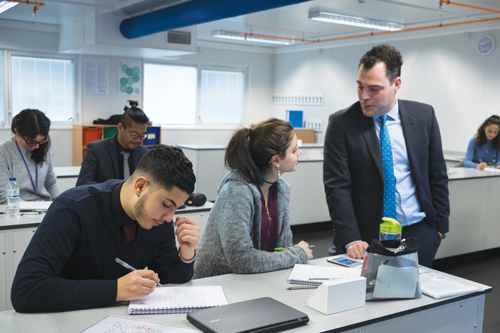 "So that day, about 4pm, I sat down with the head of Burlington Danes and we talked about whether they could take us in. And we spoke to Latymer Upper [another nearby school]. I wrote a short paper for the governors to say I wanted to move us. They set up a small emergency group of key local governors, because they are brilliant and they knew it was too big to do another way. They approved the plan to move. They approved everything we did in that five weeks before the end of school. Then it went back to normal. But we couldn't do it any other way. It wasn't the time for debates over email.
"Our motto is 'intrepidus' [Latin for fearless and unshaken]. I wanted a Latin motto when we opened the school because the fact it was Latin meant the pupils had to translate it to understand it.
But I always thought, and Delia Smith [the headteacher he formerly worked under] taught me this, that it's frustrating when you speak to a group of kids stood underneath the school motto and they say they don't know what it means, because it's 'aspire to achieve' or something long like 'respect, tolerance and whatever it is'.
The test of a school culture is not how shiny the prospectus is
"If it was in Latin, I couldn't make it too long. If it's 'success for the stars' which would be – my Latin is hopeless – 'aspirer ad astrea'? Something like that?
"Intrepidus was about boldness and bravery, and linked to our learning culture, our values and to resilience – which when we opened in 2014 was very cool – but although we knew it would help us build a great school, we had no idea how important those values would become.
"That night, before we went back to school, I wrote an assembly and I could fall straight back on the values. Because they make sense to the kids, they know them, they can talk about them.
"Our pupils say a pledge every lesson. People think those pledges lose meaning because kids say them all the time but Delia always said to me the test of a school culture is not how shiny the prospectus is, it's whether you can walk up to any child and ask them to explain what it means to be a KAA student. They'll be able to tell you more eloquently than the teacher. And don't think you can rehearse them. If you do that, and a visitor asks, they will say 'my teacher told me to tell you'."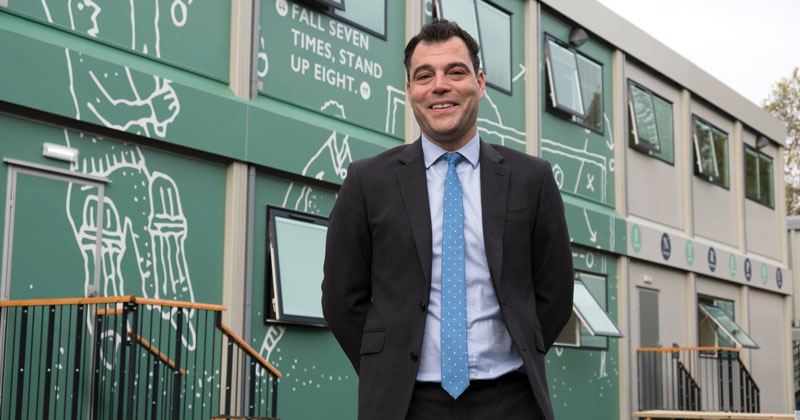 He softens at this point. Two weeks earlier, the head boy of Kensington Aldridge Academy, 17-year-old Kai Chappell, told over 6,000 people at Wembley Arena about the power of the entire school saying that pledge in the wake of the tragedy.
The pledge goes like this:
Today and every day I will be the best that I can be. Every challenge I will rise to every setback I will come from. Every moment I will seize.
"We spent ages on that pledge, Laura. I can't tell you. We had no school building at the time so I remember spending hours in Westminster library going through a Latin dictionary trying to come up with a one-word motto. But I wouldn't change a word of it now. It works. And it's so powerful when you hear the whole school say it in an assembly."
**
We walk the corridors of the temporary school site a mile or so from the old one. It was built in less than two months, and is known by all as KAA2. Benson pops us in and out of lessons with pride in his staff and the children. Sixth-formers discuss their university plans; a year 10 class tell me they miss the larger dining hall of the old school, but the smaller outside area gives more chance to look out for needy year 7s. There's not the slightest sense of pity. Intrepidus, in spades.
"This building is part of our story now," says Benson, "as will be the next bit where we make our way back to KAA1".
**
One of Benson's notable characteristics is that he constantly talks up the achievement of others. As we traverse the school he talks of his first teaching experience, at Eltham Green School, in glowing terms. Serving the Ferrier Estate, one of outer London's toughest social housing projects, (since demolished), a triumvirate of leaders served him well.
We spent ages on that pledge, Laura. I can't tell you
"It was run by the brilliant Anne Barton, who now works for Future Leaders, and an incredible deputy head called John Sullivan, who is still the best teacher I have ever seen. And then I had a really good head of department, John Wilkins. Between the three of them they intensively mentored me to become a teacher."
After this he moved to Burlington Danes, where he spent four years under Dame Sally Coates, who told him that even if he didn't think he wanted to be a headteacher he should still act as if he did, just in case he changed his mind. "Smart advice," he notes. Finally, he helped set up Ark Wembley Academy, led by the formidable Delia Smith, whose name he relentlessly references.
"To be honest, I wouldn't have left Wembley if I hadn't seen the Kensington Aldridge advert. I thought 'I could wait an entire career and no-one is going to build a brand new academy in a really cool part of London that I know really well with a really great sponsor and a really effective local authority, starting from just year 7'. I had to go for it."
**
His choice to become a teacher was a little surprising to his parents, who had pushed him academically and who had high-powered careers at the BBC and trade unions, but there is an educational history in his family. His maternal grandmother was the head of a special needs school, and his grandfather the editor of the NUT's magazine for members.
After studying English at Cambridge he worked for a few months at a media consultancy.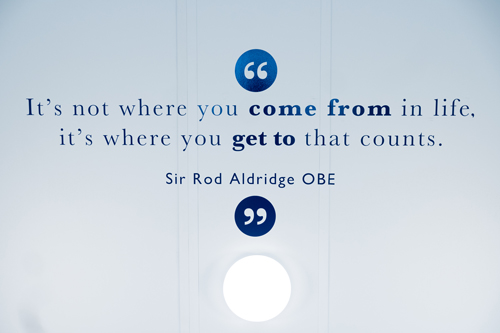 "It was really cool. The two partners were very clever guys and I learned a lot from them. But I remember thinking I needed to be challenged. Teach First had the benefit of being really good training, and CV-enhancing, without committing me to a particular thing, and it sounded like fun," he says.
"At the consultancy I could get to lunchtime and have very little interaction with anyone else. What I loved about teaching is that you have hundreds of interactions every day. It's never boring. You never look at the clock and think 'where did the day go?'"
That said, as we edge towards the end of day, a large wrist watch is calling Benson to attend gate duty. Something I was told from the start the interview must not interfere with.
His last thoughts?
"The results; we don't have many yet as we are still new, but I do know that the kids getting Bs at GCSEs are getting Bs in their AS grades, and that's good. That puts us near the top for value-added.
"It's … well… it's always been the same challenge: we've got five years until the school is full, and we'll see what our results are. Then it's 10 years to get stability. Because we want excellence, Laura. Long-term."
And with that, he is gone. The living embodiment of intrepidus, indeed.