The upcoming elections for headteacher boards (HTBs) are "frankly amateurish" and beset with issues, including delays, the potential for all experienced members to lose their seats at once and unregulated lobbying.
Members of the powerful boards, which advise regional schools commissioners (RSCs) on the opening, closure and rebrokering of academies and free schools, face re-election as their three-year terms end in September.
However, Schools Week has learned that an invitation to run the elections has only recently been issued to three organisations, including the Electoral Reform Services, and a winner has not yet been confirmed.
This could mean the new boards are not ready for September with current members having to remain in place longer than intended – potentially until Christmas, according to sources close to the process.
These boards could become a vehicle for CEOs to determine what happens to their schools
But a Department for Education spokesperson denied the newly elected board members would not be in place on time.
The snap general election's purdah period, which limits civil servant activity, means the board votes could not take place until at least June — a "tight turnaround" according to the sources.
Decisions have also yet to be made on whether current board members should be re-elected, if the name "headteacher board" should change, and who should be eligible to stand and vote.
Mary Bousted, general secretary of the Association of Teachers and Lecturers (ATL), said the election processes were "amateurish" as a result of the boards' hasty establishment three years ago.
Rosamund McNeil, head of education at the National Union of Teachers (NUT), agreed, claiming that HTBs were "undermining the role of democratically-elected local authorities" and had only been created to "force schools into academy status".
During the first elections in 2014, only the heads of outstanding academies were eligible to stand for the boards, which advise each of the country's eight regional schools commissioners.
All academy heads were eligible to vote for their preferred members.
After the elections, regional schools commissioners also appointed several academy trust chief executives, business directors and consultants to join the elected heads.
But the boards have proved controversial, with members who leave replaced by appointees rather than elected members.
Heads are also increasingly outnumbered by chief executives and consultants. Of 56 members across the eight boards, 19 are chief executives, with two retired CEOs. There are 24 active or executive heads, and six retired.
To reflect the changing nature of the roles, Schools Week has been told the name of the boards might also change. Education secretary Justine Greening is said to favour the current name, but "RSC advisory boards" and other titles are being considered.
The role of chief executives was not outlined during the last election. In 2014, only heads could stand and vote. Discussions have taken place within the education department about allowing CEOs to stand and vote in this year's elections.
Bousted is particularly concerned the boards could become a "gravy train" for multi-academy trusts if chief executives "captured" the majority of seats. "These boards could become a vehicle for CEOs to determine what happens to their schools."
Trusts and other organisations also can lobby to get their candidates on to the boards, with no regulations surrounding their campaigns. This allows unions and education campaign groups, such as the Headteachers' Roundtable or Parents and Teachers for Excellence, to work together to get candidates elected.
Sir David Carter (pictured), the national schools commissioner, is said to be "alert to the risk" of lobbying.
Current board members have also told Carter they are concerned that considerable experience will be lost if all members are removed in September and new members elected.
Carter has agreed it would be "a shame" to lose all academy expertise at once. But a RSC could use their appointee slots for former board members if none is re-elected.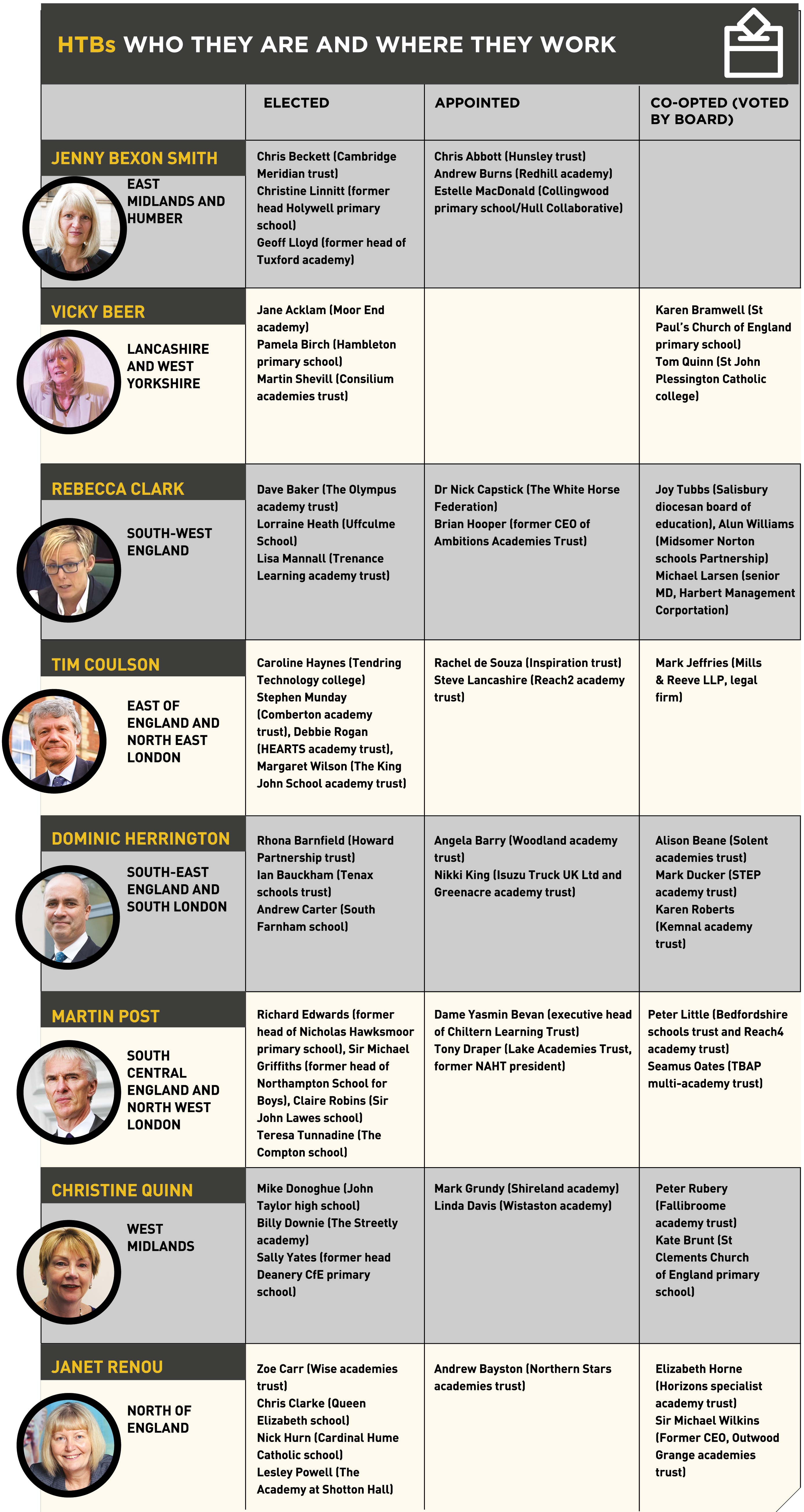 Searchable version of table below;
Dr Tim Coulson, East of England and North East London
| | |
| --- | --- |
| Headteachers on board | Headteacher's school |
| Caroline Haynes | Tendring Technology College |
| Stephen Munday | Comberton Academy Trust |
| Debbie Rogan | HEARTS Academy Trust |
| Margaret Wilson | The King John School Academy Trust |
| Sir Steve Lancashire (app) | Reach2 Academy Trust |
| Dame Rachel De Souza (app) | Inspiration Trust |
| Mark Jeffries (co op) | Mills and Reeve LLP |
| (Roy Blatchford left) | |
Jenny Bexon-Smith, East Midlands and the Humber
| | |
| --- | --- |
| Chris Beckett | former head The Deepings School |
| Christine Linnitt | former head Holywell Primary School |
| Geoff Lloyd | former head Tuxford Academy |
| Andy Burns (app) | Redhill Academy |
| Estelle MacDonald (app) (replaced Hugh Howe) | Collingwood Primary, Hull Collaborative Academies Trust |
| Chris Abbott (app) | Hunsley Trust |
Vicky Beer, Lancashire and West Yorkshire
| | |
| --- | --- |
| Jane Acklam | Moor End Academy |
| Pamela Birch | Hambleton Primary School |
| Martin Shevill | CEO Consilium Academies Trust |
| Karen Bramwell (coop) | St Pauls Church of England Primary |
| Tom Quinn (coop) | St John Plessington Cath College/ St Marys Cath College |
| Sir Iain Hall (left) | |
| Sir Rod Aldridge (left) | |
| Alan Yellup (left) | |
Janet Renou, North of England
| | |
| --- | --- |
| Chris Clarke | Queen Elizabeth School |
| Nick Hurn | Cardinal Hume Catholic School |
| Lesley Powell | The Academy at Shotton Hall |
| Les Walton (left) | |
| Andrew Bayston (app) | Northern Stars Academies Trust |
| Sir Michael Wilkins (coop) | former CEO Outwood Grange Academies Trust |
| Elizabeth Horne (ccop) | Horizons Specialist Academy Trust |
Martin Post, North-West London and south-central England
| | |
| --- | --- |
| Richard Edwards | former head Nicholas Hawksmoor Primary School |
| Sir Michael Griffiths | former head Northampton School for Boys |
| Claire Robins | Sir John Lawes School |
| Teresa Tunnadine | The Compton School |
| Seamus Oates (coop) | CEO TBAP multi academy trust |
| Peter Little (coop) | Chair of REAch2 |
| Tony Draper | CEO Lakes Academies Trust |
| Dame Yasmin Bevan (app) | executive head The Chiltern Learning Trust |
| (Dame Alison Peacock left) | |
| (Dame Kate Dethridge left, now deputy to Post) | |
Dominic Herrington, South-east England and south London
| | |
| --- | --- |
| Rhona Barnfield | The Howard Partnership Trust |
| Ian Bauckham | The Tenax Schools Trust |
| Sir Andrew Carter | South Farnham School |
| (Denise Shepherd left) | |
| Angela Barry (app) | Woodland Academy Trust |
| Nikki King (app) | Greenacre Academy Trust |
| Karen Roberts (coop) | Kemnal Academy Trust |
| Alison Beane (coop – also came later) | Solent Academies Trust |
| Mark Ducker (coop – came early Jan 15) | STEP Academy Trust |
Rebecca Clark, South-west England
| | |
| --- | --- |
| Dave Baker | Olympus Academy Trust |
| Lorraine Heath | Uffculme Academy Trust |
| Lisa Mannall | Trenance Learning Academy Trust |
| (Roger Pope left) | |
| Brian Hooper (app) | former CEO of Ambitions Academies Trust |
| Dr Nick Capstick (app) | The White Horse Federation |
| Joy Tubbs (coop) | Salisbury Diocesan Board of Education |
| Alun Williams (coop) | Midsomer Norton Schools Partnership |
| Michael Larsen (coop) | Senior Managing Director, Harbert Management Corporation |
Christine Quinn, West Midlands
| | |
| --- | --- |
| Mike Donaghue | John Taylor High School |
| Billy Downie | The Streetly Academy |
| Sally Yates | former head Deanery Church of England Primary School |
| Sir Mark Grundy (app) | Shireland Academy |
| Linda Davis (app) | Wistaston Academy |
| Kate Brunt (coop – replaced David Seddon) | Rivers Multi Academy Trust – St Clements Church of England Primary School |
| Peter Rubery (coop) | Fallibroome Academy |