School leaders should place the same importance of balancing their budgets as achieving educational attainment, the Education Funding Agency's top boss has said today.
Peter Lauener, chief executive of the EFA, urged headteachers and school business managers to "bring both agendas together so they are both serving the mission of improving educational standards".
He said: "Standards are a key part of meeting the challenges that you all face in the next few years.
"Headteachers need to lead these financial and organisational challenges just as much as they need to lead the challenge of raising education standards in schools."
The EFA is overseen by the Department for Education and manages £54 billion a year to support all state-funded education for three-to-19-year-olds at schools, colleges and other training organisations.
Mr Lauener was speaking at the National Association of School Business Management (NASBM) conference in Birmingham today.
New professional standards for school business managers were launched at the event.
They will help inform future CPD progression and career plans and will be used by schools to assess operational capacity, NASBM said.
Children's minister Sam Gyimah said: "The new standards will not only define the characteristics of a good school business management professional, but will increase their standing and reputation, as experts in their field."
Stephen Morales (pictured right), chief executive of NASBM, said it marks an "extremely important milestone" for the profession.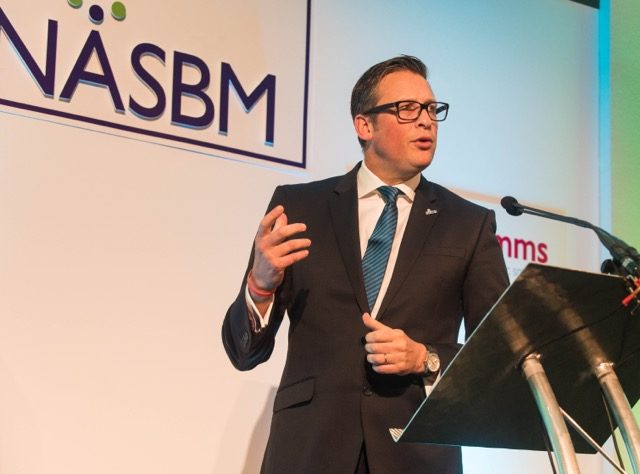 "It's a response to unprecedented changes in the education landscape – with more autonomy and a diminishing role for local authorities.
"Through professional standards we have secured the future leadership of the school business management profession."
Budget funding pressures accounted for the majority of questions during the morning session.
Mr Lauener said: "Funding has been pretty tough and there's going to be no letting up."
During a question and answer session he backed the pledge by ministers for a national funding formula, saying he is not a great fan of school forums.
But added: "They might be the least worst system we can operate in this system."
He also said he would pass on to ministers the strong feelings from the audience that school business managers should have a place on school forums. A school forum acts as a consultative body and a decision making body on school issues.
View the professional standards at www.nasbm.co.uk/professionalstandards