The Department for Education is considering plans to make face masks compulsory in the classroom for pupils in year 7 and above, as well as their teachers, a government official said during a briefing on Covid plans.
Such a move would mark a big shift for the government, with prime minister Boris Johnson previously stating "you can't teach with face coverings and you can't expect people to learn with face coverings".
The current guidance is coverings are worn in communal areas in secondary schools, but the government is under pressure to up its Covid measures over school safety concerns.
An official from the DfE's department of strategy, social mobility and disadvantage told attendees at a briefing on Wednesday evening of the plans.
We do not believe it is safe for the community, pupils or school staff for schools to reopen on Monday
According to sources familiar with what was said at the briefing, the official said the department's plan was to make it compulsory for pupils in year 7 and upwards, as well as their teachers, to wear face masks in the classroom.
He also said there would be exemptions for those who cannot wear masks for medical or special educational needs reasons.
However, in a further sign of confusion over its back-to-school plans, the DfE would only say the government continues to keep protective measures under review, adding its current guidance remains up to date.
Currently in schools and colleges with pupils in year 7 and above, face coverings should be worn by both adults and pupils in communal areas.
The department did not respond when asked for further clarification.
But government scientists have now said mandating the wearing of face masks in schools may now be necessary as the new Covid strain causes cases to rise.
The Scientific Advisory Group for Emergencies (Sage) advised ministers on December 22 that it is "highly unlikely that measures with stringency and adherence in line with the measures in England in November [with schools open] would be sufficient to maintain R below 1 in the presence of the new variant".
Minutes of the meeting, published yesterday, state the closure of secondary schools, rather than primaries, would have a greater effect on lowering the R rate of transmission.
But scientists warned it "remains difficult to distinguish where transmission between children takes place", adding further analysis of the measures required to bring the R rate below 1 would not be possible until mid-January.
A further meeting on mitigations to reduce transmission of the new variant of Covid, on December 23, stated it "may be necessary to extend the use of face coverings to a wider number of settings (e.g. workplaces and education) where they are not currently mandated".
"This is important even when people are more than 2m apart, as correctly worn face coverings also reduce the emission rate of small aerosols," the briefing notes stated.
Kevin Courtney (pictured), joint general secretary of the National Education Union, said "we do not believe that it is safe for the community, pupils or school staff for schools and colleges to reopen on Monday".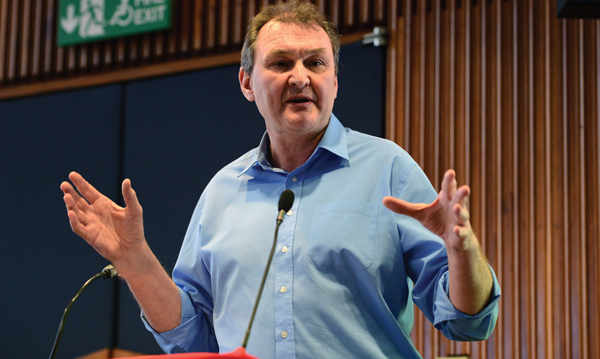 He added they should remain closed until mid-January at the earliest so the government can make "an informed decision on the safety of reopening schools as SAGE advise".
The government has pushed back the reopening of secondary schools, with primaries in Covid hotspots also not reopening as usual.
However, London boroughs not included on the hotspot list have demanded answers from the government.
Haringey council, one of the eight London boroughs where primary schools are due to reopen, has advised its schools to defy government and remain closed to all but vulnerable and key worker children.
A letter sent to schools from the council stated that when "parts of London with lower infection rates than Haringey are deemed by the government too high to allow children and staff to return, it cannot be safe for children and teaching staff in Haringey to do so".
A DfE spokesperson has said decisions were based on "close work with Public Health England, the NHS, the Joint Biosecurity Centre and across government to monitor the number of new infections, positivity rates and pressures on the NHS".
The DfE has been heavily criticised over this week's new back-to-school plans, with confusion over changing expectations on remote learning, a quietly announced U-turn on mass testing now being mandatory and only publishing detailed return plans for special schools at 5.50pm on New Year's Eve.
Geoff Barton, general secretary of the Association of School and College Leaders, said the government has "made a habit of chaotic eleventh hour announcements which leave schools and colleges picking up the pieces".