Five secondary school students from County Durham have been crowned the winners of this year's F1 in Schools UK national finals.
The announcement was made at the iconic Silverstone circuit in Northamptonshire, where 42 teams from across the UK gathered to battle it out after qualifying earlier this year in the regional heats of the engineering competition.
It is the fourth time that a group called Unity, 16 and 17-year-olds from Emmanuel College in Gateshead, have competed for the contest's top spot.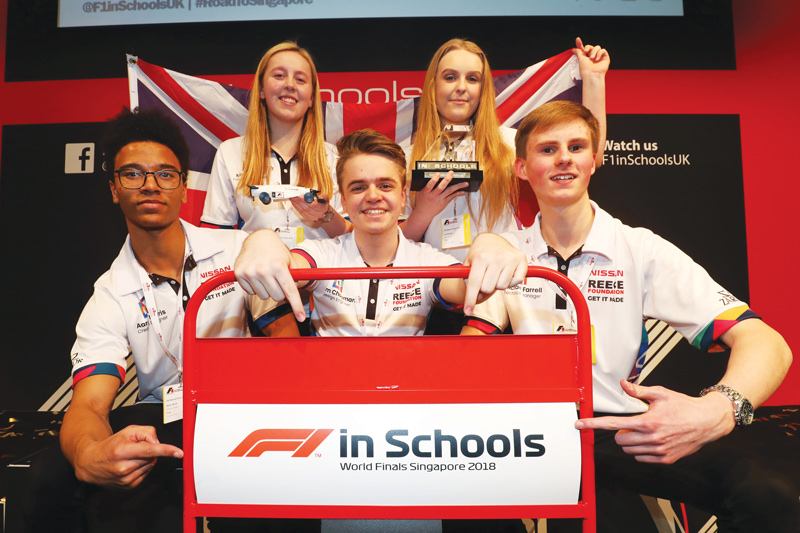 The team will now travel to Singapore in September to compete in the F1 in Schools World Finals. They have also won tickets to the Formula 1 British Grand Prix and paddock access at the Silverstone event, a F1 team factory tour, two £5,000 scholarships for a mechanical engineering course at UCL, and engineering equipment worth £10,000 for their school.
"We have a huge amount of work now to prepare for Singapore, making sure our car is as good as it can be," said Lucy Brooks, Unity's leader. "We know that competing at the world finals can open doors to careers in engineering so that is a great opportunity for us."
Team Origin from Robert May's School in Hampshire, who came second, will join Unity in Singapore. Hawk Racing from Colyton Grammar in Devon, placed third, and will need to collaborate with a third-place team from another country to compete in the global round.
The F1 in Schools challenge, which operates in more than 40 countries, pits young engineers against each other to design, test and race their own miniature F1 cars powered by CO2 canisters.
"The students have put in an amazing amount of work, displaying an exceptional level of engineering, design, and business skills. They are also excellent ambassadors for their schools and for STEM learning," said Andrew Denford, founder and chairman of F1 in Schools.