Over 20,000 pupils from secondary schools in London and Birmingham have seen a Shakespeare play for free at the historic Shakespeare's Globe.
The free tickets for a production of Much Ado About Nothing were available through Globe Education's annual 'Playing Shakespeare with Deutsche Bank' initiative, which gives disadvantaged pupils the chance to experience the bard.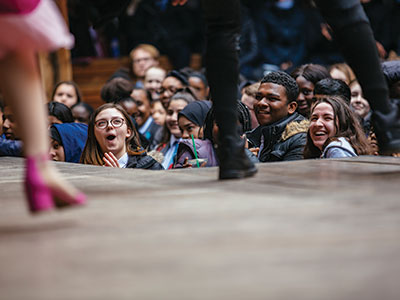 Reinvented for an audience of 11- to 18-year-olds, the play was edited down to a 100-minute piece, in which actors used mobile phones and wore modern attire to make the play more relatable.
Ahead of the show, teachers received a CPD session at Shakespeare's Globe to aid their own understanding of the text, with workshops for pupils delivered by Globe representatives at some of the participating schools
"There is growing pressure on school budgets; two heads of department have recently told me that they have only £1 per student a year to spend on outings and resources to support curriculum studies," said Patrick Spottiswoode, director of Globe Education.
"This gives students the opportunity to experience Shakespeare, as he intended through play, as well as access to a wealth of free resources and continuing professional development sessions for teachers."