It is five years since Glenys Stacey, lawyer-turned-serial-regulator, took the helm as England's first 'chief exams regulator' and she is about to step down.
Invited for her last interview before disappearing to become Her Majesty's Chief Inspector of Probation, editor Laura McInerney grilled her on life as a regulator.
Off an anonymous roundabout in Coventry, the Ofqual offices – a large, bright, functional box – are packed full of statisticians and project managers busily "regulating" exams. In the chief regulator's office things are more fun, with two large "good luck" banners stuck to the plain walls and a plethora of flowers and cards. Tomorrow, Glenys Stacey will pack her things and leave after five years in the role.
Since Ofqual's inception in 2010, prominent school leaders and commentators have questioned its competence, independence and purpose. Over the past year in these pages, headteachers such as Vic Goddard, Dame Joan McVittie and Ros McMullen have called out what they claim to be a creeping change in exams, purposefully designed to make it harder for poorer children to achieve.
This week, the former teacher and much-loved education writer Debra Kidd slammed the regulators' work on comparable outcomes as "making it look like" grades are the same year-on-year, rather than ensuring children get the grades they deserve.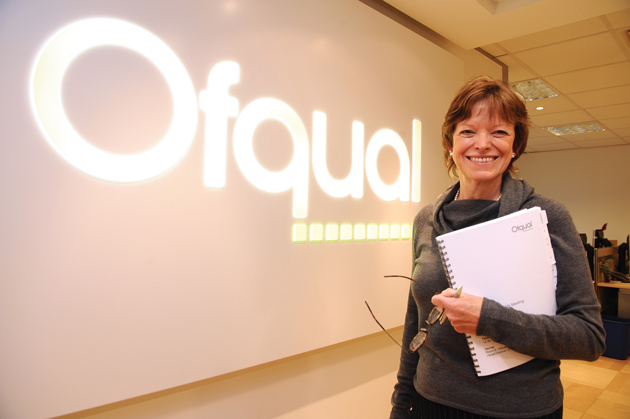 The anger stands at odds with the way Ofqual has tried to operate. Unlike central government, it has a good record on transparency: releasing hundreds of documents during the 2012 GCSE "fiasco" in which the organisation was accused of fiddling exam grade boundaries in an unlawful way (a high court judge disagreed, and the allegations were dropped). It has invested heavily in communications, creating postcards, videos, endless reams of reports, to explain what it does. Stacey even took a masters in assessment at nearby Warwick University when she started, and spent a great deal of time talking to experts.
She puts the attacks on Ofqual down to the counter-intuitive nature of statistics, and a dislike of the Conservative party.
"Exam awarding is, and has been for quite a long time, quite statistically driven. That's the way it's done. It was done like that before Ofqual, it will be done like that in the future. It is known to be the best way of awarding, but when you explain it, it is counter-intuitive, and it's seen to be some sort of stitch up, something not to trust.
No regulator can expect to be loved or liked
"The second thing is that we have been implementing government policy, a Conservative government's policy. Lots of people in the education sector won't vote Conservative and will find themselves ideologically opposed to the reform of qualifications, and we may look like the government's handmaiden in doing it. But the fact is, it is Ofqual's job to implement government policy on qualifications, and that's what we've done."
A problem for Ofqual is that it finds itself wedged between the frontline and parliament. It is "independent" in the sense that it is accountable to cross-party MPs and is free to implement policy as it wishes, but – ultimately – the direction of travel for qualifications is set by government.
This conflict came to a head in 2012 when the scores required to achieve a C grade in GCSE English controlled assessments were drastically changed. Teachers were not told the change was coming, and had been working in the belief that pupils whose assessments had been given a certain score were likely to pass that part of their GCSE. The changes hit all schools hard, but those with many pupils whose scores were at the C-grade/D-grade borderline were hit hardest of all.
It was this shift that led to the high court challenge, numerous parliamentary inquiries and constant accusations that Stacey, appointed by Michael Gove, had intervened to make schools look bad so that over the next few years exam grades could start rising again. Thus, the theory went, the government would look like it had achieved better results for schools by 2015.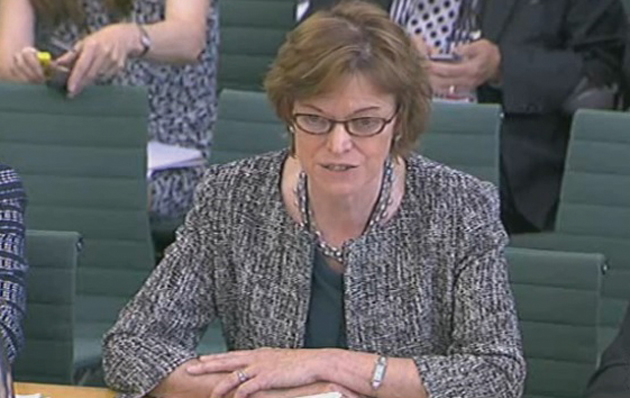 Stacey is adamant there was no such plot: "When I reflect back on 2012, I think one of the biggest challenges we had was the level of mistrust, and the assumption there must have been some manipulation, either by us or with exam boards or whatever. And there wasn't. It's quite incredible.
"I remember the three or four days of the hearing with the claim morphing and changing all of the time, but an underlying theme was: 'There's something afoot – they must have fiddled and diddled it somehow.' I remember an accusation at some point that there was some sort of secret policy, and I remember thinking, 'That isn't how the public sector works.' It is transparent – all of the disclosures that we made there, there was nothing not to disclose. There is no secret. No secret policy. It is how we said it was. But the level of mistrust was very high."
It often happens in Stacey's career that she walks into chaotic situations and makes apparent order out of them. As chief executive at the Standards Board for England, she set up regulation for local government, calling out misdemeanours among councillors and officers. As chief of Animal Health (formerly the Veterinary Service) she created an executive agency that could deal with exotic diseases and helped marshal troops more effectively in 2007 when the country faced a foot-and-mouth outbreak than in 2001, when the countryside came to a standstill for several weeks.
In 2011, however, Ofqual was its own beast: designed to oversee the marking of 25 million exam scripts, for 15,000 qualifications, delivered by 180 awarding bodies. At the time Mick Waters, chief of the predecessor organisation QCA, described the exams system as "almost corrupt". It was not an easy position.
"We weren't in the best of states five years ago. We'd lost a chief exec and a chairman, and we weren't quite sure how to regulate," she admits.
Using the same spirit that helped her move from working in an explosives factory in Somerset aged 16 ("that's what my mother expected") to getting herself onto an ILEX (legal qualification) night course and eventually to university, Stacey sought to create a team of similarly smart, dedicated professionals.
It feels as if it has worked, the office has a warm-yet-ruthless efficiency: even the receptionist manages to be warm and helpful, but there's also a sense she's about to tell you to wipe your feet and tuck your shirt in.
Stacey is proud of where the organisation is now. She believes actions that some have considered counter-intuitive – limiting controlled assessments and the decoupling of the AS and A-level – will actually come to be valued by the sector but won't necessarily make life any easier for her successor, who is still yet to be appointed.
"The changes are not seen as sufficient evidence … to make people love the regulator. Well, why should they? Regulators aren't the arbiters – they're not.
"What you want as a regulator is to be seen as authentic, that you are evidence-based, that you are neutral … also you want to be trusted to make fair decisions, you know, fairness is at the root of it all really.
"The best you could hope for is some begrudging respect. Honestly, it's true! No regulator can expect to be loved or liked – it's about respect and belief that you are doing the job that you're charged to do, without fear or favour, and that's what I believe we do."
LIFE AS A REGULATOR
1997: Stacey becomes the first chief executive of the Criminal Cases Review Commission
2001: Takes post as the first chief executive of the Greater Manchester Magsistrates' Committee
2004: Becomes England's first chief executive of Animal Health
2008: Keeping in theme, Stacey becomes the first ever chief executive of the Standards Board of England
2011: Stacey arrives at Ofqual as the inaugural chief executive (also known as 'chief regulator')
IT'S A PERSONAL THING
What's the best wig you've ever worn to a party?
On the millennium, I didn't wear a wig, but I did wear a gold lamé top hat, which was great because it was very celebratory, it had a bow tie that went with it and it made me look a lot taller than I am (I am 5'4″ and a half)!
Who would win in a fight between a polar bear and a lion?
A lion. Why? … Why not! Because it has a lionheart.
What do you binge watch on television?
I do when my husband's not around! There's quite a mix but I'll go for period dramas because I like looking at the dresses. I like looking at anything that looks good, really, rather than things that are stimulating in other ways. I like good-looking things.
Did you watch the recent Pride and Prejudice?
Yes. I've seen enough of them really. It wasn't exceptional, I didn't think.
What's your favourite book?
I like poetry a lot, so I'm reading Sylvia Plath at the moment, but I've always got the Oxford Book of English Verse by my bed. I love poetry. I always read some before I go to sleep.
Do you have poems that you wrote when you were younger?
Yes! Don't you? They're mostly mediocre though, I'm afraid! I was trying to write about things that were beautiful, mostly, capturing beauty, but I wasn't good at it.
Have you got an outfit ready that befits a dame?
No, but my last day of employment is Monday, but I've got the day off because I've got some holiday, so I'm going to London to try to find something. It seems a suitable errand after five years to have the day off and get myself a posh frock.