Schools minister Nick Gibb dodged a question on whether he thinks new grammar schools should be allowed to open, despite pleas from the education community for the government to ditch the idea.
Gibb was probed on whether the government should remove a ban on new grammar schools, thought to be something being weighed up by Prime Minister Theresa May, in front of an audience of more than 4,000 educationalists at the Teach First Impact Conference in Leeds today.
Brett Wigdortz (pictured below right), Teach First chief executive, had earlier called on the government to prioritise tackling education inequality, rather than grammar schools – something echoed by former shadow education secretary Lucy Powell, who took to the stage before Gibb today.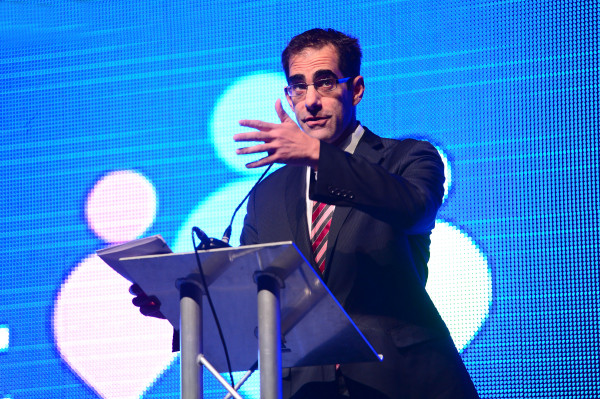 But the schools minister dodged the grammar school question, saying: "They [grammar schools] are very good schools and we do encourage all good schools, whether they are grammar schools or comprehensives, to expand and we want to make it possible for good schools to expand wherever they are.
"But the rules are very clear and the law is very clear that we do want to encourage schools to expand."
It was revealed earlier this week that 100 Conservative MPs were preparing to launch a campaign for new grammar schools.
May is thought to be a grammar school supporter, and new education secretary Justine Greening has previously said she is "open" to the idea of grammar schools returning.
But Gibb added: "My view is that our grammar schools are very good, the law is very clear and we want to encourage good schools to expand, whether there are grammars or not."
The schools minister also again refused to acknowledge the profession was experiencing a teacher shortage, reciting the line that "there are more teachers in our profession today than at any other time".
But he did admit: "Although the national figures are acceptable, there are parts of the country and certain subjects where there are challenges.
"Over the past five years we have been addressing those issues that concern the profession."
He said the government is also tackling issues that lead to some teachers leaving the profession, such as workload and pupil behaviour – although the latter was criticised by delegates at the event.
Outraged that @NickGibbMP just blamed pupil behaviour as the reason for teachers leaving the profession. #TFImpact16

— Oliver Beach (@olivermbeach) July 26, 2016
Earlier in the day Alan Milburn, chair of the social mobility committee, called for tuition fees to be scrapped and subsidised housing for teachers working in the country's most challenging schools.
He also called for the introduction of a new school performance measure in 2018 to track pupil's destinations into work or continued education, adding Ofsted should inspect schools for services such as the quality of extra-curricular activity, character development and careers guidance.