Schools with low EBacc entries must be "challenged" to address "unequal opportunities" in the system, Nick Gibb has said.
The schools minister told MPs this morning that the government needed to "double down" on its reforms since 2010, as he warned some settings still had very low take-up of the EBacc suite of academic subjects.
If you really want to address unequal opportunities in our school system, we need to challenge schools with low EBacc entries
Gibb was quizzed alongside children's minister Vicky Ford during a Parliamentary education committee hearing on left behind white pupils from disadvantaged backgrounds.
It comes after research revealed that the attainment gap between disadvantaged pupils and their better-off peers had stopped closing for the first time in ten years, with officials concerned it could widen substantially as a result of the Covid-19 pandemic.
Gibb told MPs today the way to break the cycle of poverty was to "make sure young people, whatever their background, leave school well-educated and able to fulfill their potential".
He added that the government's objective since 2010 had been to ensure pupils are "cognitively and intellectually developed to the best of their ability" by the age of 16.
The minister pointed to measures including the phonics screening check, key stage 2 and 4 results and EBacc rates, "all of which point to success in closing that attainment gap". He said the government needed to "double-down on our education reform programme that we have implemented since 2010".
Concerns over variations in EBacc entries
The proportion of pupils nationwide who entered the full suite of EBacc subjects stood at just 39.8 per cent in 2019-20, with massive variation between different parts of the country.
Gibb pointed to the EBacc rate of 21.4 per cent in Blackpool, but said he could show MPs schools with "even lower" scores.
"If you really want to address unequal opportunities in our school system, we need to challenge schools with low EBacc entries. They need to be giving all young children a proper curriculum, proper behaviour policies and so on. That's how you address that cycle of poverty."
The EBacc measure was introduced by the coalition government and rates schools on the proportion of pupils entered for English, maths, science, history or geography and a language subject.
The government initially set a target of 90 per cent EBacc entry by 2020, but later pushed this back to 2025.
A decision by Ofsted to check schools' EBacc entries in 2019 prompted warnings from headteachers that the target was out of their control.
£300m tutoring fund money 'not rigidly' tied to one initiative
Ministers are under pressure to say how they will help pupils catch up on learning missed due to the Covid-19 pandemic. The government announced last month that it would allocate another £300 million to this effort, on top of the £1 billion allocated last year.
Quizzed on the funding today and whether it would all be spent on the National Tutoring Programme, Gibb said it had been announced as a "tutoring fund", but that details of how it would be allocated would be announced "shortly".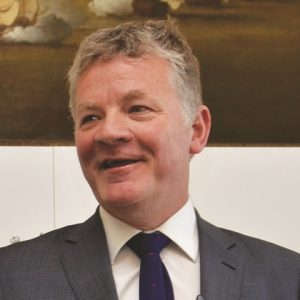 Asked about whether it could also be spent on sports and activities to improve mental health, Gibb said he wanted to make sure it was used "in the most effective way", and that the government would be "leaning on the advice of Sir Kevan Collins", the newly-appointed catch-up commissioner.
But asked whether the money was "rigidly tied" to one specific initiative, Gibb said it was not.
Collins would be "looking at all these … potential proposals" for catch-up, Gibb said. But the schools minister did speak of the merits of lengthening the school day.
Gibb said "one of the great joys" of the academies programme was the autonomy it gives to schools, and said "many of those academies" had used those freedoms to extend the school day.
As a consequence, he said, they had "driven up standards in those schools, and indeed they've helped to close the attainment gap between disadvantaged pupils and their peers".