Schools in six local authorities have bucked the downward trend of this year's GCSE results and boosted their results.
Provisional results released by the Department for Education (DfE) show a national fall in the attainment of five A*-C grades at GCSE, including English and maths.
The DfE put this down to tougher GCSE measures which mean that for many subjects only a pupil's first attempt counts in the
league tables.
Results for individual schools have yet to be released and are expected in mid-January.
All but six local authority areas recorded a decrease in the percentage of pupils achieving five higher GCSE grades, including English and maths, with schools in Wolverhampton facing the largest fall of 15.1 percentage points.
Portsmouth had a 2.6 percentage point increase in the proportion of pupils achieving the government benchmark – up to 50.2 per cent.
The city has seen marked improvement since 2005/6 when just 29.9 per cent achieved the benchmark. However, the city faced a dip last year and has not yet regained the level it achieved in 2011/12.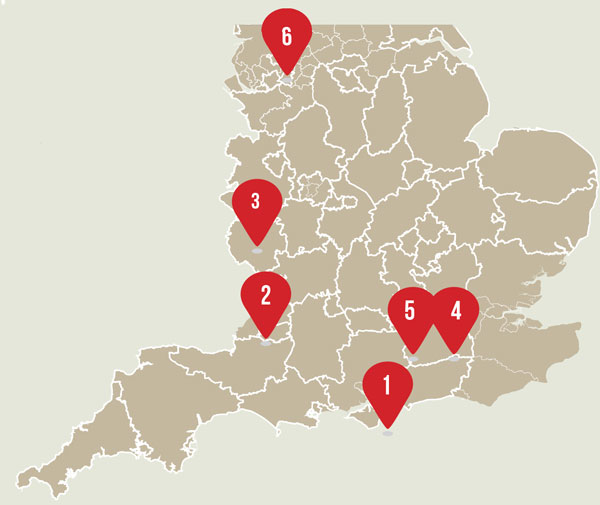 It was closely followed by Bristol, which achieved its highest results in nine years; at 54.8 per cent, a 2.5 percentage point increase. The
council believes the fact parents are keeping their children in the city schools, rather than sending them to North Somerset or South Gloucestershire, has had an impact on improving results.
To understand why these six authority areas had seen an improvement on their results, Schools Week contacted each of the councils and asked how they had managed to boost GCSE performance, against the backdrop of a national fall.
1 – "COLLABORATION IS KEY"
PORTSMOUTH                                                 +2.6
"Portsmouth has always been languishing in league tables," Neill Young, Portsmouth City Council's member for education says.
"We have really worked hard with schools in the city. Although those results are good, we know we are on a journey as a city to improve education standards.
"The results which have been coming through from Key Stage 1 and Key Stage 2 are very good. We are starting to work on those building blocks."
At Charter Academy, sponsored by ARK Schools for the past five years, results have increased from 3 per cent achieving the benchmark in 2006, to 81 per cent this year.
Using Portsmouth's connection with the Royal Navy, the school hired ex-service personnel as pastoral staff to strengthen a 'no excuses' behaviour code – with naval staff patrolling corridors during lessons time.
2 – "KIDS ARE COMING BACK TO THE CITY"
CITY OF BRISTOL                                                 +2.5
Brenda Massey, Bristol's assistant mayor for directorate (schools), said: "There has been an awful lot of hard work by everybody.
"Most of the heads this year actually decided they weren't going to enter students early and tested them on previous exams and results during the year which actually proved really effective.
"It was a brave decision to make but the feeling is now that it is actually shown in the results. It has made a huge difference by not putting children in early.
"In the past, we used to have children opting to attend schools outside Bristol but this has completely reversed. We have had some very good Ofsted reports whereas surrounding areas have not. I would say parents are opting with their feet."
3 – "WE WERE READ THE RIOT ACT"
HEREFORDSHIRE                                                 +1.6
Malcolm Robertson, interim head of learning and achievement at Herefordshire Council, said: "I think at the beginning of the academic year we expressed with schools a concern that we were under the focus of Ofsted for gap data. We had an extensive programme of inspections at secondary schools.
"We had fallen behind on progress which was highlighted by Ofsted and HMI. In November we had a conference for all schools. HMI had almost read us the riot act.
"It was incredibly positive moving forward with the schools working collectively and individually and looking at issues particularly around gap data. We wanted to get the basics right and we were monitoring teaching and learning.
"There has been quite a lot of collaboration between schools and HMI and a triad system has been set up of headteachers monitoring headteachers."
4 – ACADEMY SPONSORS MAKE A DIFFERENCE
MERTON                                                 +1.4
Making schools become academies has helped drive success in Merton, which now has 64 per cent of pupils achieving five A*-C, including English and maths.
Merton council's cabinet member for education, Martin Whelton said: "Back in 2006 we made two of our schools become academies, the Harris Academy and St Mark's in Mitcham, the latter of which took longer to improve – but they had some of the lowest results in London.
"We needed to do something about it and it has helped drive standards. We have zero tolerance for failing schools.
"Subsequently, a school rated as inadequate by Ofsted has become the Harris Academy in Morden, where we have seen rapidly improving results.
"The interest of children comes first in this world and we have just one chance to give them the best start in life."
5 – "RIGHT BALANCE IN PLETHORA OF CHANGES"
BRACKNELL FOREST                                                 +1.3
In Bracknell Forest, 56.2 per cent of pupils achieved the benchmark. Schools in the authority had a high of 61.4 per cent two years ago, so is yet to reach that level again.
The council has said the challenge has been in managing the changes introduced by the government and its increasing expectations.
Christine McInnes, chief officer for learning and achievement at Bracknell Forest Council, said: "This year's results are a credit to the high aspirations and hard work of our school communities.
"Bracknell Forest's strong partnership between council and schools provides the right balance of challenge and support, enabling schools to effectively manage the plethora of changes in requirements and ever-higher expectations."
6 – EXPECTATION OF EXCELLENCE IS SHARED,
WHETHER SELECTIVE OR NOT

TRAFFORD                                                 +0.9
John Pearce, Director of Service Development – Children, Families and Education at Trafford Council, said: "We have an extremely diverse secondary provision. Of 18 mainstream schools, seven are grammar schools.
"50 per cent of our schools are rated outstanding and we have got extremely high performance in our grammar sector, but also in our non-selective system. About 30 per cent of pupils are in selective schools so to get such high-performance in the non-selective system is unusual.
"I think what is fundamentally different in our secondary sector is the strength of the relationship between schools and the local authority.
"There are also five teaching schools which is the highest of any authority area in the country, so our school-to-school support is very good."