The proportion of top GCSE grades handed out to 16-year-olds in England has dropped by 17 per cent, falling to near the same level as pre-pandemic 2019.
Overall, more than 184,000 fewer 9, 8 and 7 grades were awarded this summer, despite an increase in entries of more than 171,000.
This year, 22.4 per cent of grades issued were between 9 and 7, down from 27 per cent last year.
This summer's top grades are 25 per cent lower than the peak of 30 per cent in 2021, when teacher assessed grades were awarded due to the pandemic.
The proportion of top grades is now within 0.6 percentage points of pre-pandemic 2019, when 21.8 per cent were at 7 or above.
Across England, 5 per cent of grades issued to 16-year-olds were the highest grade – 9. This is down 26 per cent on last year and 35 per cent lower than the peak in 2021. In pre-pandemic 2019, 4.7 per cent of grades were 9s.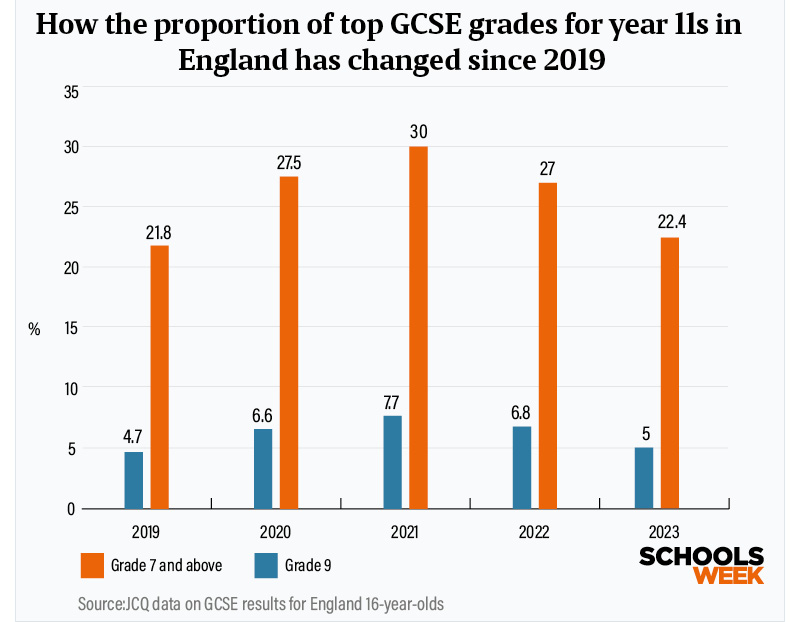 The drop in top grades was expected. Ofqual asked exam boards to return to pre-pandemic grading standards this year. Some GCSE subjects had exam aids such as formulae and equation sheets to help mitigate learning loss.
The Joint Council for Qualifications has published the results from the second summer GCSE exams since the pandemic.
Pupils were awarded centre-assessed grades in 2020 and teacher-assessed grades in 2021 because of Covid disruption. This year's GCSE students were in year 8 when the pandemic hit.
Pupils 'can be very proud'
The grade 5 pass rate – considered a "strong pass" – has dropped by almost 10 per cent from 60.3 per cent in 2022 to 54.4 this year. This is close to the 53.5 per cent seen in 2019.
The grade 4 pass rate – considered a "standard pass" – was 70.3 per cent, down 6.6 per cent from 75.3 per cent per cent last year, but still slightly higher than the 69.9 per cent in 2019.
Dr Jo Saxton, Ofqual's chief regulator, said pupils "can be very proud of their achievements, which are testament to their hard work and resilience over the past two years".
"As with A-level results last week, today's GCSE results have returned to pre-pandemic levels, similar to those in 2019, and – as expected – lower than in 2022.
"Students have been at the forefront of our thinking at all times, which is why we built in grade protection to recognise the disruption that students have faced in recent years."
More resits will put pressure on 'stretched' post-16
Education experts have warned more young people will have to resit English and Maths in post-16 education, because of the fall in grading.
Schools Week analysis estimates that 38,000 more students will have to continue studying English compared to last year after failing to achieve a 4 or above. This is a 28.6 per cent rise – above the 3.3 per cent rise in entries both subjects.
Nearly 22,000 more students will have to continue maths compared to 2022 – a 14.9 per cent rise.
Professor Becky Francis, chief executive of the Education Endowment Foundation, said the post-16 sector is "stretched" and "as things stand, many are unlikely to achieve a pass even through resits.
"This has serious implications for individual students' life chances. It is likely that those from socio-economically disadvantaged backgrounds will be most affected, so the attainment gap must be carefully monitored, and support targeted towards pupils in greatest need of it."
Sarah Hannafin, head of policy at the NAHT heads' union, said "urgent change is needed to the current government policy which forces some students into what can be a dispiriting round of resits for maths and English until they achieve the required grade".  
NRT: Big drop in English but no grading change
Ofqual has also published a digest of this year's national reference test results. The NRT is taken by a sample of students each year to monitor pupil performance over time and inform GCSE grading.
The 2023 test found a "statistically significant downward change" at grade 4 in English, when compared to 2017 (when the NRT came into force).
However, it found "no statistically significant differences in results at any of the other key grades in English or in maths when compared with 2017".
"These results suggest that performance in English and maths is similar to 2017, the first year of the NRT, with the exception of grade 4 in English, where performance is lower than 2017."
However, despite the difference in English grade 4s, Saxton "decided not to implement a downward change [in grading] because this would be counter to the wider policy intent of providing protection for students".
Outcomes 'likely' affected by Covid and cost-of-living
Paul Whiteman, leader of the NAHT school leaders' union, said achievements "should be celebrated and in no way diminished by the government's decision to move back to pre-pandemic grading in England, which was always going to impact overall results".
"Yet young people's ability to flourish and to progress in the next stage of their education or training is being hampered by government policy which imposes high stakes accountability upon schools and limits students in their choice of qualifications.
"It is high time that school performance tables were scrapped and school leaders empowered to develop and deliver a curriculum and qualification offer that truly meets the needs of their students."
Geoff Barton, general secretary of the ASCL school leaders' union, said an "enormous amount of hard work has gone into these qualifications in often difficult circumstances and the young people receiving their results today deserve great credit for what they have achieved".
He cautioned against "direct comparisons between this year's grades and those in 2019 because of the disproportionate impact of the pandemic and subsequent cost-of-living crisis on young people from disadvantaged backgrounds".
"It is likely that the outcomes for many of these young people will be affected by these factors and this may also impact on the results of schools which serve disadvantaged communities. The government has failed to grasp the gravity of this issue."
Some subjects fall below 2019
Although the proportion of top grades overall remains higher than in 2019, some subjects have fallen below pre-pandemic levels.
Top grades in spanish are 3.1 per cent lower than 2019, while physics is 1.8 per cent behind. Biology top grades are 1.2 per cent lower, while in chemistry they are 0.7 per cent below 2019.
At the other end of the scale, top grades in some subjects remain much higher than in 2019. In computing, the proportion of top grades is 2.8 per cent above 2019, while French is 2.3 per cent higher.
Ofqual said it required exam boards to grade GCSE French and German "more generously".
"This follows our detailed review of an extensive evidence base as part of our work on inter-subject comparability and subsequent announcement in 2019 that we would seek to align grade standards in GCSE French and German with Spanish."
Analysis by type of school found top grades at private schools actually fell below 2019 levels. This year, 46.6 per cent of grades were 7s and above, down from 47.2 per cent in 2019.
Saxton said that an "examined approach is levelling the playing field for all students".