Free schools have substantially fewer free school meals pupils and significantly more able children than other schools in their neighbourhoods.
Analysis of school census data for all free schools opened between 2011 and 2014 by Francis Green, Rebecca Allen and Andrew Jenkins from the Institute of Education (IoE) points to distinct differences in admissions between free schools – especially primaries – and other institutions.
The research, unveiled by Green at an institute seminar last week, is the latest of several reports to lead to allegations of social selection in England's school system.
The Sutton Trust warned earlier this month that schools with the best Ofsted ratings were more likely to socially select pupils from higher-income families, after its report Caught Out found more than 1,500 primary schools had intakes not reflecting the socio-economic profile of their neighbourhoods.
The IoE research found that although free schools were more likely to open in more deprived neighbourhoods and more likely to take ethnic minority pupils, they were less likely to take those eligible for free school meals.
Of the year 1 pupils at free schools in 2011, 12 per cent were entitled to free school meals, compared with 19 per cent of that cohort across England and 24 per cent across the neighbourhoods in which the schools opened.
Overall, the proportion of pupils in years 1 to 3 at free schools who were entitled to free school meals was 15 per cent between 2011 and 2014, compared with 18 per cent nationally and 21 per cent in the schools' neighbourhoods.
Pupils receiving free meals attract additional funding of about £1,000, a policy introduced partly to make them more attractive to school founders.
Nick Timothy, director of the pro-free school group the New Schools Network, claimed more recent data showed the gap had narrowed between the two groups.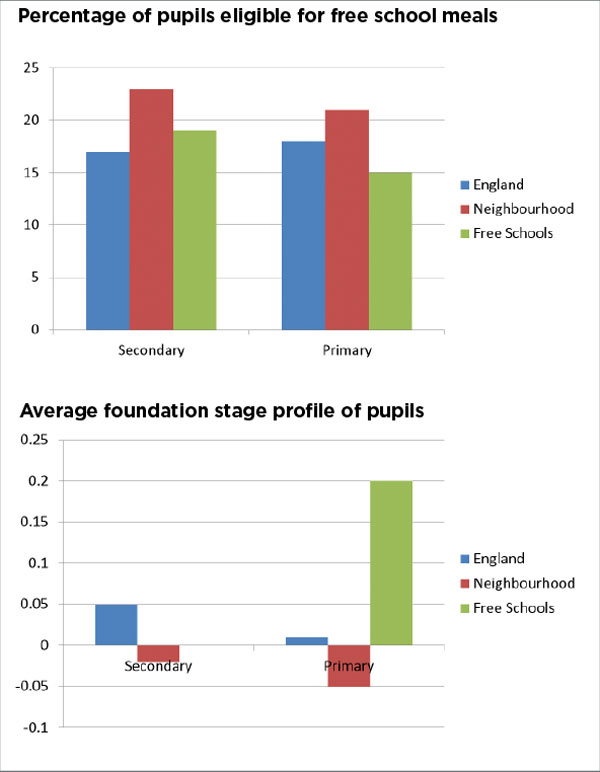 "Most importantly, free schools are three times more likely to open in the most deprived areas than the least, precisely because these are the students that free school founders want to reach," he said.
There was also a marked difference in ability, with pupils at free schools having an average foundation stage profile of 0.2 over the course of the study, compared with an average score in the schools' neighbourhoods of -0.05 and a national average of 0.01.
Henry Stewart, from the Local Schools Network, said: "These figures are disturbing. They show free schools consistently have proportions of disadvantaged pupils that are below the neighbourhood average.
"We know that some free schools find ways to select a much more advantaged intake. This data suggests it could be more widespread than we thought."
Janet Downs, also from the network, said free schools and other institutions that were their own admissions authority were able to socially select pupils using subtle changes to admissions criteria and other factors, such as more expensive uniforms.
The research did show that free schools take significantly higher proportions of ethnic minority pupils than the national mean. On average, 36 per cent of pupils at free schools were white, compared with 46 per cent in their neighbourhoods, and 72 per cent nationally. A large number of free schools are in major cities with relatively high numbers of young people from ethnic minorities.