A free school run from mobile classrooms on a rugby field for five years has been ordered to join a new academy trust just months before it is set to move into a permanent home.
The Department for Education published a financial warning on Friday to the Paxton Academy in south London, dubbed "Portakabin Academy" by local press, ordering it to join the Wandle Learning Trust immediately.
The school fell into financial problems as too few pupils took up places and a move to a permanent home was constantly hampered.
Steve Reed, the Labour MP for Croydon North, said it was "absolute hypocrisy" by the DfE, which had left the school "abandoned and neglected".
"What is the government doing opening schools without buildings? It's not the school's fault, it's the government policy that led to this.
"The idea a child is allowed to have their entire primary education in temporary classrooms without a proper playground in one of the richest cities in the world is beyond belief."
Freedom of information figures obtained by Local Schools Network show that more than a fifth of free schools (106) were in temporary accommodation in November.
In December, King Solomon International Free School in Birmingham, which has been in temporary accommodation for three years, was warned its funding could be terminated after it was placed in special measures. The school used an inflatable dome to house a temporary canteen.
Floreat Brentford Primary School in west London closed last August, citing problems with temporary buildings and low funding.
Paxton opened in September 2014, with the assurance its building would be ready in 18 to 24 months. But the government only submitted the planning application in 2016.
Permission was finally given last June after the decision was called in by the government following rejection from Croydon council.
The science and sports specialist school was founded by members of the community to help children in a deprived area.
But one senior leader told Schools Week Paxton had only an indoor "multi-purpose space" for PE, with low ceilings and no equipment.
The DfE finally agreed to install equipment and soft flooring on the school's small concrete yard last year after arguing that it "wasn't good value for money". Only one class can play outside at a time.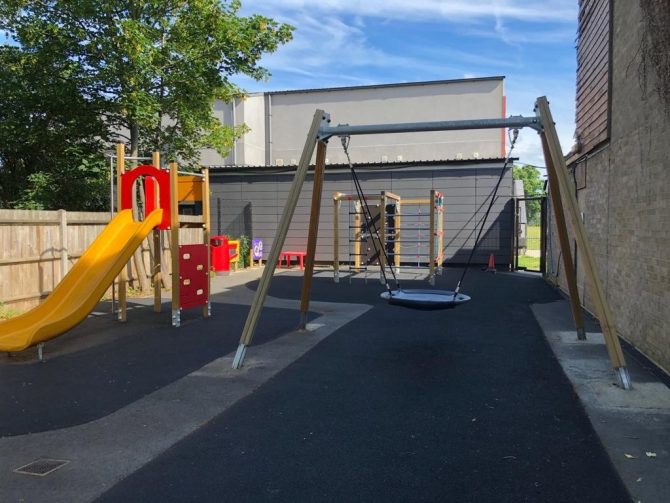 Paxton also had to rent classrooms at a nearby primary school for its year 3 and 4 pupils when it ran out of space.
Ofsted rated the school "requires improvement" in 2017. Inspectors questioned the security of the site, noting the "cramped spaces in which pupils are required to play and learn" and warned that "the limited space…is a cause of frustration for some pupils".
The school was due to move to its new home in October, but this has been delayed until April next year.
The DfE finance warning criticised a failure by Paxton's leaders to join the new trust by June 1. It must now move by July 1, when its single-academy trust will close.
Barry Gooden, the chair of trustees, insisted that the DfE was aware of the delay to the move. He said the school would be in surplus if the department was not clawing back almost £200,000 for a pupil shortfall last year, on top of £150,000 the year before. The most recent repayment has been deferred until September 2020.
Leniency over repayment to the government varies – for instance ministers gave one trust nine years to repay a £1.1 million emergency loan.
Gooden, a former project manager for Cambridge Education, told Schools Week it was a "travesty" so many pupils had been in temporary classrooms for so long.
A spokesperson for the New Schools Network said finding a site was "one of the most challenging parts" of setting up a new free school, but was made worse when councils "drag their feet or actively block planning applications".
A spokesperson for the DfE said schools only opened on temporary sites if there was a "compelling reason to do so". Paxton opened in temporary accommodation because of a places shortfall in the area.
She warned that any further delay in the move could lead to interim leadership at the school.