The decline in teacher pay compared with other graduate professions must be addressed "as a matter of priority", the School Teachers' Review Body has warned.
As part of its report into pay, the School Teachers' Review Body (STRB) recommended that all teachers get pay rises of 3.5 per cent.
However the government has stopped short of delivering the board's recommendation, instead handing the 3.5 per cent rise only to those teachers on the main pay range and unqualified teacher pay range. Those in the upper pay band will get a 2 per cent rise while school leaders will get a 1.5 per cent rise.
Last year, when the STRB recommended a 1 per cent average rise, the organisation warned that stalling retention and recruitment throughout 2015-16 was putting the future of the education system at "substantial risk".
In its latest report, the STRB blasted the continued "deterioration" in both recruitment and retention in 2016-17, too.
To back its findings up, the STRB has published a series of graphs on the state of the problems in teaching.
1. More teachers leave within 10 years
The proportion of teachers leaving in the early years of their careers continues to rise, the STRB warned.
Between 2011 and 2016, the percentage of teachers leaving within three years' service rose from 20 per cent to 26 per cent.
Those leaving within their first five years increased from 27 per cent to 31 per cent over the same period.
After 10 years in teaching, 40 per cent of teachers now choose to exit the profession.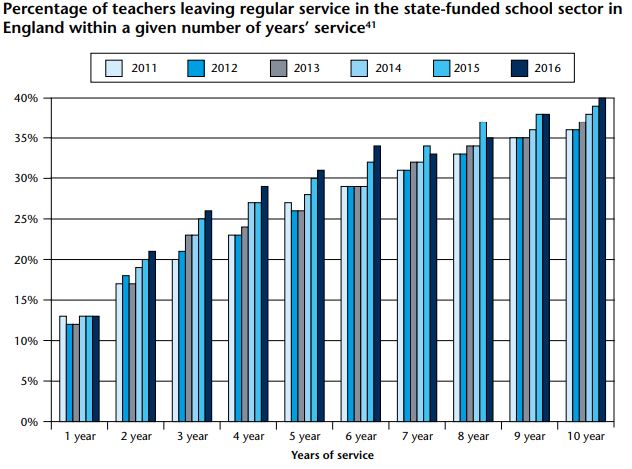 2. Teacher pay remains below other public sectors
Over most of the last decade, teachers' median earnings have grown at a slower rate than earnings across both the economy as a whole and the public sector.
Earnings growth in the profession was close to zero between 2010-11 and 2013-14, and about 1 per cent between 2014-15 and 2016-17, both below the rate for the rest of public services.
Teachers' minimum starting salaries were also lower than other professions. The median graduate starting salary is £30,000, whereas new teachers outside London earn just £22,917.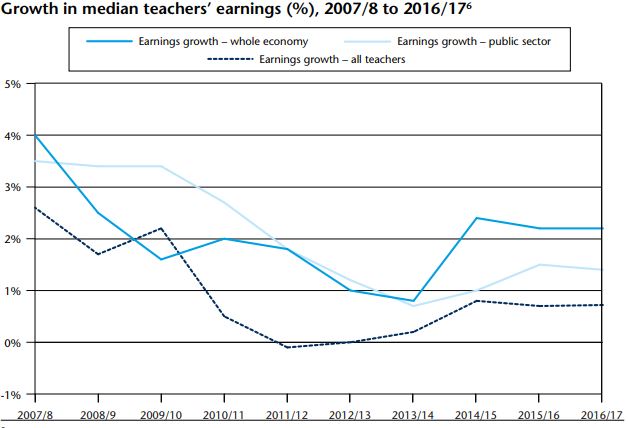 3. Recruitment targets were missed AGAIN
Recruitment levels varied across secondary subjects, but the target was not met for any subject in 2017-18 except for physical education and history.
The subjects with low recruitment included maths (79 per cent), physics (68 per cent), computing (66 per cent) and design and technology (34 per cent).
All subjects saw a fall in recruitment levels against targets compared to the previous academic year, except for PE.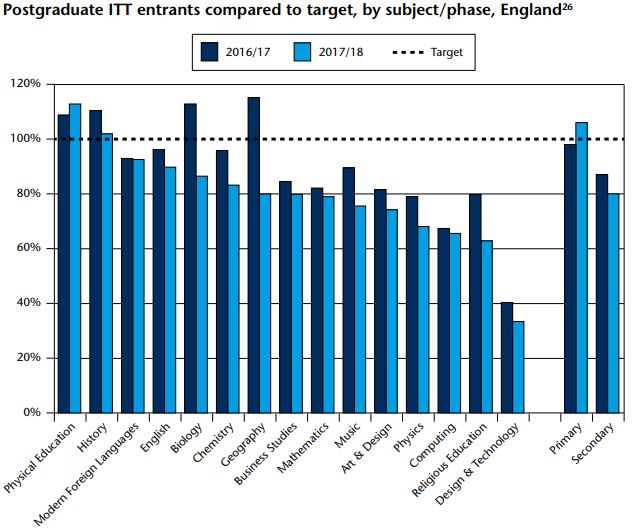 4. More vacant and temporarily filled posts
The number of vacancies and temporarily filled posts has "increased markedly" over the last five years, said the STRB.
In 2016, there were more than double the number of vacancies and temporarily filled posts than there were in 2011.
Compared to 2015, there have been increases of 26 per cent in vacancies and 14 per cent in temporarily filled posts.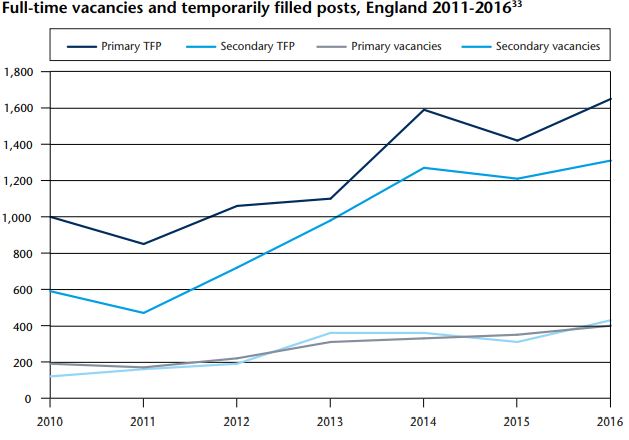 5. A higher proportion of secondary teachers leave than primary
Leaving rates of qualified teachers remained higher at secondary level (10.4 per cent) than at primary (9.2 per cent) in 2016.
However, a decrease in the leaving rates of primary teachers between 2015 and 2016 means that overall leaving rates for both phases decreased slightly from 10 per cent to 9.9 per cent over that time.
The wastage rate is consistently higher for part-time teachers (13.2 per cent) than for full-time teachers (9.3 per cent).