Councils expecting the biggest rise in demand for primary school places have managed to offer more youngsters their first choice school.
Around half a million youngsters are finding out today which primary school they will attend this September.
Latest government figures forecast there will be an extra 293,178 primary places needed by 2020 – amounting to 24,000 extra classrooms, or 2,000 extra schools.
Schools Week analysed National Offer Day figures for the eight councils facing the largest increase in demand for primary places by 2019, as revealed in government figures published earlier this month.
Seven of the eight councils actually improved or kept stable how many pupils got their first choice school. The only council whose first preference figure fell this year was Oldham.
In North Somerset, which is facing the steepest hike in places, 93.1 per cent of youngsters received their first preference school this year.
That's up by 4.7 percentage points from 88.4 per cent last year; though the number of applications fell slightly to 2,345 this year, compared to 2,384 in 2016.
Lambeth council also needs 1,230 primary places by 2018-19, according to the government's latest figures. This is the second steepest increase in the country – relative to the schools' current capacity.
But National Offer Day figures show 85.9 per cent of youngsters were given their first preference primary school this year, compared to 83.8 per cent in 2016.
Similarly, Barking and Dagenham council, facing a hike of 860 places by 2018-19, saw first preference offers rise to 92.8 per cent, compared to 89.8 per cent last year.
Peter John, deputy chair of London Councils, said local authorities were "clearly working effectively" at delivering school places under pressure.
Government should be working more closely with councils
But he called for the government to work "more closely" with local authorities to deliver enough school places in the future, in part by securing long-term funding arrangements for them.
Overall there were four per cent fewer applications this year in London. Other areas also had a drop. In Birmingham, the council stated applications from parents were down by almost 1,000.
But Sara Williams, chair of the Pan London Admissions Board, said she expected demand for primary school places to continue "at least" at current levels, and for demand to grow "considerably" at secondary school in the coming years.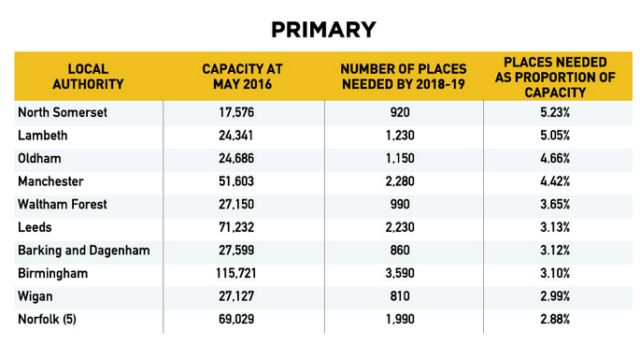 Other councils that boosted their first choice preference figures, despite facing the largest rises in future demand, were Manchester, Waltham Forest, and Leeds.
A spokesperson for Leeds council said it created 90 additional "bulge" places to meet demand, in what it described as "one of the biggest tasks in the education calendar."
The same proportion (87 per cent) of pupils received their first choice of school this year as the year before.
Whereas in Oldham, 89 per cent of youngsters received their first place preference this year, compared to 92.5 per cent in 2016.
The number of pupils not getting either of their first three preferences rose to 6 per cent, from 3.5 per cent in 2016.
Russell Hobby, general secretary of the National Association of Head Teachers (NAHT), said a "balkanised system" since 2011 in which academies, councils and central government could all plan new schools made it difficult to accurately predict the future of school places.
Until a single agency at the local or regional level had the "clout" to see where school places were most needed, the picture would always remain unclear, he said.