The proportion of pupils getting their first choice offers for both primary and secondary schools fell this year, as the number of applications for a secondary school soared to their highest level for 12 years.
According to government figures, published today, just 80.9 per cent of parents received an offer for their first preference secondary school, down from 82.1 per cent last year, while primary school first preference offers fell from 91 per cent to 90.6 per cent.
Although the number of secondary school applications rose by 3.7 per cent this year, applications for a primary school place were "virtually unchanged".
The government pointed to data showing 97.5 per cent of offers were for a pupil's top three choices at primary school, and 93 per cent at secondary school – despite a rise of over 20,000 applications at secondary level this year alone.
Schools minister Nick Gibb said that "despite rising pupil numbers and the highest number of applications at secondary level for 12 years, the vast majority of parents sending their children to school September received one of their top three preferences of either primary or secondary school".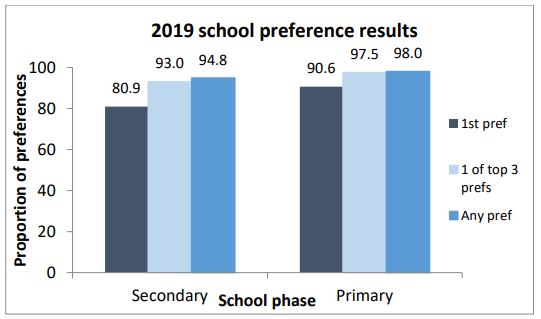 The fall in first preference offers at secondary school continues a downward trend since 2013-14, when 86.7 per cent received their first choice. However, this is the first drop in first preference primary offers since data was first collected in 2014-15.
Geoff Barton, general secretary of the Association of school and College Leaders, said the fact that more families missed out on their first choice secondary school "is a sign of the pressure on the system as pupil numbers rise" and warned it was likely to "intensify" over the next five years as the secondary school population increases by 376,000.
"Additional school places will need to be planned carefully to match demographic need. But this is only one part of the picture. We must ensure every family is able to access a place in a good local school wherever they live, and that they don't feel the need to chase places in over-subscribed schools.
"The vital ingredients for success are more support for struggling schools, improved funding from the government and more action to tackle the teacher recruitment and retention crisis. We must make every school the preferred choice for families."
In April, Schools Week reported that analysis of local authority figures showed that more pupils were missing out on primary schools in high-demand areas.
Northumberland has been described as a "top performer", with 98.4 per cent of secondary applications receiving their top preference and 98.2 per cent of primaries. Primary school first preference offers were also very high in nearby Redcar and Cleveland (98.4 per cent) and Hartlepool (97.5 per cent).
London had the worst preference rates at both primary and secondary level. Lambeth, Lewisham and Hammersmith and Fulham all awarded first preferences to fewer than 60 per cent of applicants, with Lambeth scoring lowest at 54.8 per cent.
Primary school pupils in Kensington and Chelsea were most likely to miss out on their first preference, with just 65.7 per cent doing so, followed by Hammersmith and Fulham and Wandsworth on 75 per cent. Both Kensington and Chelsea and Hammersmith and Fulham have been in the bottom three for primary offers in the last four years.