Cornwall's teachers have been recognised at a glittering ceremony in the first teaching awards for the area.
Held at Truro Cathedral and hosted by Helen Mathieson, chief executive of Salisbury Plain Academies, winners and nominees were celebrated for their positive impact on pupils.
Vic Goddard, from Channel 4's Educating Essex, delivered a keynote speech.
There were 12 categories, including outstanding headteacher, outstanding use of IT in education, and outstanding special educational needs teacher.
To kick off the night a special lifetime achievement award was presented to Steve Miller from Pool academy. The judges said that his list of achievements, areas of expertise and proven abilities over many decades would impress "even the most discerning and scrupulous" judges.
Outstanding headteacher of the year, sponsored by Schools Week, went to Ian Kenworthy from Camborne science and international academy. The judges said students and staff responded to his high expectations with determination to achieve their goals.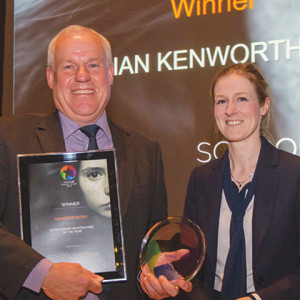 Howard Stuttard, also from Pool academy, won outstanding teacher of the year, sponsored by Kernow Education. He was described as "an outstanding teacher who is passionate about developing himself and empowering other staff to develop, too".
Sarah Karkeek from the Newquay Education Trust picked up the governor of the year award, sponsored by the University of Bristol. She was recognised for using her skills and knowledge to help to develop the governance of other institutions as well as her own.
Truro School sponsored the student nominated teacher of the year, which went to Lisa McCarthy from Torpoint college. She was recognised for "inspiring her students to be passionate about education, to gain self-confidence and to turn their grades around".
The outstanding special education needs teacher of the year award, sponsored by Truro & Penwith College, went to Geraldine Revell from Little Learners preschool in Penzance. The judges said her work for students and parents was "outstanding".
Nikki Baron from EMPRA PR and Marketing, who organised and attended the awards, said: "The cathedral was filled with such worthy winners – it was an emotional evening.
"We've had such fabulous feedback and our Twitter feed is full of such lovely comments. We've stumbled upon a real winner of an event and I hope it's one that will be even bigger and better next year."
Main pic: Outstanding special education needs teacher of the year Geraldine Revell