The government will lift its recommendation that masks be worn in secondary classrooms from tomorrow, Boris Johnson has said.
Rules requiring coverings are worn in indoor communal areas will no longer apply from Thursday next week (27).
However unions have warned schools are still suffering huge disruption, with one in ten primary pupils having Covid last week.
But Johnson said the latest Office for National Statistics data showed infections were "falling", and while they were "likely to continue rising" in some places including primary schools, "our scientists believe it is likely that the Omicron wave has now peaked nationally".
He addressed MPs today following a cabinet meeting this morning where ministers decided to allow plan B regulations put in place to tackle the Omicron variant of Covid to expire.
The recommendation for masks in classrooms was brought back in early January, while masks have been recommended in communal areas since late November.
However, schools are still facing widespread disruption across England.
1 in 10 primary pupils test positive for Covid
ONS data estimates that in the week to January 12, around one in 10 primary age pupils and one in 20 secondary age pupils tested positive for Covid-19.
The latest DfE attendance statistics show an estimated 315,000 pupils and around 60,000 staff missed school for Covid-related reasons on January 6.
Paul Whiteman, general secretary of the NAHT school leaders' union, said the prime minister's statement "will feel, to many school leaders, at odds with the current situation on the ground".
Mass disruption is "ongoing", he said, and "school leaders are telling us they still feel very much in the eye of the Covid storm".
"It is imperative that schools continue to be supported by government to keep the gates open, as we emerge from the depths of winter disruption."
Masks decision could cause 'more disruption'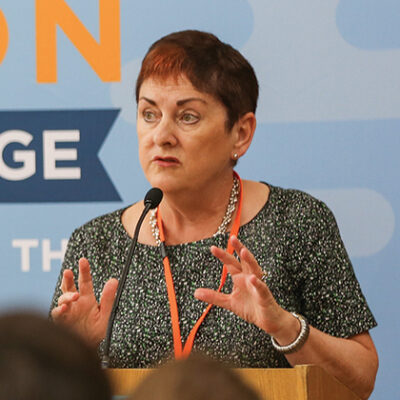 Dr Mary Bousted, joint general secretary of the National Education Union, said that while the trend in case rates among secondary-aged children was down, it was "uncertain" if that would continue.
"The danger is we lift restrictions too quickly before the effects of returning to school are clear. This will result in more education disruption."
The DfE recently published the evidence behind its decision to reintroduce masks in class earlier this month. It included details of a study in October that found Covid absences fell quicker in schools using face coverings, though there were limitations to the data.
Measures requiring self-isolation for those who test positive will remain in place, Johnson said today. But he added there would "soon come a time when we can remove the legal requirement to self-isolate altogether".
He said self-isolation regulations were due to expire on March 24 "at which point I very much expect not to renew them". He added that "were the data to allow I would like to seek a vote in this House to bring that date forwards".
'Throwing heads a hospital pass, again'
Some leaders reacted angrily to today's announcement, questioning the timing and accusing Johnson of trying to distract from revelations about parties at Downing Street during lockdown.
Caroline Derbyshire, executive head at Saffron Walden County High School, tweeted that there had been "no warning to headteachers".
"What an absolute shambles! I don't care about saving Big Dog. I care about communicating clearly and reasonably to our staff, parents and students. We all deserve better."
Jonathan Mountstevens, a deputy head, said: "Whatever your views on masks, using them as a cheap way to distract from a crisis is shameful.
"Clear communication and consistency are key to routines and high standards in schools, so last minute changes like this ride roughshod over them, throwing heads a hospital pass. Again."
Meanwhile Andy Byers, a headteacher in the north east, said the announcement "creates some difficulty" with more than 60 pupils and and 10 staff absent, with some "quite poorly".
He told parents he "would like to encourage students to continue to wear face coverings for the next two or three weeks until (hopefully) case numbers fall" in the region.
Geoff Barton, general secretary of the ASCL leadership union, said the announcement would be welcomed "if it is supported by sound public health and scientific advice".
But he warned of a "danger that we are heading once again for a situation in which the government gives the impression that the crisis is over when in actual fact there is huge disruption continuing to take place in education".