Proposals for externally-set papers to help inform teacher grades this year are not "exams by the back door", Ofqual's chief regulator has said after students flagged concerns.
Ofqual is proposing that papers, providing by exams boards, can help teachers award GCSE and A-level grades to their pupils this year after exams were scrapped.
But the papers, dubbed "mini exams", have clearly alarmed some students, who have flagged their concern in Ofqual's consultation on the plans.
We're not trying to squeeze in an exam via a different route
Ofqual chief Simon Lebus has published a blog today to "allay concerns that some students have expressed to us – that these are exams by the back door. They are not.
"But an externally-set task would help teachers by providing them with an external reference point, giving them greater confidence in the grade they were awarding."
He added the papers would "support teachers to assess their students consistently", and could be used as "just one source of evidence to determine a student's grade. Other sources of evidence could include mock exam results, internal assessments or work already completed."
"Having something set externally provides a useful reference point, and helps to support consistency between different students in a school or college, and between schools and colleges in different parts of the country," Lebus added.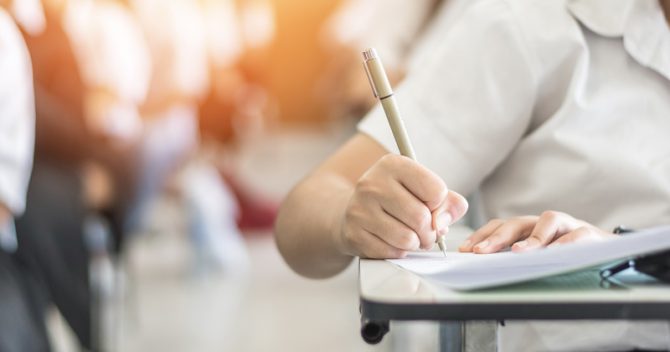 He said exam boards could also "sample teachers' marking as part of the external quality assurance arrangements and look to see how the school or college is using different sources of evidence". Ofqual has sought views on whether to make papers compulsory.
Lebus said using questions similar in style and format to normal exam papers "isn't because we're trying to squeeze in an exam via a different route. It is because most students would be familiar with the sorts of questions used, as students typically use past papers to help them prepare for their exams. It just means there could be questions in a form that students are used to."
Teachers could also have a choice of topics, so they can "take account of what has or hasn't been fully taught due to the disruption. The exact approach would have to be tailored for each subject, with exam boards confirming the details."
'Clear there's no straightforward options'
Ofqual confirmed today it has received over 90,000 responses to its consultation, which closes tonight. That equates to a response every 13 seconds since the consultation was launched at 3.30pm on Friday, January 15.
It's also over seven times more than the 12,623 responses received from last year's consultation on replacing exams.
Ofqual has drawn in "extra resource" to deal with the deluge, with a team reading "all the responses" as they are submitted.
Last night they said the "great majority" of over 86,000 responses had been read and are "confident" that they will be able to produce a "full report in good time to allow prompt decision making".
However the regulator refused to provide details of how many people are working on it. Ofqual has committed to announcing its plans in the week of February 22.
Lebus said several themes are emerging, adding: "What is clear is that there are no straightforward options for how exams are to be replaced."
EPI backs assessments for all, ASCL warns against mandatory papers
The Association of School and College Leaders has today backed using such papers, which they say should be done under "reasonably controlled conditions is possible".
"However, they should not be treated as 'mini-exams'… The use of these papers or questions should be encouraged, rather than mandated," ASCL added.
Meanwhile the Education Policy Institute has said a "short, standardised assessment" should be taken by all students in May or June, in most subjects.
The think tank has also said schools grades should be "anchored" to those issued in 2019 to avoid "excessive grade increases" and that students in alternative provision should be funded to stay at school "for one or two additional years".