Another expert panel has been formed by the government, this time to help design new national professional qualifications for teachers.
The panel is the eighth set up since Damian Hinds became education secretary in January 2018.
Plans for five new NPQs – aimed at opening up career opportunities outside the traditional school leadership route – were announced in February in the wake of the release of the government's teacher recruitment and retention strategy.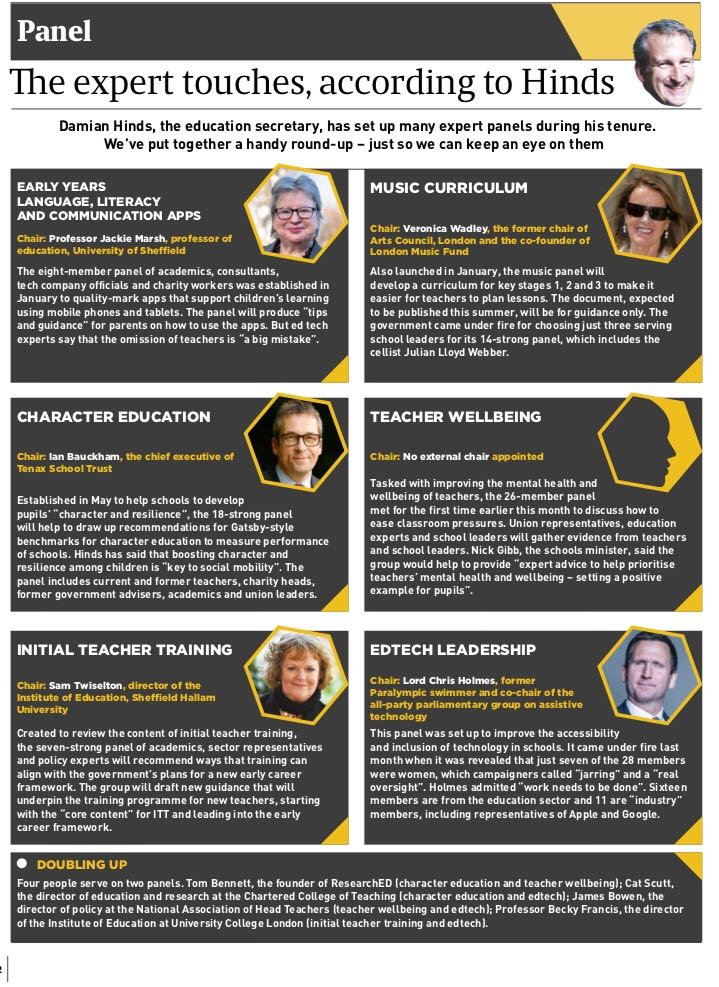 The new qualifications are meant to build on the "core areas" of the early career framework – the main new policy announcement in the strategy, which guarantees new teachers two years of induction.
On the panel is Sheffield Hallam Institute of Education director professor Sam Twiselton, who also advised the government on the strategy and chairs another panel that is currently reviewing initial teacher training, and Richard Gill, the chair of the Teaching Schools Council.
Other members include Cat Scutt from the Chartered College of Teaching, Matt Hood from the Ambition Institute, David Weston from the Teacher Development Trust and John Blake from Ark and Now Teach.
Nick Gibb, the schools minister, said: "These new qualifications, backed by education experts, will provide recognition for those teachers who want to develop their skills and progress their careers.
"Our ambition is for teachers to be able to do so without having to pursue traditional leadership routes, instead expanding their expertise in vital areas such as curriculum or behaviour management."
The panel members
Richard Gill, chair of the Teaching Schools Council
Matthew Hood, chief education officer at Ambition Institute
Cat Scutt, director of education and research at Chartered College of Teaching
Reuben Moore, executive director for programme development at Teach First
Samantha Twiselton, director of Sheffield Institute of Education
David Weston, CEO of Teacher Development Trust
Lesley Powell, executive headteacher at Shotton Hall
Emma Rennison, executive director of the Outwood Institute of Education
John Blake, curriculum research and design lead at Ark, and director of strategy and policy at NowTeach
Emma Lennard, primary curriculum consultant
Hamid Patel, chief executive of Star Academies
Anne Heavey, national director at Whole School SEND