The number of 'material errors' in the design of A level and GCSE exam papers has more than tripled in a year, affecting 323,000 pupils this summer.
Ofqual's report on the 2016 summer exams shows the number of reported assessment material errors rose from 11 in 2015 to 37 this year.
The biggest rise was in category 2 errors: mistakes which cause "unintentional difficulties for students when they are responding to a question/task". These errors rose from three to 18 over the year.
Category 1 errors – which are the most serious and make a meaningful response from pupils "impossible" – rose from six to 16.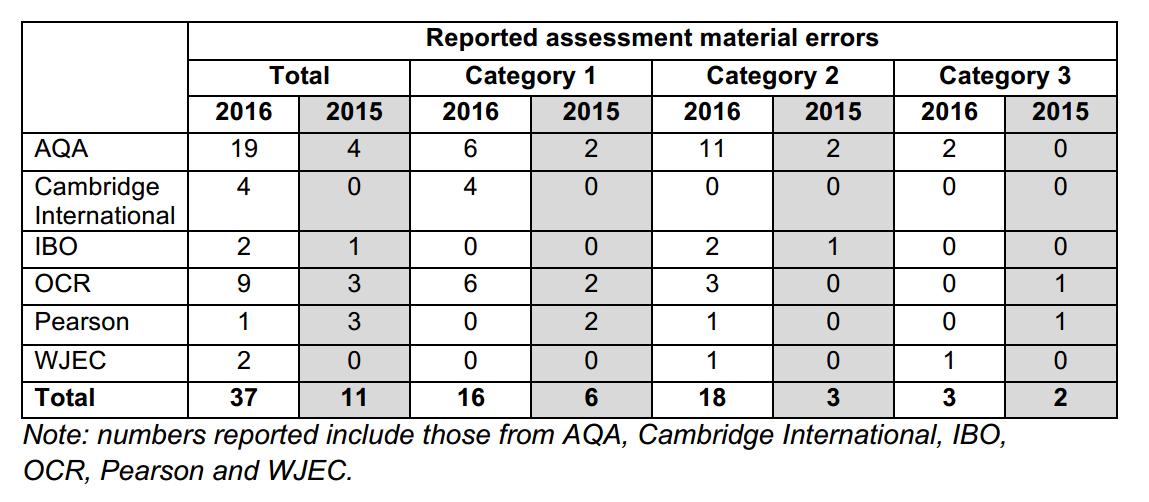 Exam board AQA had the largest number of errors, recording just four in 2015 but rising to 19 in 2016.
A spokesperson for AQA said: "Each of our exam papers goes through a lot of checks. Unfortunately, though, errors can very occasionally slip through.
"When they do, we always make sure that students don't lose out – but one error is still one too many, so we've carried out a detailed investigation and we're improving our checks as a result."
Ofqual said the number of errors in some exam boards' materials was "noteworthy", and it was seeking assurance from all boards they had "identified the causes" and taken steps to reduce their occurrence.
"We will also bring the exam boards together ahead of summer 2017 to make sure they adopt a common and consistent approach to notifying us of errors," the regulator said.
Pupils are also being treated inconsistently when requesting special consideration for exams, according to the watchdog.  The regulator says it plans to audit the way boards handle the requests.
The report gives an overview of the 2016 summer exam series, during which roughly 15.4 million papers were completed by around 1.9 million pupils over seven weeks.
"The vast majority of students received the outcome their performance deserved without issue in summer 2016," an Ofqual spokesperson said.
"Where issues occurred, such as security breaches, assessment material errors, or marking errors, exam boards took action to mitigate the impact. Where we had concerns about the actions exam boards were taking, we acted quickly to ensure that they took the appropriate steps to protect any affected learners."
Save