Nearly 50,000 pupils in a single year group were removed from school rolls for "unexplained" reasons, a major new study has found.
The Education Policy Institute has found one in 12 pupils due to finish secondary school in 2017 (8.1 per cent) were removed from school rolls for reasons that weren't a permanent exclusion or family move, up from 7.8 per cent of pupils in the 2011 cohort.
The study follows on from others that have exposed how many pupils are being removed from schools, leading to estimations of the potential numbers of pupils being "off-rolled".
However it's the first analysis to eliminate moves that were down to family decisions – such as moving house – meaning these exits were mostly likely instigated by schools, potentially to boost GCSE results or because of budget worries.
There are big implications for the school system of such large volumes of mobility
Jo Hutchinson, director for social mobility and vulnerable learners at EPI, said: "Children are being pushed around the school system in England on an industrial scale."
EPI found more than 55,000 unexplained moves in the year group that was due to sit GCSEs in the summer of 2017.
That equated to 49,101 pupils (8.1 per cent) being removed from school rolls during their secondary schooling, up from 46,759 pupils (7.8 per cent) of pupils due to sit GCSEs in 2011.
However almost a quarter of the "unexplained exits" from the 2017 cohort were in just six per cent of secondaries (330 schools).
In these schools, the equivalent of an entire class of pupils (30) from one year group was removed with no explanation over the course of secondary school.
While Ofsted has refused to release the names of the 300 schools it suspects of off-rolling, the EPI plans to reveal which "groups of schools" have high rates of unexplained moves in a second report this summer.
Hutchinson added: "Aside from the human costs of all these irregular school transitions, there are big implications for the school system of such large volumes of mobility.
"A giant admissions puzzle is required to fit so many children back into another school or into alternative provision, and some children are being lost into unregulated education, including home education, either temporarily or permanently."
Vulnerable pupils were among the most likely to be removed for unexplained reasons. One in three pupils in contact with the social care system had been subject to an unexplained move, compared to one in seven disadvantaged pupils and 40 per cent of persistently absent pupils.
The researchers also found unexplained exits are concentrated in schools in the middle of the disadvantage distribution – and that the least disadvantaged schools now account for a higher proportion of unexplained exits.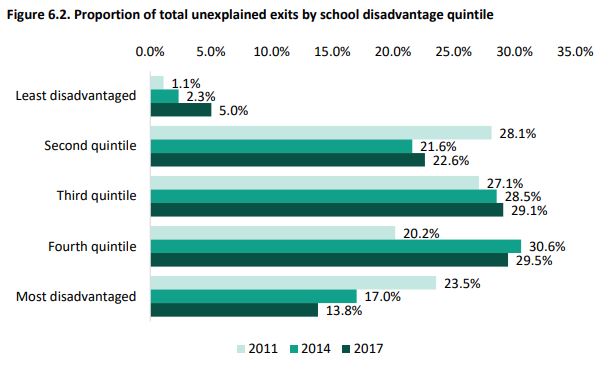 In the 2017 cohort, about 4.3 per cent of pupils in academies accounted for unexplained moves – the same proportion as for local authority schools.
David Laws, executive chairman of the Education Policy Institute, said the "size of unexplained pupil moves is disturbing".
Researchers must look "particularly closely at the six per cent of schools" which account for almost a quarter of unexplained moves, he said.
But Leora Cruddas, chief executive of the Confederation of School Trusts, said that although the data "may look concerning", it included moves to alternative provision that was not the result of a permanent exclusion, some of which will be beneficial for pupils.
"A move to high-quality alternative provision is often in a young person's interest," she said, adding the moves need to be better recorded so their reasons are properly understood.
Ofsted has defined off-rolling as the practice of removing a pupil from the school roll without a formal permanent exclusion, or by encouraging a parent to move their child from the school roll, "when the removal is primarily in the interests of the school rather than in the best interests of the pupil".