It's been clear since we started in 2014 that Schools Week readers are a political bunch, and it's always fascinating to get an idea of the personal politics of those who read our paper.
This week we polled 373 people on our mailing list to find out how they plan to vote and how much of an impact education will have on that vote.
This is not a scientific poll. The sample isn't weighted to be more reflective of a particular population as official opinion polls are, and the sample size is small.
Therefore we are not going to draw a specific conclusion about Schools Week readers overall from this data (you bunch of Remain-y lefties, you). It paints an interesting picture, however.
Thirty per cent of the respondents work in secondary schools, 15 per cent in primary schools and 15 per cent in other educational establishments, including early years.
About 16 per cent work at either a charity, non-profit organisation or think tank, while 23 per cent said they worked somewhere else.
Twenty-five per cent of respondents were senior leaders, 9 per cent were middle leaders, 10 per cent were classroom teachers and 12 per cent were academy trust chief executives or executive heads. Thirty-three per cent listed their role as "other".
We didn't offer "governor" as an option – a massive oversight. We'll make sure it's in there next time.
The results
If we look at the headline figure of who our readers will vote for, taking into account tactical voting, Labour is the clear winner, but not by as big a margin as in 2017 when more than 50 per cent backed the party.
About 39 per cent of respondents said they would vote for Jeremy Corbyn's party this time, compared with 29 per cent for the Lib Dems and 16 per cent for the Tories. The Green Party is on about 6 per cent, while the Brexit party polled about 1 per cent.
If we look just at the 227 respondents who work in schools or other educational establishments, the Tories fare a little better on 18 per cent, while Labour falls to 36 per cent and the Lib Dems remain stable at about 29 per cent.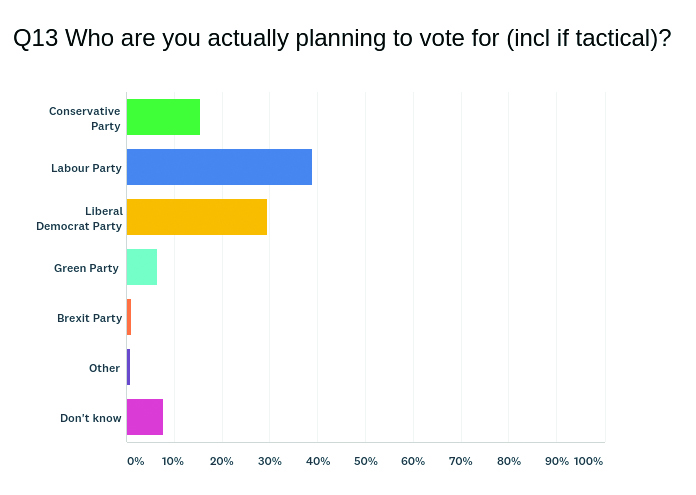 If just senior and middle leaders are taken into account, Labour performs better on about 41 per cent, while the Tories stay on 18 per cent and the Lib Dems fall to 26 per cent.
Interestingly, if you ask people who they would vote for purely on the basis of what would be best for schools, Labour's share rises to 45 per cent, while the Lib Dems and Tories drop to 22 per cent and 17 per cent respectively.
Labour picks up the teachers
Polling by Teacher Tapp before and after the parties launched their manifestos also offers a fascinating insight into the voting intentions of a much larger group of educationists.
The app polled 4,017 teachers on October 31 and November 27, and then weighted the results to reflect national teacher and school demographics.
The results show that Labour jumped from 32 per cent in late October to 42 per cent at the end of November. Like Labour's improvements nationally, much of that leap seems to be at the expense of the Liberal Democrats, who slumped from 26 to 19 per cent between the two polls.
The Tories fell from 9 to 8 per cent, while the Greens dropped from 7 to 5 per cent. There were also fewer "don't knows" (17 per cent, down from 20 per cent).
It's possible that this is simply a by-product of what we're seeing nationally – a consolidation of the vote around the two main parties.
But it's also possible that the parties' proposals for education, fleshed out in their manifestos, has had some bearing.
This article first appeared in the Schools Week and FE Week general election supplement. You can download it here.