School career advisors are being asked to talk up the earning potential of teaching after new government figures suggested that those studying education courses at university earned more than law graduates.
A report from the Department for Education, published on Tuesday as part of its longitudinal education outcomes study, has revealed how much university graduates are earning five years after completing their studies, broken down by subject.
There's a surprising picture for education graduates: according to the DfE, the median wage is above that of their counterparts in law.
"One of the benefits of being a teacher is structured pay progression and this is reflected in these figures," said Geoff Barton, the general secretary of the Association of School and College Leaders.
"It is also a very fulfilling and rewarding career as teachers make a real difference to the lives of young people. It is a great job and we would encourage people to become teachers."
However, professor Chris Husbands, the vice-chancellor at Sheffield Hallam University, urged caution when interpreting the stats.
He pointed out that the 23 subject areas encompassed very different career types. The education category, for instance, includes teacher training and early childhood roles.
The study used tax records to track the salaries of employees who graduated in 2008-09, breaking down the figures into 23 subject areas and averaging them out for each university.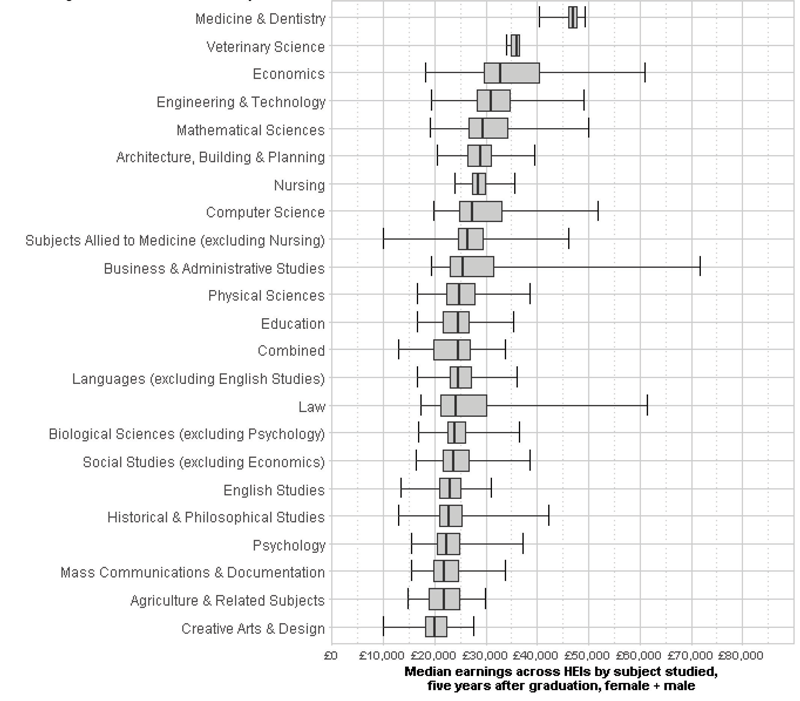 *NERD FACT: The vertical lines on each box-and-whisper plot (above) represents the average earnings of a single university's cohort. The line in the centre of the box represents the average cohort salary at the median university for that subject.
Education graduates had average earnings of just under £25,000, well below medicine and dentistry graduates, who were the top earners with over £45,000.
But they earned slightly more than law graduates on average, and education also trumps English, psychology and biological science in earning potential.
But while the report claimed education graduates had a slightly higher median salary, law graduates have the potential to earn much more money.
The data includes the lowest and highest average earnings of a university cohort for each subject.
The cohort of law graduates at the university with the highest average earnings were receiving over £60,000 each, compared with just over £35,000 for education.
Teachers make a real difference to the lives of young people
Chris Keates, general secretary of the NASUWT union, denied that the figures represented the reality of teaching, which she said had significantly changed since 2010, after "relentless attacks" on working conditions such as "year-on-year cuts to pay".
NASUWT published independent research in February that showed pay increases for teachers in England had fallen behind most other professions over the last six years.
The Incomes Data Research report found that a teacher's average starting salary was 15 per cent below average for comparable professions.
Around 95 per cent of the 2008-09 graduate cohort was included in the analysis, though the data did not include graduates who were self-employed, nor was it able to differentiate between part-time and full-time roles.
Barton said the government could make teaching "more attractive" by lifting the one-per-cent pay cap on teacher salaries.
"This would better reflect the high level of responsibility, work and skill required of teachers, and help to improve both recruitment and retention," he said.
A DfE spokesperson said: "Our universities rank among the best in the world and this data confirms that having a degree can lead to rewarding and well-paid jobs."