A partially sighted teenager has completed a 60km charity cycle ride on a tandem with one of his teachers.
Year 11 pupil Abdirahman Ibrahim and teacher Stuart Block from Morpeth School in Bethnal Green, east London, joined 60 other cyclists for the final leg of the Dallaglio Cycle Slam, a fundraising event held every other year in which up to 200 riders cycle physically challenging European routes.
The Dallaglio Foundation, set up by former England captain Lawrence Dallaglio, uses rugby as a vehicle to help young people to get back on track. It currently works with 24 pupil referral units across London and three other cities in the UK.
The Morpeth pair's training included a six-week programme of cycling around their local area.
Abdi was worried about the school work he would miss, although his teacher reassured him that the work could wait. "I tried to not stress myself out because of the amount of work I was going to miss out on," Abdi says.
"My frustration really got to me because I was missing my options on Thursday but I said to myself this is going to be a fun day out. Stuart said not to worry as there would be plenty of time to catch up."
The pair cycled from school across London to Paddington Station – a problem for Abdi, who also suffers from asthma, as he found the pollution from the cars and buses difficult.
I coughed a lot, which wasn't really a good sign since I just started the journey and there was more than 50km to go."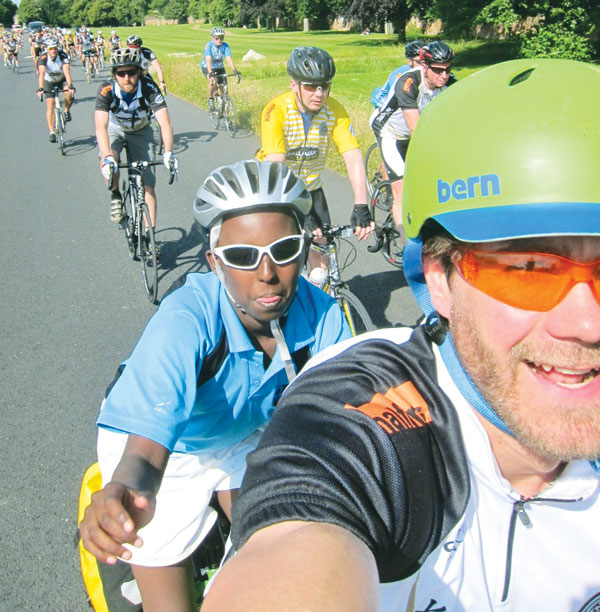 The pair caught a train to Maidenhead – some passengers complained about their tandem – and then cycled to Twickenham Rugby Stadium, intercepting the 60 other cyclists on the way.
This was the first time Abdi had visited the countryside – literally a breath of fresh air, he says. "It was such a contrast to the fumes of London.
He says the sounds of other cyclists changing gears made him nervous as he wanted to come first, even though it wasn't a race.
"The hardest bit was cycling through Hounslow. I wanted to give up as my legs were tired and my bottom was hurting, but I didn't want to let anyone down.
"By the time we reached the rugby ground, I was exhausted but very happy."
The teenager, who raised more than £1,000, then met the other cyclists – and foundation head Lawrence Dallaglio.
"I thoroughly enjoyed the journey as it was challenging, fun, active, exciting and overall it was for charity. I wanted to raise lots of money for pupils in referral units to help them to stay out of trouble."
Main pic: From left: Abdi meets Lawrence Dellaglio with his teacher Stuart at Twickenham