Male education leaders have been encouraged to stop worrying about "saying the wrong thing" and to join a growing number of men promoting gender equality in the sector.
WomenEd, a campaign group set up to tackle the disproportionate number of women headteachers, hosted its first all-male panel at its second annual conference on Saturday.
The group wants more men to take up its call for gender equality in education, and is urging male leaders to sign up to become a #HeforShe advocate, a UN campaign for the advancement of women.
The four male heads on the WomenEd panel included Vic Goddard, who appeared in the TV show Educating Essex, and Jarlath O'Brien, who regularly writes for national newspapers on special schools.
But the men all admitted to being slightly nervous about saying the "wrong things" under the spotlight of a room full of women.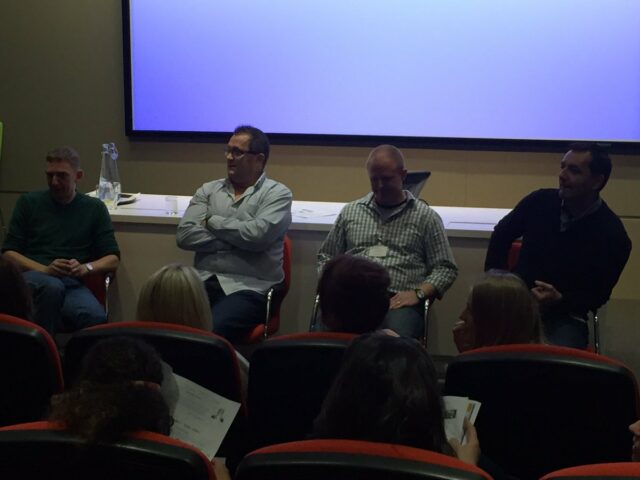 Chris Hildrew, head at Churchill academy and sixth form in Bath, said: "A lot of male leaders feel vulnerable when they reach out to the WomenEd community. I still feel nervous coming to events, and risking patronising or stereotyping women."
Goddard, head at Passmores Academy, Essex, said: "I'm more aware that sensitivities might be heightened in this environment than it might be somewhere else. But it's our own sensitives of desperately trying to make sure we get it [what we say] right that puts extra pressure on ourselves."
Angie Brown, a head attending the event, said: "People feel so worried about saying the wrong thing.
"The exciting part where we can change things is in the moment when we all say the wrong thing and offend each other… then we can address our insecurities."
Government figures show that 74 per cent of staff in all state schools are female, yet only 65 per cent of heads are women.
74 per cent of staff in all state schools are female, yet only 65 per cent of heads are women
However, figures released by the Future Leaders Trust found while 62 per cent of the workforce in secondary schools is female, just 36 per cent of secondary heads are women.
Hannah Wilson, a WomenEd founder and a specialist leader of education at the Harris Federation, said the rise of academy trust chief executives further exposed the gap.
While figures for executive heads and academy chief executives are not collated, Wilson said she knew of only 20 female trust chief executives.
"While there are more female heads, if we scratch the surface we find they have a man above them, and another one above him."
But she praised the work of #HeforShe advocates who were "trailblazing gender equality in the education system".
Delegates also heard how heads needed to do more on flexible working opportunities. "It's not about creating female-friendly environments, but creating environments that are family-friendly," Goddard said.
Delegates also heard that co-headship would help to retain female staff.