Teams of Department for Education (DfE) "volunteers" have started logging teacher responses to the Workload Challenge.
The challenge, launched last month by education secretary Nicky Morgan and deputy prime minister Nick Clegg, sought "experiences, ideas and solutions" on how to manage teacher workload.
In a tweet from its official account this week (pictured), the DfE said teams from London, Manchester, Sheffield, Darlington, Coventry and Nottingham would work through the responses.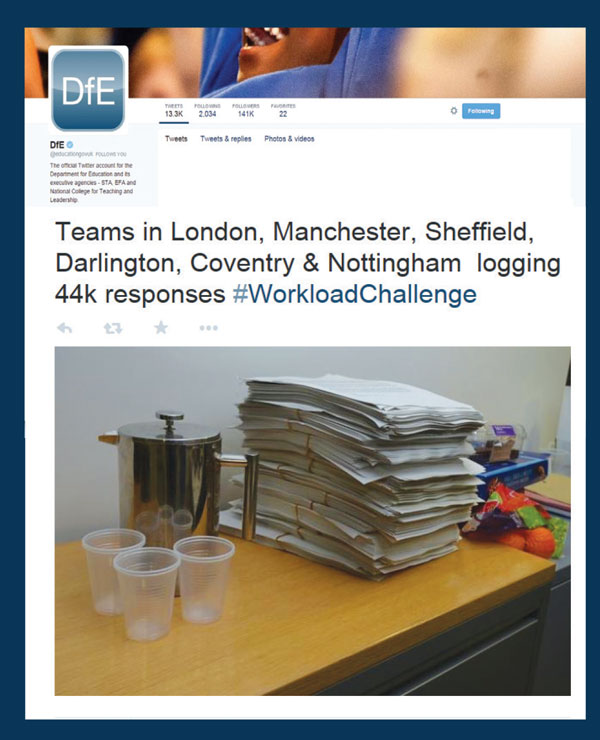 The department told Schools Week that a "number of people had volunteered" to analyse the data, which included 43,855 responses to an online survey, hosted by SurveyMonkey.
On November 6, the DfE also reported having 164 emails sent to its "dedicated workload solutions mailbox".
At the time of going to press, the scale of the task was unclear as some online submissions contained little more than the respondent's name.
The survey, which closed last Friday after four weeks, included questions such as: "What do you think should be done to tackle unnecessary workload – by government, by schools or by others?"
Some ideas, already revealed, include more planning, preparation and assessment time, reducing data collection requirements and improving IT systems to make them more user-friendly and efficient.
The DfE hopes to publish an action plan, based on the analysis, in the new year.
It will put together a panel of teachers and school leaders, but said appointments had not been made and was unable to say when it would first meet.
Earlier in the month, Ms Morgan said: "Once teachers have had their say, we will take action.
"The results will be considered by me, [education] minister David Laws and a new sector challenge panel. . . together we will agree a plan of action."
Mr Laws added: "Day in, day out, teachers across the country are working phenomenally hard to help children to reach their full potential.
"We want teaching to be a rewarding and fulfilling profession. But we know that too often, precious time is taken up with unnecessary tasks that are of little benefit to teachers or pupils.
"We want to work with the whole of the teaching profession to see what we can do to reduce this burden."