The Department for Education has refused to increase the "pathetic" level of compensation offered to would-be teachers who were incorrectly told they failed the teacher training skills tests.
Officials have told the disgruntled victims if they are unhappy with the £100 compensation offer then they should seek legal advice.
An error in the mark scheme for the QTS literacy and numeracy tests, thought to have been in place for at least 10 years, was only discovered last year after nearly 700 candidates were wrongly told they had failed the tests.
Although the DfE identified and contacted the affected candidates, often several years after they had been incorrectly told they had failed, it has faced criticism for offering just £100 in compensation.
Several of those affected told Schools Week they did not believe £100 was sufficient compensation for the disruption caused by the error, which has seen many take up lesser-paid jobs or give up on the dream of being a teacher.
However, letters sent from the DfE's skills team over the summer stated the compensation offer was final.
The letter, seen by Schools Week, read: "I am afraid we are unable to offer you payment in excess of £100.
"As such, if you would like to accept a cheque for this amount, please reply to this email with your full postal address. If you remain dissatisfied, you may wish to seek independent legal advice in relation to your specific, individual circumstances."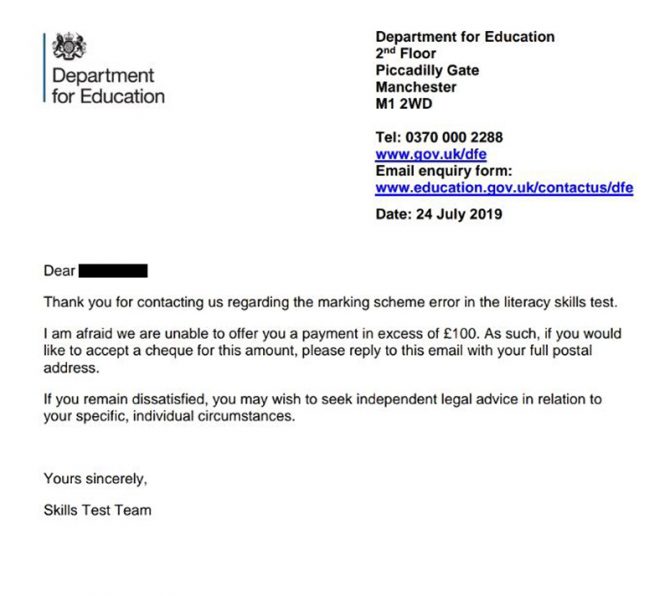 Lisa, who did not want to give her surname, said being wrongly failed two years ago led to her losing her university place and teaching job. She branded the offer of £100 "rather pathetic for what they have done".
"I'm slightly stuck, as I can't afford legal advice due to me doing a low paid job, due to their mistake," she said.
"I actually have no idea what to do. I'm so mad that they are able to just say 'tough, we will do nothing'."
Rachel Knott said she was "completely heartbroken" when she was told she failed the QTS test, and had to decline four university offers and pursue a different career path. When she was contacted by the DfE and told she had been failed in error, she initially thought it must be a scam.
"The £100 compensation is a joke. They ruined my dreams of becoming a teacher," she said.
"I honestly think that they think they have got away with it, and think that £100 is more than enough.
"I would love to try and take legal action, however I'm a recent graduate who does not earn enough money to be able to consider the costs of legal action."
Caroline Barton Byrd's son Ethan was wrongly told he failed the test, and is now studying an unrelated course at university. He has also been told the DfE will not offer any more than £100 in compensation.
Caroline said the mistake had "devastating consequences" for her son, including the loss of earnings, the cost of having to change university courses last minute and the loss of a career as a primary school teacher.
"Sadly, we are a low income family and therefore not in a position to pursue this legally," she said.
"I feel the department has behaved appallingly, and a more sincere apology should be forthcoming publicly. In print."
Official figures show 696 candidates failed the test between 2014 and 2017 when they should have passed, although 528 of these went on to pass at a later date.
In 2017 alone, 200 candidates were mistakenly told they had failed. The marking scheme "incorrectly scored the answer to a multiple-choice question".
Schools Week exclusively revealed last month that the QTS tests will be scrapped, following concerns about their impact on recruitment and questions over whether they are fit for purpose.
From October, teacher training providers will be responsible for making sure trainees have adequate literacy and numeracy skills.
At least 3,500 would-be teachers have failed the compulsory tests every year since 2012. Last year the DfE removed the lock-out policy that prevented anyone who failed the tests three times in a row from taking it again for 24 months, after Schools Week revealed almost 5,000 prospective teachers failed three times in 2015-16.
A spokesperson for the DfE said it had contacted people who had been "adversely affected" as a result of the marking error.
"The department has been working with those candidates who have now received a "pass" mark and offered compensation from the department. We are not in a position to discuss individual compensation offers."