The government has cut funding rates for the national rollout of its early career framework (ECF), claiming this year's teacher pay freeze means it will cost less to take new teachers out of the classroom.
The Department for Education has confirmed today that schools outside London will receive £2,100 for each pair of early career teachers and mentors as it rolls out the framework across England from September.
This is almost 5 per cent less than the £2,200 in funding pledged for schools in the initial rollout last year.
The department said the reduction in funding was a result of the pay freeze for teachers announced last year, which it said meant the cost of taking new teachers out of the classroom would be "lower than previously forecast". Early rollout schools will also receive the reduced rate for new ECTs starting this September, but will continue to receive £2,200 for those who began in 2020.
The money is supposed to pay for a 5 per cent timetable reduction for staff in their second year of teaching and to release more experienced teachers for 20 hours of mentoring over a year.
There is also additional funding available over and above these rates for enhanced training and a further 36 hours of mentoring – but only for those schools that sign up to work with one of six providers approved by the DfE.
DfE confirms national rollout and funding rates
The ECF, a two-year package of induction for new teachers, was initially rolled out to around 5,000 teachers last year. Under the scheme, schools receive funding for staff in their second year of teaching.
Today, the government confirmed it was rolling out the scheme nationwide.
Funding rates will be £1,200 for each new teacher outside London, £1,300 in the fringe area, £1,400 in outer London and £1,500 in inner-London. This is to cover time off-timetable for new teachers.
Schools will also get funding of between £900 and £1,100 to pay for mentoring, taking the total amount on offer for each pairing to between £2,100 and £2,600, depending on a school's location.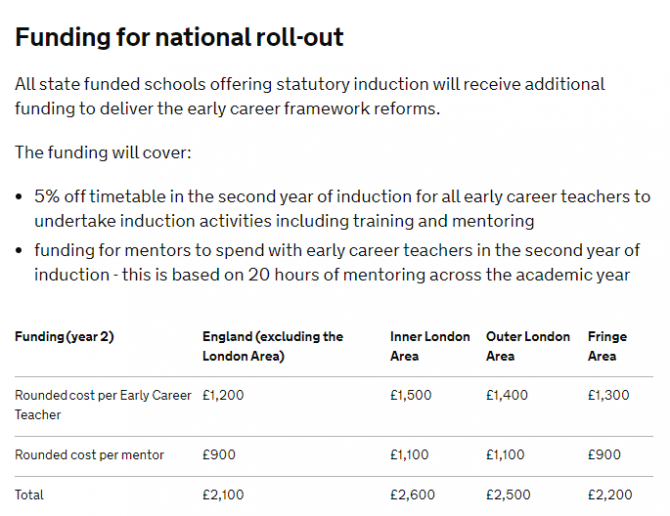 DfE guidance states the funding amount is calculated based on the average salary of mentors and early career teachers in each region.
Extra mentoring cash – but only for schools that work with DfE-approved partners
There is further additional funding available for mentoring, but only for schools that choose to work with government-approved providers.
Ministers announced today that the Ambition Institute, Best Practice Network, Capita (with the University of Birmingham), the Education Development Trust, Teach First and the UCL Institute of Education would be funded to deliver the support.
Schools working with these partners will get "additional funding" for the "time mentors of early career teachers will spend on the provider-led mentor training".
This will consist of "36 hours of backfill time over two years per mentor". This will be over and above the base funding rates, which are for all schools irrespective of who designs their ECF provision.
Additional funding for mentoring was pledged at the spending review, but there was no mention at the time of any conditions.
Schools can opt not to work with the partner organisations – they can either deliver their own training using DfE-accredited materials and resources, or design and deliver their own ECF-based induction.
The DfE says it plans to provide further information and guidance to help schools prepare for the national rollout in the spring.
ECF providers to play 'pivotal role'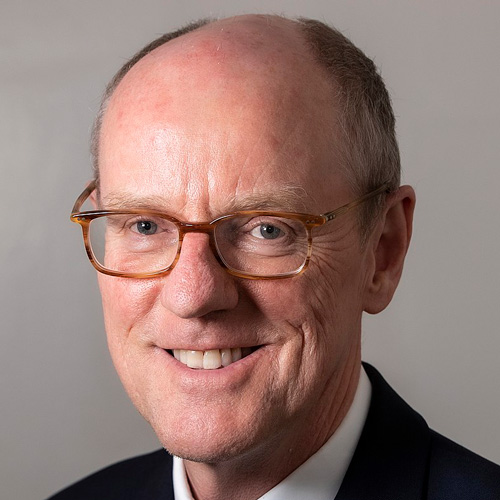 Schools minister Nick Gibb said the six training providers will play a "pivotal role" in delivering these reforms from September.
"Our reforms to teacher training and the introduction of the early career framework are designed to improve the experience of teachers as they take up their first teaching post.
"It will provide them with structured support, a dedicated mentor and training based on the best available evidence of what works in the classroom."
Sir Kevan Collins, education recovery commissioner, said the ECF "will ensure that all early career teachers learn how to apply the best available evidence on effective teaching".