Ministerial payoffs, senior staff bonuses and millions in written-off debts have been revealed in the Department for Education's annual report and accounts.
The revealing document has been published on the last day before parliament rises for the summer recess.
Here are some of the things we learned.
1. There were 'fundamental weaknesses' in the DfE's readiness for GDPR
The DfE's permanent secretary Jonathan Slater has given his own department an "unsatisfactory" rating for its readiness for the General Data Protection Regulations, which came into effect in May.
An unsatisfactory rating states that "there are fundamental weaknesses in the framework of governance, risk management and control such that it is inadequate and ineffective or is likely to fail".
Schools Week reported in March how half of schools were not ready for a requirement under GDPR that they must appoint a data protection officer, and in April the DfE acknowledged it needed to do more to help schools prepare.
Despite the lack of preparation for GDPR, Slater concluded overall that the DfE had "satisfactory governance and risk management systems in
place with effective plans to ensure continuous improvement".
2. Justine Greening got a £16k payoff
All cabinet ministers get a payoff when they leave government, and Justine Greening's was £16,876.
The former education secretary resigned on January 8 after being offered a move to another department. She was replaced by Damian Hinds.
3. Bonuses for senior staff
Three DfE directors received bonuses in 2017-18. Peter Lauener, the former chief executive of the Education and Skills Funding Agency received between £20,000 and £25,000. Andrew McCully, the director general for infrastructure and funding, got between £10,000 and £15,000, and Paul Kett, director general for education standards, received between £5,000 and £10,000.
4. Presidents Club organiser Meller was paid £27k
Academy sponsor and businessman David Meller resigned as a non-executive board member at the DfE in January following explosive revelations about the controversial Presidents Club charity dinner.
Meller was the co-chair of the charity set up to run the dinner, which was rocked by allegations of sexual harassment by guests following a Financial Times investigation.
Most non-executive board members are unpaid. However, DfE accounts show Meller was one of three to receive remuneration, trousering £15,000 in 2016-17 and £12,500 in 2017-18.
The same payments were also made to board member Marion Plant, while Baroness McGregor Smith received £17,500 in 2016-17 and £15,000 in 2017-18.
5. The DfE's top boss earns 4.2 times the average
Slater, the highest-paid director at the DfE, earned a salary of between £160,000 and £165,000 in 2017-18.
This is 4.2 times the median pay of the DfE's workforce, which was £38,755.
Pay in the department ranged from £18,500 to £165,000. Last year, it ranged from £9,000 to £165,000.
6. More women and BME employees in top positions
The proportion of senior civil servants at the DfE who are women increased from 56 per cent in 2017 to 58 per cent in 2018.
There was also an increase in the proportion of women in top management positions, from 50 per cent to 53 per cent.
Black and minority ethnic employees made up six per cent of DfE senior civil servants this year, up from three per cent last year.
And although the number of LGBT employees in senior roles increased from nine to ten, the proportion decreased from eight to seven.
7. Spending on consultants and temporary staff has risen
The DfE spent £9 million on consultancy in 2017-18, up from £6 million last year and £3.5 million in 2015-16.
Spending on temporary staff also rose to £27.2 million, up from £22.5 million last year a
8. The DfE employs 127 people 'off-payroll'
The department and its various agencies is paying 127 staff off-payroll – something the Treasury isn't too keen on because it means staff could use it as a tax dodge to pay a lower rate of tax.
These employees are paid more than £245 a day.
This includes 32 at the department itself, 54 at the ESFA and 21 at the Standards and Testing Agency.
Of the 127 arrangements, 27 have been in place for less than a year, 46 have been in place for between one and two years, 20 for between two and three years, nine between three and four years and 25 for more than four years.
9. 44 free school projects cancelled, millions lost
The accounts show that 44 free school projects have been cancelled between 2013-14 and 2016-17.
This is "due to improved financial management", and bosses say they always accepted the nature of the programme "will result in constructive losses".
The accounts show the DfE made in-year losses of more than £1 million on the cancellations of two free school projects in 2017-18. It lost £651,000 on Daubeney Gate AP Primary Free School and £355,000 on Gipsy Hill free school.
However, a further £2.9 million of losses were made in the previous year, but only disclosed in 2017-18.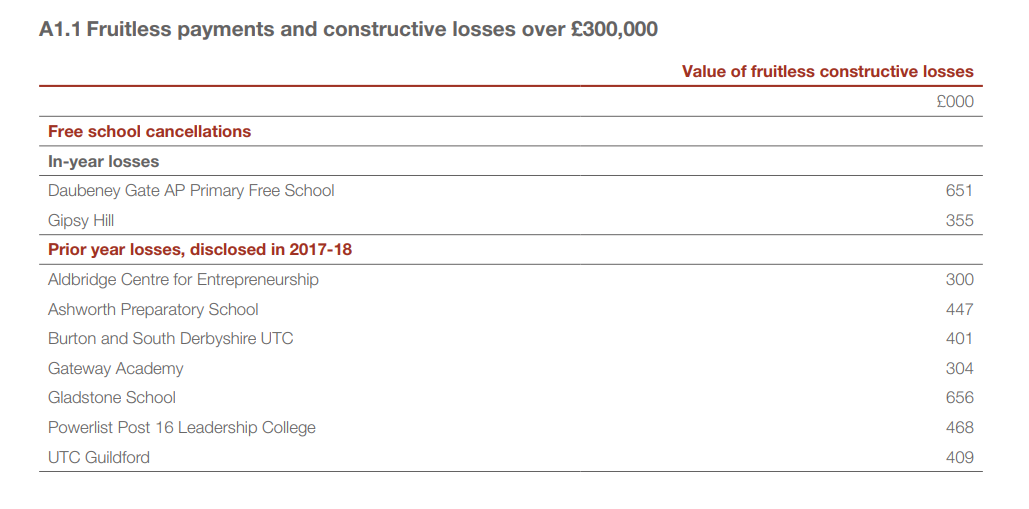 10. Almost £6m of debts written off
The DfE "waived or abandoned" claims of more than £5.83 million for money that was either overpaid to schools or councils, or lost because of closure.
"Unrecoverable balances" of £1,177,000 were written off in connection with the closure of Lancashire UTC, while the closure of Daventry UTC resulted in £1,315,000 being written-off. A further £645,000 was written off for the Greater Manchester UTC. All three schools closed in recent years.
Overpaid grant recoveries were also written off for Theale Green School (£830,000), John Madejski Academy (£987,000), Wakefield Council (£543,000) and Vison Studio School (£342,000).
11. More than £2.5m in 'special payments' made
Four special payments totalling £2.59 million were made, either to assist with academy projects and moves or legal disputes.
Reading Borough Council was handed £800,000 to "facilitate the move of the John Madejski Academy from its original single academy trust to a strong multi-academy trust".
Southall College was handed a settlement of £750,000 for costs incurred by the college in relation to the proposed new Floreat Southall school project opening.
Saddleworth was handed £545,000 to "facilitate the delivery of a new build school on a rural site". "The proposed site
is contentious with complex land and planning issues and has been subjected to lengthy delays due to judicial review enquiries and resubmission of a planning application," the DfE said.
Kingston Upon Thames community school received £500,000, which relates to an out of court settlement to resolve a legal dispute relating to the
property. "In reaching a settlement agreement with the intentions of having the school open in 2019, we intend to relieve the capacity pressure on the school and bring the confidence and certainty back to the local community who currently fear that the permanent site will not come to fruition," officials said.
12. The DfE's research spending has doubled in two years
In 2017-18, the department spent £22.6 million on research, compared to £16.7 million in 2016-17 and £11.1 million in 2015-16.
However, during that time, the DfE has grown in size, having taken on responsibility for adult skills and higher education in 2016.