School leaders' safety is being "jeopardised" as online campaigns become "trial by social media", with police now probing death threats to a head embroiled in a fresh alleged racism row.
Harris Academy Tottenham issued the warning over staff safety amid a petition for its executive principal to quit, alleging discrimination against black students and staff and sparking protests.
It comes only a few weeks after similar protests at Pimlico Academy, in London, and death threats to staff at Batley Grammar, in Yorkshire, over the Muhammad cartoon row.
The incidents have sparked alarm in the sector over online platforms' role in fuelling tensions, and how data and employment law, as well as limited PR expertise, limit schools' ability to defend themselves.
But experts said they also underlined the need for schools to improve internal channels for students and others to raise grievances without resorting to social media, particularly on issues of race.
Police investigate death threats after online campaign
More than 5,000 people have signed the petition to Harris Academy Tottenham, launched last week by former PE teacher Joshua Adusei.
Adusei accused the school of "institutional racism," alleging discipline policies have been tightened and disproportionately affected students from Afro-Caribbean backgrounds. "A lot of us feel the school treats kids like prisoners," he said.
The petition also demands a reversal of restructuring plans. A school letter to parents seen by Schools Week pledged to "avoid compulsory redundancies wherever possible," blaming falling pupil numbers in Haringey.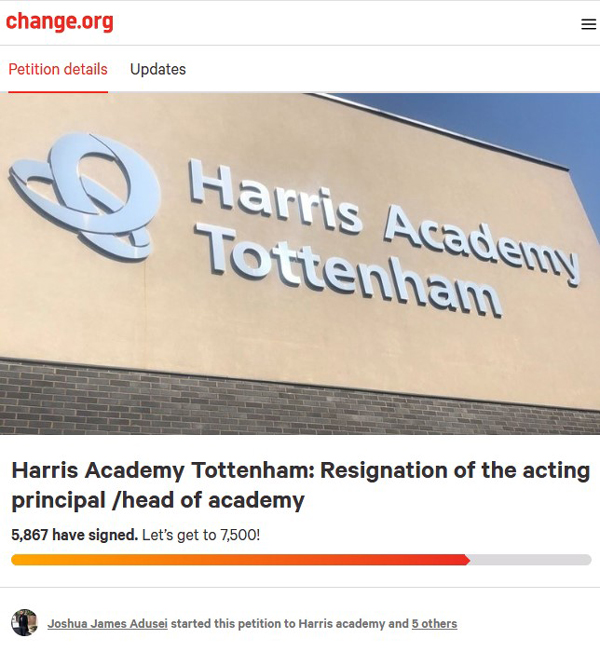 It unleashed a wave of critical comments by students and others online, and even a playground protest after Adusei was suspended following the publication of the petition. He has since been dismissed after a longstanding alleged misconduct probe.
One comment posted online compared a silent line-up policy to "Putin's Russia" and another claimed the school was "run by white people…who don't understand the children".
A Harris Federation spokesperson called it a "misleading, vindictive and vexatious campaign", saying its diverse leadership team "categorically denies" racism and all the allegations made. A previous audit of behaviour policies found no discrimination.
The school has reported to police four death threats received by its executive principal, as well as a threat to stab teachers made via Change.org.
A Met spokesperson said reassurance patrols had been arranged in the area. Officers had made enquiries over "malicious communications" aimed at staff.
All comments have since been removed from the petition, but the row has fuelled fresh debate over staff safety, racism and the role of online platforms in school life.
Seven petitions in two months
The incident is at least the seventh Change.org petition since March calling for staff to be sacked or reinstated at schools in England.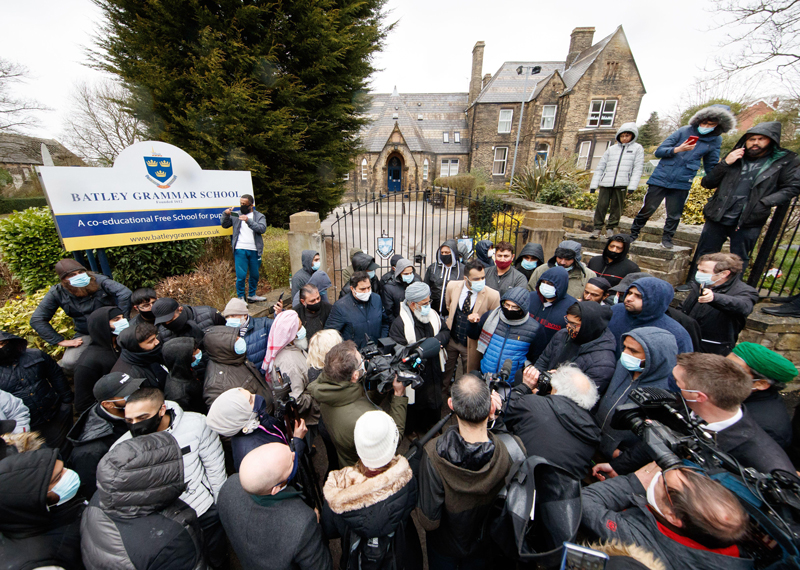 Three petitions were created attacking or defending the Batley Grammar teacher at the centre of a blasphemy row last month. He is reported to have gone into hiding after being named on social media and receiving death threats.
Stephen Morales, chief executive of the Institute of School Business Leadership, warned against "trial by social media. It's dangerous and we're seeing more of it."
The Harris flare-up also echoes similar unrest at west London's Pimlico Academy. Principal Daniel Smith faced a petition to quit and footage of student protests went viral on social media last month. National Education Union members plan a ballot for industrial action next week.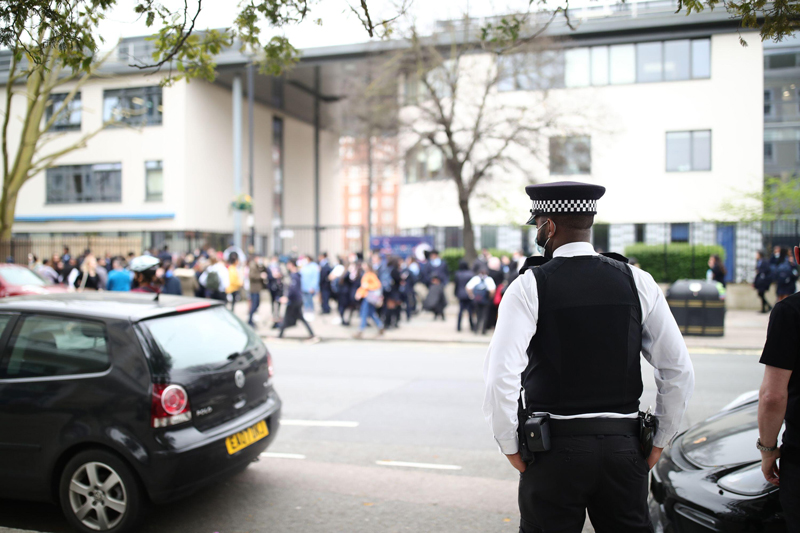 Two Change.org petitions were launched attacking its strict discipline rules, alleged dress code discrimination against black and Muslim students, and the school's flying of the Union flag.
A Future Academies spokesperson said it made "no apology for taking a disciplined approach," and had significantly improved the school's results and secured an 'outstanding' rating. But it has also created a race and equality committee, and is re-writing its PSHE curriculum.
'The law does not allow us to defend our colleagues as they deserve'
Online platforms now face questions over their role in such incidents.
A Harris Federation spokesperson claimed platforms hosting such content did "almost nothing" despite them being used to make death threats.
The spokesperson said it could not challenge public allegations on an "equal footing," as data privacy and employment law stopped it fully questioning Adusei's claims or motives.
"The law does not allow us to defend our colleagues as they deserve," they added. "But the cost is leaders having their wellbeing and safety jeopardised. The profession cannot allow good senior leaders to have to tolerate the 'pile-on' of the mob on social media."
A Change.org spokesperson called it an "open platform," but said it removed personal identifying information that did not comply with its guidelines and could enable harassment, including in the Harris case.
But other petition sites have stricter rules. A 38 Degrees spokesperson said it did not host petitions calling for non-elected individuals' resignations.
'Schools walking tightrope until social media companies taken to task'
Geoff Barton, general secretary of the Association of School and College Leaders, said social media risks were "ever-present" and negative publicity could "snowball" fast.
"Schools and colleges will continue to walk a daily tightrope until the government takes the social media companies to task with legislation to make them accountable for content," he added.
Bethany Paliga, an information specialist at Forbes Solicitors, advised reporting comments to online platforms and harassment or malicious communications to the police.
She added she often explained to schools that the 'naming and shaming' of staff online by individuals, rather than organisations, did not breach data protection law.
A government spokesperson called threats "unacceptable," and new legislation would soon impose fines on social media companies that failed to tackle harmful content.
'Culture does not allow for change'
But the incidents have increased scrutiny of school policies too, and whether mechanisms for raising grievances are up to scratch.
Adusei said he did not condone the death threats, but accused Change.org of "taking away the free speech" of signatories by removing all comments.
Rhia Gibbs, a London teacher and director of the Black Teachers Connect network, added: "The surge in students and staff speaking out is linked to a deep-rooted structural issue – the culture does not allow for challenge."
She said issues in Britain had been "pushed to the surface" by George Floyd's death.
Morales noted Sarah Everard's murder had sparked a similar groundswell of students sharing experiences of sexual harassment in schools.
He said schools needed trusted safe spaces, whistleblowing and appeals policies, and other "accessible channels" for raising concerns internally.
A government spokesperson also said schools needed published complaint processes, and said it encouraged "dialogue" with parents.
'It's a dangerous road if we start acquiescing in demands heads should roll'
Once issues go public, schools face a "difficult balancing act," according to James Barron, an employment associate at Forbes Solicitors.
Efforts to save reputations through strong statements or information-sharing could undermine fair disciplinary processes, he cautioned.
But Gibbs said remaining silent had risks too, often sparking greater attention.
Jane Tozer, schools lead at PR firm Paternoster Communications, which will soon release a free school training package on crisis PR, said most schools' biggest mistake was over-communicating or under-communicating. It was also easy to "fall into the trap" of assuming critics were more than a vocal minority, she added.
"It's a dangerous road if we start acquiescing in demands heads should roll."