Headteachers piloting rapid Covid-19 antigen tests under the government's Operation Moonshot have described them as a "game-changer" to keep pupils in the classroom and help squash outbreaks.
Sedgehill Academy in south east London, Poole Grammar School and South Wiltshire Grammar School in Salisbury have now done two rounds of testing using lateral flow tests, which give a result in less than an hour.
We see this approach to mass testing as a potential game-changer
One head reported being able to test 50 pupils in as little as 12 minutes, while another said they were able to send just a few pupils home who tested positive – rather than an entire year group for two weeks.
However, questions have been raised about how a wider rollout of the tests will be staffed, and a recent evaluation of the antigen tests hints that cases could be missed.
The government announced it was issuing a further 600,000 tests to local authorities, who will decide whether to deploy them in schools.
It comes after the promising news earlier this week of a vaccine by the end of the year.
Sir Jon Coles, chief executive of United Learning, which runs Sedgehill and three other schools soon to join Public Health England's (PHE) pilot, said: "We see this approach to mass testing as a potential game-changer.
"If someone tests positive, but those of their contacts who test negative can stay in school as long as they agree to further testing, then we can radically reduce disruption to schools and children's education."
'It's very fast and efficient and is keeping pupils in school'
The tests have allowed schools in the pilot to identify confirmed cases, even among asymptomatic subjects, so they can be sent home to self-isolate. The schools can then repeatedly test close contacts so that only those with a positive test need go home.
Normally, contacts of confirmed cases must self-isolate, which has led to whole year groups sent home.
Unlike the commonly used polymerase chain reaction (or PCR) tests, lateral flow tests do not have to be sent off for evaluation.
However, although a recent study by PHE and the University of Oxford found false positives were rare, the tests were found to have a 76.8 per cent sensitivity rate, meaning they do still miss some cases.
The evaluation also found that there was a test failure rate of 16.8 per cent in one of the schools where it was trialled, but PHE was not able to say whether the school in question was one of those involved in its pilot
Those heads involved in the PHE pilot in the south of England, carried out with the help of the Army, told Schools Week the experience had been positive.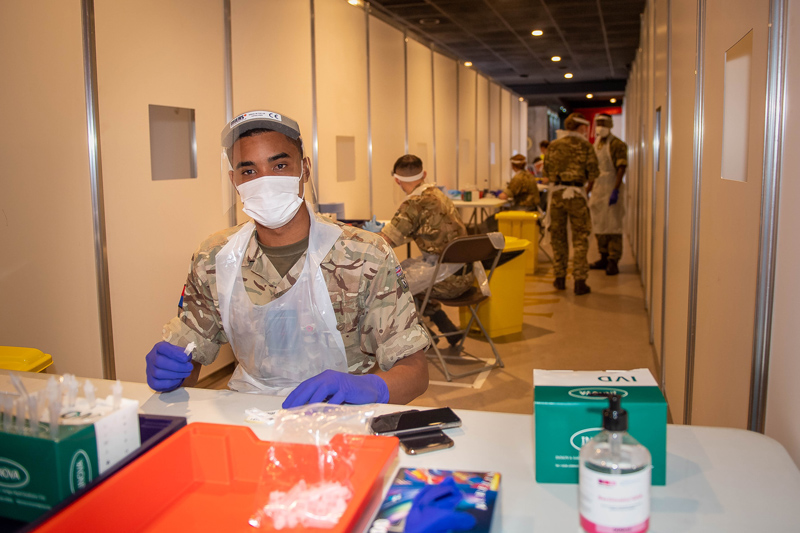 South Wiltshire Grammar School identified three positive and two potential cases among year 10 pupils during its testing of 877 staff and pupils earlier this week. These came on top of another positive test in that year group identified externally by the test and trace system.
But because the rest of the year can now undergo so-called "serial testing" every two days, they have been able to stay in school.
"[This is] what I think is the most powerful idea about this…that my year 10s are still in school," said Michele Chilcott, the school's head.
"If we weren't testing, we wouldn't have picked up those five students. But had I got, potentially, six cases in one year group, a whole year group would now be self-isolating for 14 days. So it's kept them in school."
Army sets up camp as halls transformed into testing centres
With no indoor sports and assemblies held by video, the three schools have been able to transform their halls into temporary testing centres.
Clare Cassidy, the head of Sedgehill timed how long it took to test 50 year 8 pupils. "Once they were in the sports hall, it took just 12 minutes and 40 seconds to test them all. So in terms of the disruption to lessons, it's been minimal and very efficient."
The school tested about 300 people before half term and 400 this week. There were no positive cases.
Although the Army and PHE employees helped with the testing, the schools are now training their own staff with a view to becoming self-sufficient.
Cassidy said: "If you don't have to isolate students they can stay in school where they're safer and learning much better than they would at home."
Dr Amanda Smith, the head at Poole Grammar, said the main benefit was being able to assure staff and students that the school environment was safe. Her school tested 1,000 pupils in the first round and 900 this week, and found no positive cases.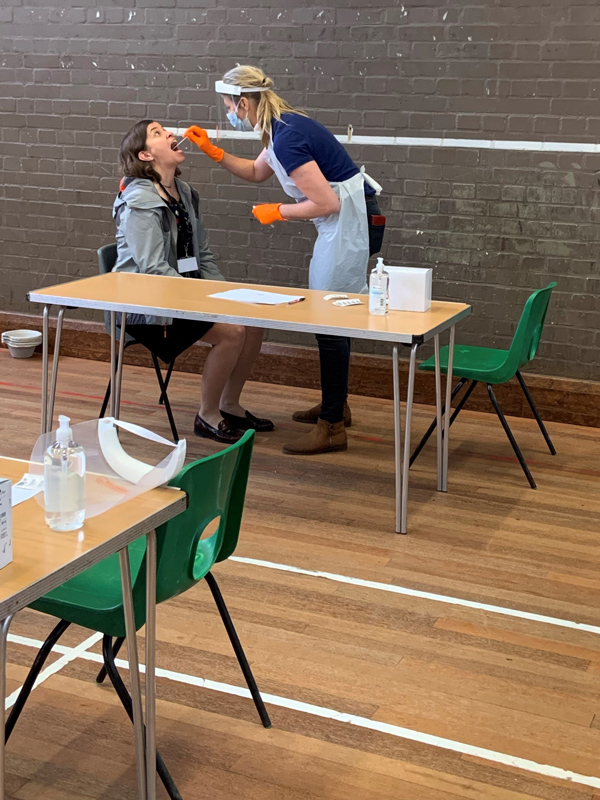 "I see testing in schools as being a massive game-changer in terms of helping to maintain continuity. And, really importantly, offering huge reassurance to our school population, parent population and staff population."
Ofsted analysis published this week found almost half of schools that took part in "visits" reported that since the start of the autumn term some parents had removed their children to electively home educate.
Amanda Spielman, the chief inspector, said school leaders were "clearer that this was being motivated by concerns around the virus".
But Chilcott said the testing had been "really positively bought-into by parents, students and staff".
She said take-up had been "very high" for sixth-formers – who can self-consent, although parental permissions was needed for younger pupils. "That shows their interest in it because it's their decision, not their parents'," she said.
'It's about making sure people are informed before the rumours start'
According to all three headteachers, communication with schools is key to any national rollout.
"It's keeping on top of it and making sure people are informed before those rumours start to spread," Chilcott said.
Cassidy said that communication with heads was "really vital in advance of the testing beginning so that they understand fully what it's about and know what's involved".
Smith said building the confidence of staff to deliver the tests was also important.
Schools needed as much information as possible so that the tests became "a really straightforward process for them".
Schools are still waiting to hear when the lateral flow tests will be rolled out more widely. Boris Johnson told Parliament last week that the government was "massively expanding testing for schools", and Downing St later said he was referring to the development of antigen tests.
But no timescale has been provided.
600,000 more tests could benefit schools
However, the government did announce earlier this week that a further 600,000 lateral flow tests would be distributed to councils, who would decide where to deploy them. The London borough of Southwark has already indicated some of its tests may be used in schools.
Meanwhile, 12 schools took part in a mass testing pilot in Liverpool this week, with more set to join.
But there have been problems. Protesters picketed Calderstones school, using a megaphone to shout at pupils not to get tested.
The council was also forced to clarify that parental permission was needed after another school, Broadgreen, suggested in a letter to parents that none was needed. Both schools were approached for comment.
Stephen Brierley, the head of St Margaret's Academy in Liverpool and the city's local representative for leadership union ASCL, said he was hoping testing would begin at his school soon, as it had "huge potential".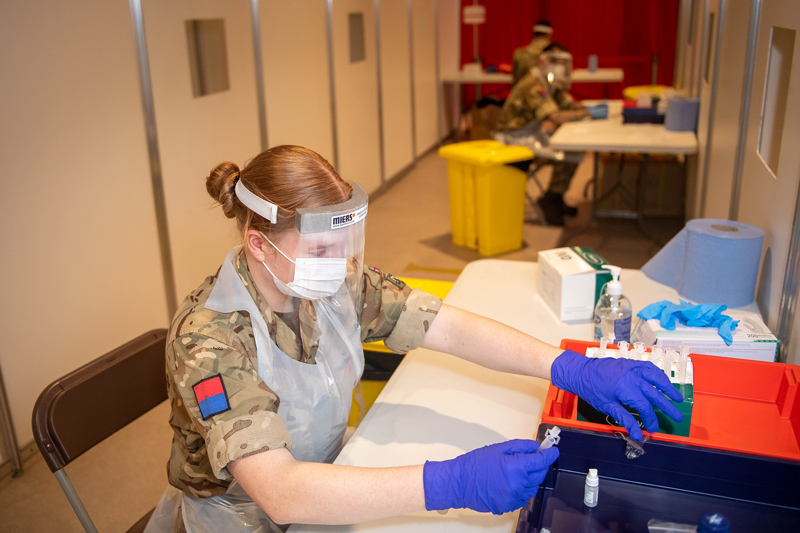 "At the moment there's a lot of guesswork on who the contacts are. And even if you can ascertain exactly who's been within two metres for 15 minutes and all the other rules, all that gives you is an indication that's it's more likely transmission has taken place. You don't know for sure.
"That risk, that guesswork about who might have caught it, you can eliminate that straightaway. That's why it's got to be a good thing, even if in the short term it does lead to more self-isolation."
But schools will need support if they are to deliver the tests. Army and PHE personnel are helping at present, but there has been no information about how they will be run if rolled out nationally
"They're talking about deploying 23 people to oversee the 20 booths. Clearly, that's not going to be possible in a school setting staffed at very tight margins," Brierley said.