Schools that hold proms are being approached to advertise credit union loans for families facing the burden of buying formal wear.
Harlowsave, a credit union in the Essex town of Harlow, has asked local secondary schools to advertise its services to parents in a bid to provide access to loans for prom suits and dresses, circumventing the need to go to a payday loan company.
Interest rates in credit unions, not-for-profit co-operatives that offer financial services, are a maximum of 42.6 per cent a year. Payday company Wonga, for example, can charge an APR of up to 1,509 per cent interest a year.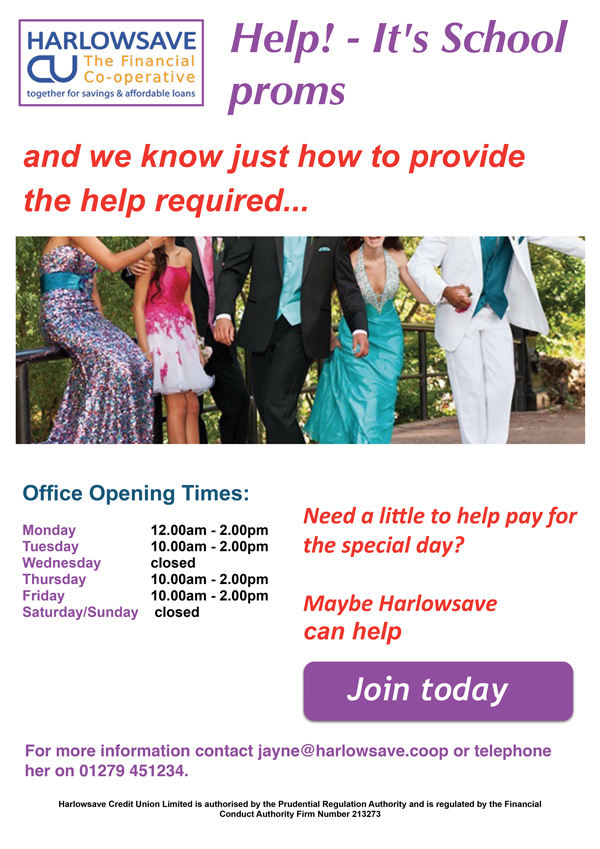 Harlowsave says it is advertising the loans in St Mark's West Essex Catholic School and Burnt Mill Academy.
A spokesperson said: "We are trying to educate people and show them that we are not loan sharks. By putting these posters up in schools,
we hope that if a child knows their parents might struggle to buy them that prom dress then they can tell them about this, rather than going to other payday lenders."
With up to 85 per cent of schools now celebrating "end of school proms", parents can face financial pressure as they face paying for outfits. Prom dresses on the fashion website ASOS can cost £300.
Passmores Academy in Essex was also approached by Harlowsave but chose not to advertise the loans. Instead, the school offers formal wear for rent, donated by former pupils, for a "couple of quid".
Principal Vic Goddard said: "Proms are expensive and have become part of the norm, so we want to release any of that pressure to find cash from elsewhere or not to be able to 'fit in' by offering this to them."
Educating families about the management of financial pressures is increasingly done through schools.
Ros McMullen, executive principal of the David Young Community Academy in Leeds which serves a deprived area of the city, said: "We are going to begin working in partnership with a third sector organisation, with whom we have a close relationship, in ensuring that we can provide a range of counselling services – including debt counselling – for our community."