Councils must estimate free school pupil numbers under funding change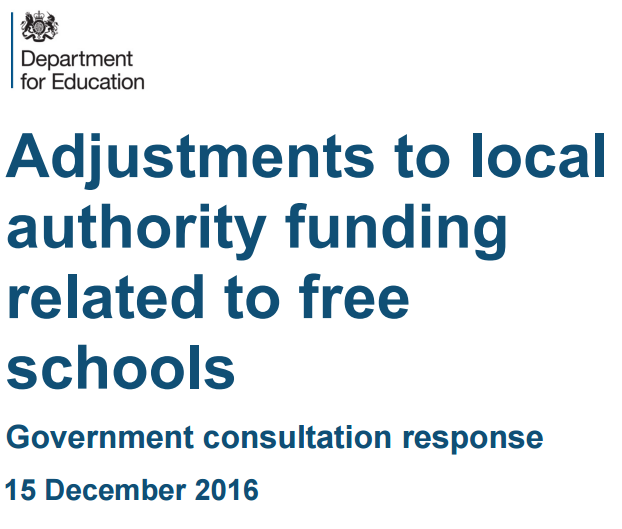 Local authorities will now have to estimate how many pupils move to certain free schools opening in their area under changes to how the government recoups funding.
Under the current system, the government recoups cash that it gives directly to academy and free schools from their council's dedicated schools grant.
If a free school is set up because of a places shortage identified by the local authority, this recoupment starts from the first year.
However, for free schools set up after successful application by a "proposer" – and established through the government's central application process – recoupment starts from the second year the school is open.
 The government has said this is unfair and means that for seven months of the first year the pupils in those free schools are "double funded" (the school gets cash for the pupils, and the money that should be taken away from council because those pupils aren't in mainstream schools isn't).
 The government has now announced that recoupment for these schools will start from the first year – despite 83 per cent of respondents (all councils) opposing the changes.
 Councils have said the changes, which will get underway immediately, amount to a reduction in their already-stretched "lump allocation" for education services.
Local authorities will now also have to estimate how many pupils might move to mainstream free schools opening in the area, using a new "data set" from the government.
The Education Funding Agency (EFA) will then withhold some local authority funds based on that prediction.
Christine Bayliss (pictured below), an education consultant and former civil servant at the DfE, said the changes were "reasonable" as long as local authorities were not left to find emergency places for pupils if a free school misjudged local demand and failed to open.
"If the free school opens and there's a need in the area, it seems perfectly reasonable that the money is recouped. Otherwise it's just dead weight cost to the free school programme.
"What would seem unreasonable is if that free school doesn't open at the last minute and the local authority has to step in and find what could be substantial funding to cover the cost of providing emergency placements for those children.
"If the adjustment then takes place in following years – then that would seem unfair to cash-strapped councils."
The government's consultation response said all free schools should be funded the same, and that the double funding "is not an appropriate use of a resource that could be used elsewhere in the education system".
But Cornwall council said in its response that recouping funding for free schools in the first year "entailed the deduction of lump sum allocations, in addition to all pupil-led funding, social deprivation, and school specific allocations such as rates".
And if pupils were at an academy – meaning the government had already recouped funding from the council – but moved to a free school, Cornwall council said funding would be unfairly removed if those pupils were included in recoupment predictions. It argued the same for home-school pupils.
"The local authority will effectively be forced to double-fund the pupils attending the free school for at least part of the year."
Councils also asked whether they could adjust their predictions on pupil numbers closer to when the school opened. The Department for Education (DfE) refused this.
Other authorities requested an "in-year opportunity" to adjust their estimates of pupil numbers – but the DfE said the School and Early Years finance regulations did not permit local authorities to make in-year funding changes as part of a bid "to provide schools with stability and certainty over their budgets".
Instead local authorities will "take account of the difference" between estimated and actual pupil numbers and adjust their recoupment prediction the following year, said the DfE.
If the adjustment then takes place in following years – then that would seem unfair to cash-strapped councils
A new data set of all the free schools "expected to open" next year, and their accompanying pupil estimates, will be issued to local authorities this month.
Local authorities must return their estimates of how many pupils will attend new free schools via an "authority proforma tool" (APT) to the DfE by January, after which the EFA's "recoupment calculations" will be returned to them by April.
And after a census of pupils in October 2017, local authorities must make retrospective adjustments a year from now to check whether their estimates matched the pupil census.
A spokesperson for the New Schools Network, a charity which supports organisations which are opening free schools, said: "This seems like a natural development of how school funding is distributed and recouped, reflecting the maturity of the free schools programme."
Local authorities will get their funding returned in the form of an adjustment to their recoupment amount the following year should a free school fail to open, the DfE confirmed.