A council will review its use of an infant school in one of the country's most deprived areas as a polling station after governors complained vulnerable pupils were losing a "precious day of learning".
Glodwick infant and nursery school, in Oldham, had to shut twice this year so its nursery school could became a makeshift polling station for voters in both the council election and EU referendum.
Local authorities can force any state-funded school to become a polling station, and the school had to close its nursery – affecting around 60 pupils. Public buildings, such as village halls, or even pubs, are also used as polling stations.
But now Oldham Council will review its use of Glodwick after governors lodged an official complaint – reigniting the debate about whether schools should be used as voting stations.
A letter sent by the school's governors to the council (featured right) read: "It seems an anomaly to close a school in one of the most deprived wards in the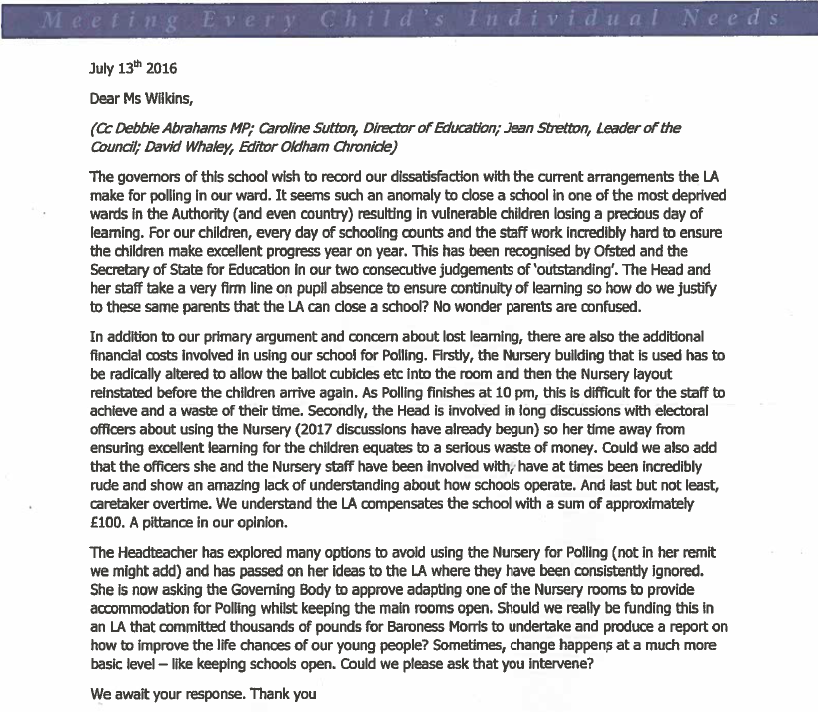 authority (and even country) resulting in vulnerable children losing a precious day of learning."
Schools Week revealed last year that more than 3,800 schools – nearly one in five – could have been disrupted during the general election.
It prompted calls from the education community for councils to review their use of schools.
Oldham was one of 13 areas whose schools were singled out for criticism by Ofsted in December for failing pupils – although the education watchdog's analysis was based on figures for secondary schools.
But the town also spent £100,000 last year commissioning Baroness Estelle Morris, a former education secretary, to set out an education vision to haul up standards.
The school's letter, obtained by the Oldham Evening Chronicle, added: "For our children, every day of schooling counts and the staff work incredibly hard to ensure the children make excellent progress year on year."
That view is also seemingly echoed by the government. Schools minister Nick Gibb, citing government research, said last year that "missing school for even a day can mean a child is less likely to achieve good grades, which can have a damaging effect on their life chances".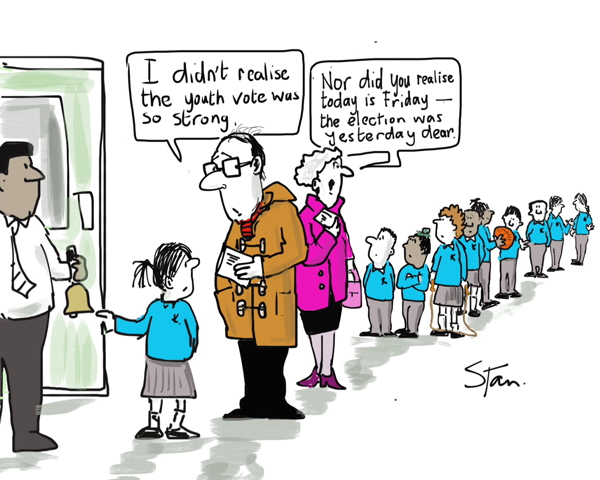 Lynn Moran, chair of governors at Glodwick and a former headteacher, told Schools Week: "It's only a day. People say 'what a big fuss for one day', but it matters. It's also the mixed messages, in my view."
The letter outlined the "very firm line" the school takes on pupil absence, adding: "How do we justify to the same parents that the local authority can close a school? No wonder parents are confused."
She also said the £100 compensation received by the school for the disruption was a "pittance".
Carolyn Wilkins, chief executive and returning officer at Oldham Council, said an officer has spoken to the school's headteacher after receiving the complaint, adding: "It has been agreed that the suitability of the school as a polling station is to be reviewed."
Wilkins said the arrangement has "worked well for years" and said schools are the "best option" because they meet requirements, such as for access and parking.
Cllr Richard Watts, vice-chair of the Local Government Association's children and young people board, added: "Where schools are used as polling stations, councils work closely with them on arrangements for election days. If a school decides to close on election day, this day is generally used as one of the school's five staff training days, so children do not lose any schooling."
But Moran said her school is now facing a £3,000 bill to amend its nursery building so it can be used in isolation for a polling station, meaning the school can stay open.