The closure of private schools unable to weather the economic hit from Covid-19 will put more pressure on state schools as they welcome back additional pupils while social distancing.
Two long-standing prep schools announced this week they would close permanently. One, the 180-year-old Ashdown House Preparatory School in Sussex, is an alma mater of prime minister Boris Johnson.
Peter Woodroffe, the deputy chief executive of the Independent Schools Association (ISA), said it was a "really difficult time for the sector. There will be casualties and that will put a burden on the state sector."
The association, which represents more than 500 schools, said seven had closed. The Independent Schools Council (ISC), another sector body that represents more than 1,300 private schools, said it did not have figures on closures.
Government guidance advises private schools to access its furlough scheme "to retain staff and enable the school to reopen fully in due course".
But Woodroffe said the true impact would be seen after the government's aid programmes were wound-up later this year. "There's going to be businesses closing for the next couple of years, and that will impact people that won't be able to afford to send their children to private schools."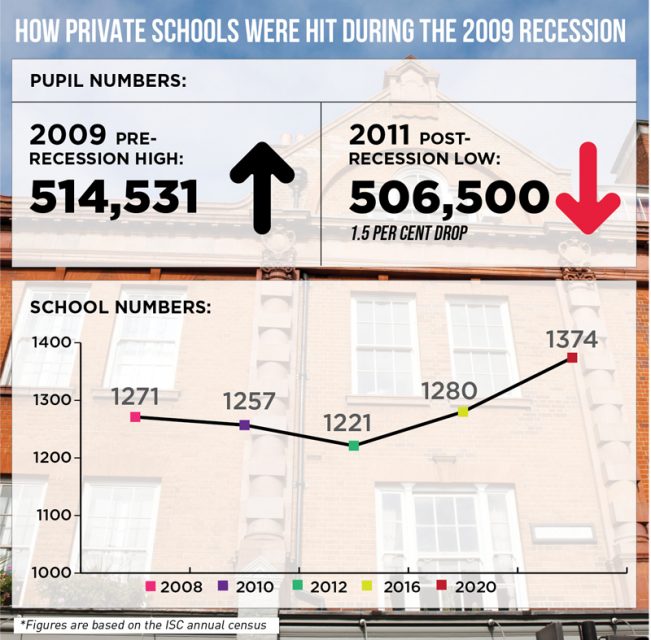 He pointed to the 2008-09 recession as a potential indicator of the fall-out, although the Bank of England has warned the upcoming recession will be the worst for 300 years.
Figures collated by the ISC in its annual census show the number of pupils in its member schools dropped from a pre-recession high in 2009 of 514,531, to a post-recession low in 2011 of 506,500. 
While this represents a drop of just 1.5 per cent, it took eight years for the number of private schools to bounce back to pre-recession numbers. 
The ISC census shows there were 1,271 private school members in 2009. This number steadily fell each year until a low of 1,221 in 2012, before rebounding and surpassing the pre-recession number in 2016.
But any closures in the immediate future – resulting in more pupils joining state schools – will come at a problematic time, particularly for primaries. 
Some are already struggling to welcome back all the pupils eligible to return this week – reception, year 1 and year 6 – alongside strict social distancing measures that demand spaced desks, one-way systems in corridors and classes capped at 15.
Ashdown House, which has 104 pupils on roll out of a capacity for 173, will close at the end of this term.
The school, which charges annual boarding fees of nearly £30,000, was founded in 1843. However, it projected that it would be less than a third full next year, following a decline in international boarders and fewer parents taking up places for their children.
Meanwhile, the BBC reported on Wednesday that Minster School, a prep school that provides choristers for York's cathedral, will close at the end of this term after a "catastrophic loss of income" caused a £5 million budget shortfall. 
The 145-pupil school has origins dating back to AD627 and has existed in its current form since 1903.
HawleyHurst school, in Camberley, Surrey, shut suddenly after going into administration in April. The school, owned by Sir Tim Smit, who founded The Eden Project in Cornwall, reportedly had a £600,000 hole in its finances. According to government data it had 282 pupils, from a capacity of 450. 
Victoria Smit, the school's principal and the founder's sister, told parents that coronavirus had a "hugely detrimental impact on our ability to continue with fee income stopped in its tracks". 
Tom Beardmore-Gray, the chief executive of the Cothill Trust, which runs Ashdown school, said the trust had invested heavily in the school but "it is not possible to maintain this support… The harsh reality is that the impact of the coronavirus has changed everything."
The school had also been at the centre of a child sex abuse investigation. The Independent Inquiry into Child Sexual Abuse heard last year that sexual touching at the school was "seen as acceptable" for almost 25 years from 1969.
Julie Robinson, the ISC's chief executive, said it was "impossible to predict with any accuracy the full impact this pandemic will have. We really are all in this together and much depends upon how long the restrictions are in place for."
Woodroffe said private schools that were coping had built up a "good amount of parental support" to help them through.