An analysis showing the vast majority of predicted GCSE grades are within one grade of being correct will "give everybody confidence" in this year's plans to replace exams.
Analysis by Data Educator of 19,029 predicted grades across 22 subjects last year found that although only 40 per cent turned out to be the same as what pupils were actually graded, 84.6 per cent were within at least one grade of being right.
Of the 60 per cent that were incorrect, 31 per cent were too positive and 29 per cent too negative.
The findings will likely be seen as a vote of confidence in teachers' ability to accurately grade their pupils. It was announced last month exams will be scrapped this summer with moderated teacher assessments being used to award grades instead.
Geoff Barton, general secretary of the ASCL leadership union, said the findings should "give everybody confidence that predicted grades are generally close to the actual results".
However, there are some variabilities.
Disadvantaged pupils are slightly less likely to have their grades predicted accurately than their non-disadvantaged peers (37.1 per cent vs 41.2 per cent), as are SEND pupils compared to those without SEND (38.4 per cent versus 40.2 per cent).
The accuracy of predictions varied by subject too.
For example, maths, which is tiered, offering teachers fewer predicted grades to choose from, had a 53.8 per cent accuracy rate, while GCSE combined science, which has more combinations of grades available, had a rate of 25.6 per cent.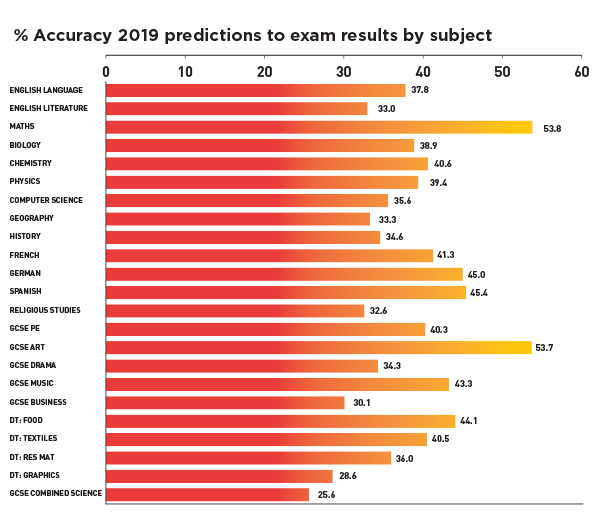 But Barton said it was "important to understand that the system proposed this year following the cancellation of exams does not rely only on a prediction of what a student would have achieved in an exam".
"What matters is that teachers can rank pupils; research suggests that teachers can do this with reasonable accuracy. There will be an external moderation process which will bring grades into line with what would be expected. This will ensure consistency and fairness for students."
Proponents of teacher assessment point to the reliability of examiner-assessed grades. Last year, 20.2 per cent of all GCSE grades challenged were changed.
Furthermore, an Ofqual study from 2016 showed that nearly half of pupils in English literature were not awarded the "definite" grade for their exam. Although this was higher in other subjects, for instance, examiners in physics were 95 per cent likely to agree with the definitive mark per question.
David Weston, chief executive of the teacher development trust, said that "even in a 'perfect' year, most overall grades have a level of tolerance… From what I've read of Ofqual's approach it's the least bad option right now – flawed, certainly, but less flawed than other options."