The supermarket chain Aldi has joined the government's national free school meals voucher scheme.
Vicky Ford, the children's minister, said in a written ministerial statement that the brand would be accepting the vouchers provided through the government's supplier, Edenred.
According to the firm, vouchers obtained through the scheme will be redeemable in Aldi stores from April 27.
However, the announcement comes as heads across England are still struggling to access vouchers because the online system cannot cope, with families in poverty waiting weeks for support.
Last month it was announced that the vouchers, worth £15 per week per eligible child, would be redeemable in Sainsbury's, Tesco, Asda, Morrisons, Waitrose and M&S.
At the time, many heads complained that other budget chains, such as Aldi and Lidl, were not included.
In her statement, Ford thanked schools "for continuing to support those children that are eligible for free school meals, including during the Easter break".
"We know that support is being provided through their existing schools food suppliers or through the national voucher scheme government has put in place. Today I can confirm that Aldi will be added to the list of supermarkets where vouchers will be redeemable. That is in addition to Sainsbury's, Tesco's, Waitrose, M&S, Asda and Morrison's."
Edenred said today that £15 million worth of vouchers have been converted into supermarket gift cards by schools and families so far, and more than 11,000 schools have placed orders through the scheme.
However £4 million of that (over a quarter) is in the past two days.
Leaders also continue to face problems with the service.
Last week, heads were urged to stop checking the swamped website, as it struggled to keep up with demand – leaving families living in poverty waiting weeks for support.
Edenred has also been accused of "unbelievable profiteering" for using a premium rate number phoneline for stricken staff trying to find out if their vouchers were being processed, with one school spending over £60 on calls. The firm has since set up a national rate number.
The firm claimed that it had made changes to its site "so that for schools ordering, average waiting times on the site are falling significantly".
However school leaders using the website today were still getting a holding message warning of "slower than usual" operating times due to "high demand". They were told the average wait time to get on to the website was one hour.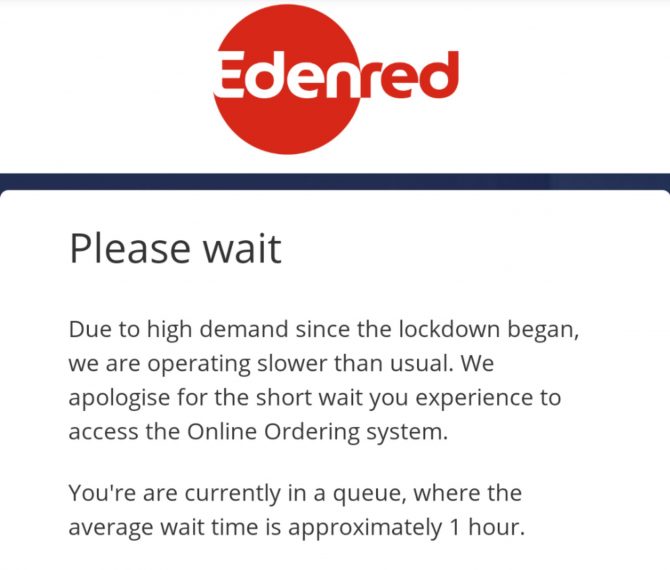 "Once a code is redeemed by a parent or school, the eGift cards are being delivered within 24 hours," the company said.
"We have shared with schools how we are making the ordering process simpler and invested further in improving our helpdesk to support inbound queries."
Edenred also said it was "working hard to help other supermarket partners to join the programme who do not normally use eGift cards".